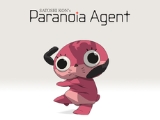 Paranoia Agent
is a
Japan
Japan
Japan is an island nation in East Asia. Located in the Pacific Ocean, it lies to the east of the Sea of Japan, China, North Korea, South Korea and Russia, stretching from the Sea of Okhotsk in the north to the East China Sea and Taiwan in the south...
ese
anime
Anime
is the Japanese abbreviated pronunciation of "animation". The definition sometimes changes depending on the context. In English-speaking countries, the term most commonly refers to Japanese animated cartoons....
television series created by director
Satoshi Kon
Satoshi Kon
was a Japanese anime director and manga artist from Kushiro, Hokkaidō and a member of the Japanese Animation Creators Association . He was a graduate of the Graphic Design department of the Musashino Art University. He is sometimes credited as in the credits of Paranoia Agent...
and produced by
Madhouse
Madhouse (company)
is a Japanese animation studio, founded in 1972 by ex–Mushi Pro animators including Masao Maruyama, Osamu Dezaki, Rintaro, and Yoshiaki Kawajiri. It has created and helped to produce many well known shows, starting with TV anime series Ace o Nerae! in 1973, and including western favourites Ninja...
about a social phenomenon in
Musashino
Musashino, Tokyo
is a city located in Tokyo, Japan.As of October 1, 2010, the city has an estimated population of 137,222 and a population density of 12,788.63 persons per km². The total area is 10.73 km².The city was founded on November 3, 1947...
,
Tokyo
Tokyo
, ; officially , is one of the 47 prefectures of Japan. Tokyo is the capital of Japan, the center of the Greater Tokyo Area, and the largest metropolitan area of Japan. It is the seat of the Japanese government and the Imperial Palace, and the home of the Japanese Imperial Family...
caused by a juvenile serial assailant named Lil' Slugger (Shōnen Bat, or Bat Boy in the original Japanese version). The plot relays between a large cast of people affected in some way by the phenomenon; usually Lil' Slugger's victims or the detectives assigned to apprehend him.