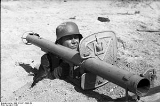 Panzerschreck
Panzerschreck
was the popular name for the
Raketenpanzerbüchse
(abbreviated to RPzB), an 88 mm calibre reusable
anti-tank
Anti-tank warfare
Anti-tank warfare was created by the need to seek technology and tactics to destroy tanks and their supporting infantry during the First World War...
rocket launcher developed by
Nazi Germany
Nazi Germany
Nazi Germany , also known as the Third Reich , but officially called German Reich from 1933 to 1943 and Greater German Reich from 26 June 1943 onward, is the name commonly used to refer to the state of Germany from 1933 to 1945, when it was a totalitarian dictatorship ruled by...
in
World War II
World War II
World War II, or the Second World War , was a global conflict lasting from 1939 to 1945, involving most of the world's nations—including all of the great powers—eventually forming two opposing military alliances: the Allies and the Axis...
. Another popular nickname was
Ofenrohr
("stove pipe").
The Panzerschreck was designed as a lightweight
infantry
Infantry
Infantrymen are soldiers who are specifically trained for the role of fighting on foot to engage the enemy face to face and have historically borne the brunt of the casualties of combat in wars. As the oldest branch of combat arms, they are the backbone of armies...
anti-tank weapon. The weapon was shoulder-launched and fired a rocket-propelled, fin-stabilized
grenade
Grenade
A grenade is a small explosive device that is projected a safe distance away by its user. Soldiers called grenadiers specialize in the use of grenades. The term hand grenade refers any grenade designed to be hand thrown. Grenade Launchers are firearms designed to fire explosive projectile grenades...
with a
shaped charge
Shaped charge
A shaped charge is an explosive charge shaped to focus the effect of the explosive's energy. Various types are used to cut and form metal, to initiate nuclear weapons, to penetrate armor, and in the oil and gas industry...
warhead
Warhead
The term warhead refers to the explosive material and detonator that is delivered by a missile, rocket, or torpedo.- Etymology :During the early development of naval torpedoes, they could be equipped with an inert payload that was intended for use during training, test firing and exercises. This...
.