Shaped charge
A
shaped charge
is an explosive charge shaped to focus the effect of the explosive's energy. Various types are used to cut and form metal, to initiate
nuclear weapon
Nuclear weapon
A nuclear weapon is an explosive device that derives its destructive force from nuclear reactions, either fission or a combination of fission and fusion. Both reactions release vast quantities of energy from relatively small amounts of matter. The first fission bomb test released the same amount...
s, to penetrate armor, and in the oil and gas industry. A typical modern lined shaped charge can penetrate armor steel to a depth of 7 or more times the diameter of the charge's cone (cone diameters, CD), though greater depths of 10 CD and above are now feasible.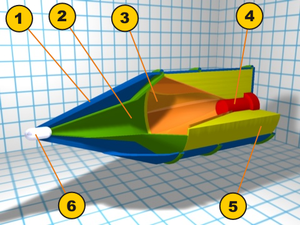 A
shaped charge
is an explosive charge shaped to focus the effect of the explosive's energy. Various types are used to cut and form metal, to initiate
nuclear weapon
Nuclear weapon
A nuclear weapon is an explosive device that derives its destructive force from nuclear reactions, either fission or a combination of fission and fusion. Both reactions release vast quantities of energy from relatively small amounts of matter. The first fission bomb test released the same amount...
s, to penetrate armor, and in the oil and gas industry. A typical modern lined shaped charge can penetrate armor steel to a depth of 7 or more times the diameter of the charge's cone (cone diameters, CD), though greater depths of 10 CD and above are now feasible. Contrary to a widespread misconception, the shaped charge does not depend in any way on thermodynamical phenomena for its effectiveness. In particular, the "jet" of an exploding shaped charge does not "melt its way" through armor, its impact is purely
kinetic
Kinetic energy
The kinetic energy of an object is the energy which it possesses due to its motion.It is defined as the work needed to accelerate a body of a given mass from rest to its stated velocity. Having gained this energy during its acceleration, the body maintains this kinetic energy unless its speed changes...
in nature.
Munroe effect
The
Munroe effect
or
Neumann effect
is a focus of blast energy caused by a hollow or void cut on a surface of explosive.
The effect is named after Charles E. Munroe, who discovered it in 1888. Whilst working at the Naval Torpedo Station at
Newport, Rhode Island
Newport, Rhode Island
Newport is a city on Aquidneck Island in Newport County, Rhode Island, United States, about south of Providence. Known as a New England summer resort and for the famous Newport Mansions, it is the home of Salve Regina University and Naval Station Newport which houses the United States Naval War...
in the
United States
United States
The United States of America is a federal constitutional republic comprising fifty states and a federal district...
, he noticed that when a block of guncotton with the manufacturer's name stamped into it was detonated next to a metal plate, the lettering was cut into the plate. If letters were raised in relief above the surface of the guncotton then the letters on the plate would also be raised above its surface. In the late 1890s, Munroe also did an experiment with the US Navy where he constructed a shape charge warhead using sticks of dynamite and blew a hole in the top of a large steel plate safe. Also, in a February 1900 issue of
Popular Science
Popular Science
Popular Science is an American monthly magazine founded in 1872 carrying articles for the general reader on science and technology subjects. Popular Science has won over 58 awards, including the ASME awards for its journalistic excellence in both 2003 and 2004...
, drawing and illustrations revealed his discovery and extensive work, but it was not considered significant in the military world at that time and was ignored even during World War I when it seems every other idea concerning weapons was tested. Part of that article was later reprinted in the February 1945 issue of
Popular Science
Popular Science
Popular Science is an American monthly magazine founded in 1872 carrying articles for the general reader on science and technology subjects. Popular Science has won over 58 awards, including the ASME awards for its journalistic excellence in both 2003 and 2004...
in a large and detailed article describing how shape charge warheads worked. The 1945 article on page 88 even described and illustrated how Munroe had constructed that first crude shape charge warhead using dynamite sticks and tested it by blowing a hole in the top of a very large safe constructed with layers of thick steel plates. And it was this article that at last revealed to the American general public how the fabled
Bazooka
Bazooka
Bazooka is the common name for a man-portable recoilless rocket antitank weapon, widely fielded by the U.S. Army. Also referred to as the "Stovepipe", the innovative bazooka was amongst the first-generation of rocket propelled anti-tank weapons used in infantry combat...
actually worked against armoured vehicles during World War II.
In 1910, Egon Neumann of Germany discovered that a block of
TNT
, which would normally dent a steel plate, would cut a hole right through it if the explosive contained a conical indentation.
The military usefulness of the Munroe's and Neumann's work was not appreciated for a long time. The application of focused explosive charges to defeat armor emerged in murky circumstances of the fevered lead-up to
World War II
World War II
World War II, or the Second World War , was a global conflict lasting from 1939 to 1945, involving most of the world's nations—including all of the great powers—eventually forming two opposing military alliances: the Allies and the Axis...
. Teams of inventors in Germany (Cranz, Schardin, Thomanek) and Switzerland (Mohaupt) independently promoted shaped charge designs that were licensed and manufactured in secret war production by Britain, Germany and the United States. The use of shaped charges in anti-tank warfare started a revolution on the battlefield. Tanks now faced a serious vulnerability from a weapon that could be easily transported by a single infantryman or a single aircraft. This development considerably altered anti-tank warfare, even as of today.
One of the earliest uses of shaped charges was by German glider-borne troops against the Belgian
Fort Eben-Emael
Fort Eben-Emael
Fort Eben-Emael is an inactive Belgian fortress located between Liège and Maastricht, on the Belgian-Dutch border, near the Albert Canal, and designed to defend Belgium from a German attack across the narrow belt of Dutch territory in the region. Constructed in 1931–1935, it was reputed to be...
.
Modern military applications
The common term in military terminology for shaped charge
warhead
Warhead
The term warhead refers to the explosive material and detonator that is delivered by a missile, rocket, or torpedo.- Etymology :During the early development of naval torpedoes, they could be equipped with an inert payload that was intended for use during training, test firing and exercises. This...
s is
high explosive anti-tank
High explosive anti-tank
High explosive anti-tank warheads are made of an explosive shaped charge that uses the Munroe effect to create a very high-velocity partial stream of metal in a state of superplasticity that can punch through solid armor....
(HEAT). HEAT warheads are frequently used in
anti-tank guided missile
Anti-tank guided missile
An anti-tank missile , anti-tank guided missile , anti-tank guided weapon or anti-armor guided weapon is a guided missile primarily designed to hit and destroy heavily-armored military vehicles....
s, unguided
rocket
Rocket
A rocket is a missile, spacecraft, aircraft or other vehicle which obtains thrust from a rocket engine. In all rockets, the exhaust is formed entirely from propellants carried within the rocket before use. Rocket engines work by action and reaction...
s, gun-fired projectiles (both spun and unspun), rifle grenades, mines, bomblets, torpedoes, and various other types.
Non-military applications
In non-military applications shaped charges are used in
explosive demolition of buildings and structures
Building implosion
In the controlled demolition industry, building implosion is the strategic placing of explosive material and timing of its detonation so that a structure collapses on itself in a matter of seconds, minimizing the physical damage to its immediate surroundings...
, in particular for cutting through metal piles, columns and beams and for boring holes. In
steelmaking
Steelmaking
Steelmaking is the second step in producing steel from iron ore. In this stage, impurities such as sulfur, phosphorus, and excess carbon are removed from the raw iron, and alloying elements such as manganese, nickel, chromium and vanadium are added to produce the exact steel required.-Older...
, small shaped charges are often used to pierce taps that have become plugged with slag. They are also used in quarrying, breaking up ice, breaking log jams, cutting down trees, drilling post holes.
Shaped charges are used most extensively in the
petroleum
Petroleum
Petroleum or crude oil is a naturally occurring, flammable liquid consisting of a complex mixture of hydrocarbons of various molecular weights and other liquid organic compounds, that are found in geologic formations beneath the Earth's surface. Petroleum is recovered mostly through oil drilling...
and
natural gas
Natural gas
Natural gas is a naturally occurring gas mixture consisting primarily of methane, typically with 0–20% higher hydrocarbons . It is found associated with other hydrocarbon fuel, in coal beds, as methane clathrates, and is an important fuel source and a major feedstock for fertilizers.Most natural...
industries, in particular in the completion of oil and gas wells, in which they are detonated to
perforate the metal casing
Perforation (oil well)
A perforation in the context of oil wells refers to a hole punched in the casing or liner of an oil well to connect it to the reservoir. In cased hole completions, the well will be drilled down past the section of the formation desired for production and will have casing or a liner run in...
of the well at intervals to admit the influx of oil and gas.
The penetration
A typical device consists of a solid cylinder of explosive with a metal-lined conical hollow in one end and a central
detonator
Detonator
A detonator is a device used to trigger an explosive device. Detonators can be chemically, mechanically, or electrically initiated, the latter two being the most common....
, array of detonators, or
detonation
Detonation
Detonation involves a supersonic exothermic front accelerating through a medium that eventually drives a shock front propagating directly in front of it. Detonations are observed in both conventional solid and liquid explosives, as well as in reactive gases...
wave guide at the other end. Explosive energy is released directly away from (
normal to
Surface normal
A surface normal, or simply normal, to a flat surface is a vector that is perpendicular to that surface. A normal to a non-flat surface at a point P on the surface is a vector perpendicular to the tangent plane to that surface at P. The word "normal" is also used as an adjective: a line normal to a...
) the surface of an explosive, so shaping the explosive will concentrate the explosive energy in the void. If the hollow is properly shaped (usually conically), the enormous pressure generated by the detonation of the explosive drives the liner in the hollow cavity inward to collapse upon its central axis. The resulting collision forms and projects a high-velocity jet of metal forward along the axis. Most of the jet material originates from the innermost layer of the liner, about 10% to 20% of its thickness. The remaining liner material forms a slower-moving slug of material which, due to its appearance, is sometimes called a "carrot".
Because of variations along the liner in its collapse velocity, the jet has a varying velocity along its length, decreasing from the front. This variation in velocity stretches the jet and eventually leads to its break-up into particles. Over time, the particles tend to lose their alignment, which reduces the depth of penetration at long standoffs.
Also, at the apex of the cone, which forms the very front of the jet, the liner does not have time to be fully accelerated before it forms its part of the jet. This results in its small part of jet being projected at a lower velocity than jet formed later behind it. As a result, the initial parts of the jet coalesce to form a pronounced wider tip portion.
Most of the jet moves at
hypersonic
Hypersonic
In aerodynamics, a hypersonic speed is one that is highly supersonic. Since the 1970s, the term has generally been assumed to refer to speeds of Mach 5 and above...
speed. The tip moves at 7 to 14 km/s, the jet tail at a lower velocity (1 to 3 km/s), and the slug at a still lower velocity (less than 1 km/s). The exact velocities depend on the charge's configuration and confinement, explosive type, materials used, and the explosive-initiation mode. At typical velocities, the penetration process generates such enormous pressures that it may be considered hydrodynamic; to a good approximation, the jet and armor may be treated as
inviscid
Inviscid flow
In fluid dynamics there are problems that are easily solved by using the simplifying assumption of an ideal fluid that has no viscosity. The flow of a fluid that is assumed to have no viscosity is called inviscid flow....
,
incompressible
Incompressible flow
In fluid mechanics or more generally continuum mechanics, incompressible flow refers to flow in which the material density is constant within an infinitesimal volume that moves with the velocity of the fluid...
fluids (see, for example), with their material strengths ignored.
The correct detonation point of the charge and spacing is critical for optimum penetration, for two reasons. If the charge is detonated too close there is not enough time for the particle stream to fully develop. But the stream disintegrates and disperses after a relatively short distance, usually well under 2 meters. At such standoffs, it breaks into particles which tend to tumble and drift off the axis of penetration, so that the successive particles tend to widen rather than deepen the hole. At very long standoffs, velocity is lost to air drag, further degrading penetration.
The key to the effectiveness of the hollow charge is its diameter. As the penetration continues through the target, the width of the hole decreases leading to a characteristic "fist to finger" action, where the size of the eventual "finger" is based on the size of the original "fist". In general, shaped charges can penetrate a steel plate as thick as 150% to 700% of their diameter, depending on the charge quality. The figure is for basic steel plate, not for the composite armor, reactive armor, or other types of modern armor.
The liner
The most common shape of the liner is
conical
Cone (geometry)
A cone is an n-dimensional geometric shape that tapers smoothly from a base to a point called the apex or vertex. Formally, it is the solid figure formed by the locus of all straight line segments that join the apex to the base...
, with an internal apex angle of 40 to 90 degrees. Different apex angles yield different distributions of jet mass and velocity. Small apex angles can result in jet bifurcation, or even in the failure of the jet to form at all; this is attributed to the collapse velocity being above a certain threshold, normally slightly higher than the liner material's bulk sound speed. Other widely used shapes include hemispheres, tulips, trumpets, ellipses, and bi-conics; the various shapes yield jets with different velocity and mass distributions.
Liners have been made from many materials, including various metals and
glass
Glass
Glass is an amorphous solid material. Glasses are typically brittle and optically transparent.The most familiar type of glass, used for centuries in windows and drinking vessels, is soda-lime glass, composed of about 75% silica plus Na2O, CaO, and several minor additives...
. The deepest penetrations are achieved with a dense, ductile metal, and a very common choice has been
copper
Copper
Copper is a chemical element with the symbol Cu and atomic number 29. It is a ductile metal with very high thermal and electrical conductivity. Pure copper is soft and malleable; an exposed surface has a reddish-orange tarnish...
. For some modern anti-armor weapons,
molybdenum
Molybdenum
Molybdenum , is a Group 6 chemical element with the symbol Mo and atomic number 42. The name is from Neo-Latin Molybdaenum, from Ancient Greek , meaning lead, itself proposed as a loanword from Anatolian Luvian and Lydian languages, since its ores were confused with lead ores...
and pseudo-alloys of
tungsten filler and copper binder
Copper-tungsten
Copper-tungsten alloy is a pseudo-alloy of copper and tungsten. As copper and tungsten are not mutually soluble, the material is composed of distinct particles of one metal dispersed in a matrix of the other one...
(9:1, thus density is ~18 Mg/m
3
) have been adopted. Just about every common metallic element has been tried, including aluminum,
tungsten
Tungsten
Tungsten , also known as wolfram , is a chemical element with the chemical symbol W and atomic number 74.A hard, rare metal under standard conditions when uncombined, tungsten is found naturally on Earth only in chemical compounds. It was identified as a new element in 1781, and first isolated as...
,
tantalum
Tantalum
Tantalum is a chemical element with the symbol Ta and atomic number 73. Previously known as tantalium, the name comes from Tantalus, a character in Greek mythology. Tantalum is a rare, hard, blue-gray, lustrous transition metal that is highly corrosion resistant. It is part of the refractory...
,
depleted uranium
Depleted uranium
Depleted uranium is uranium with a lower content of the fissile isotope U-235 than natural uranium . Uses of DU take advantage of its very high density of 19.1 g/cm3...
,
lead
Lead
Lead is a main-group element in the carbon group with the symbol Pb and atomic number 82. Lead is a soft, malleable poor metal. It is also counted as one of the heavy metals. Metallic lead has a bluish-white color after being freshly cut, but it soon tarnishes to a dull grayish color when exposed...
,
tin
Tin
Tin is a chemical element with the symbol Sn and atomic number 50. It is a main group metal in group 14 of the periodic table. Tin shows chemical similarity to both neighboring group 14 elements, germanium and lead and has two possible oxidation states, +2 and the slightly more stable +4...
,
cadmium
Cadmium
Cadmium is a chemical element with the symbol Cd and atomic number 48. This soft, bluish-white metal is chemically similar to the two other stable metals in group 12, zinc and mercury. Similar to zinc, it prefers oxidation state +2 in most of its compounds and similar to mercury it shows a low...
,
cobalt
Cobalt
Cobalt is a chemical element with symbol Co and atomic number 27. It is found naturally only in chemically combined form. The free element, produced by reductive smelting, is a hard, lustrous, silver-gray metal....
,
magnesium
Magnesium
Magnesium is a chemical element with the symbol Mg, atomic number 12, and common oxidation number +2. It is an alkaline earth metal and the eighth most abundant element in the Earth's crust and ninth in the known universe as a whole...
,
titanium
Titanium
Titanium is a chemical element with the symbol Ti and atomic number 22. It has a low density and is a strong, lustrous, corrosion-resistant transition metal with a silver color....
,
zinc
Zinc
Zinc , or spelter , is a metallic chemical element; it has the symbol Zn and atomic number 30. It is the first element in group 12 of the periodic table. Zinc is, in some respects, chemically similar to magnesium, because its ion is of similar size and its only common oxidation state is +2...
,
zirconium
Zirconium
Zirconium is a chemical element with the symbol Zr and atomic number 40. The name of zirconium is taken from the mineral zircon. Its atomic mass is 91.224. It is a lustrous, grey-white, strong transition metal that resembles titanium...
,
molybdenum
Molybdenum
Molybdenum , is a Group 6 chemical element with the symbol Mo and atomic number 42. The name is from Neo-Latin Molybdaenum, from Ancient Greek , meaning lead, itself proposed as a loanword from Anatolian Luvian and Lydian languages, since its ores were confused with lead ores...
,
beryllium
Beryllium
Beryllium is the chemical element with the symbol Be and atomic number 4. It is a divalent element which occurs naturally only in combination with other elements in minerals. Notable gemstones which contain beryllium include beryl and chrysoberyl...
,
nickel
Nickel
Nickel is a chemical element with the chemical symbol Ni and atomic number 28. It is a silvery-white lustrous metal with a slight golden tinge. Nickel belongs to the transition metals and is hard and ductile...
,
silver
Silver
Silver is a metallic chemical element with the chemical symbol Ag and atomic number 47. A soft, white, lustrous transition metal, it has the highest electrical conductivity of any element and the highest thermal conductivity of any metal...
, and even
gold
Gold
Gold is a chemical element with the symbol Au and an atomic number of 79. Gold is a dense, soft, shiny, malleable and ductile metal. Pure gold has a bright yellow color and luster traditionally considered attractive, which it maintains without oxidizing in air or water. Chemically, gold is a...
and
platinum
Platinum
Platinum is a chemical element with the chemical symbol Pt and an atomic number of 78. Its name is derived from the Spanish term platina del Pinto, which is literally translated into "little silver of the Pinto River." It is a dense, malleable, ductile, precious, gray-white transition metal...
. The selection of the material depends on the target to be penetrated; for example, aluminum has been found advantageous for
concrete
Concrete
Concrete is a composite construction material, composed of cement and other cementitious materials such as fly ash and slag cement, aggregate , water and chemical admixtures.The word concrete comes from the Latin word...
targets.
In early antitank weapons, copper was used as a liner material. Later, in the 1970s, it was found
tantalum
Tantalum
Tantalum is a chemical element with the symbol Ta and atomic number 73. Previously known as tantalium, the name comes from Tantalus, a character in Greek mythology. Tantalum is a rare, hard, blue-gray, lustrous transition metal that is highly corrosion resistant. It is part of the refractory...
is superior to copper, due to its much higher
density
Density
The mass density or density of a material is defined as its mass per unit volume. The symbol most often used for density is ρ . In some cases , density is also defined as its weight per unit volume; although, this quantity is more properly called specific weight...
and very high ductility at high strain rates. Other high-density metals and alloys tend to have drawbacks in terms of price, toxicity, radioactivity, or lack of ductility.
For the deepest penetrations, pure metals yield the best results, because they display the greatest ductility, which delays the breakup of the stretching jet into particles. In charges for oil well completion, however, it is essential that a solid slug or "carrot" not be formed, since it would plug the hole just penetrated and interfere with the influx of oil. In the petroleum industry, therefore, liners are generally fabricated by
powder metallurgy
Powder metallurgy
Powder metallurgy is the process of blending fine powdered materials, pressing them into a desired shape , and then heating the compressed material in a controlled atmosphere to bond the material . The powder metallurgy process generally consists of four basic steps: powder manufacture, powder...
, often of pseudo-alloys which, if
unsintered
Sintering
Sintering is a method used to create objects from powders. It is based on atomic diffusion. Diffusion occurs in any material above absolute zero, but it occurs much faster at higher temperatures. In most sintering processes, the powdered material is held in a mold and then heated to a temperature...
, yield jets that are composed mainly of dispersed fine metal particles. Unsintered cold-pressed liners, however, are not waterproof and tend to be brittle, which makes them easy to damage during handling. Bimetallic liners, usually zinc-lined copper, can be used; during jet formation the zinc layer vaporizes and a slug is not formed; the disadvantage is an increased cost and dependency of jet formation on the quality of bonding the two layers. Low-melting-point (below 500 °C)
solder
Solder
Solder is a fusible metal alloy used to join together metal workpieces and having a melting point below that of the workpiece.Soft solder is what is most often thought of when solder or soldering are mentioned and it typically has a melting range of . It is commonly used in electronics and...
/braze-like alloys (e.g., Sn
50
Pb
50
, Zn
97.6
Pb
1.6
, or pure metals like lead, zinc or cadmium) can be used; these melt before reaching the well casing, and the molten metal does not obstruct the hole. Other alloys, binary eutectics (e.g. Pb
88.8
Sb
11.1
, Sn
61.9
Pd
38.1
, or Ag
71.9
Cu
28.1
), form a metal-matrix composite material with ductile matrix with brittle
dendrites
Dendrite (metal)
A dendrite in metallurgy is a characteristic tree-like structure of crystals growing as molten metal freezes, the shape produced by faster growth along energetically favourable crystallographic directions. This dendritic growth has large consequences in regards to material properties.Dendrites form...
; such materials reduce slug formation but are difficult to shape. A metal-matrix composite with discrete inclusions of low-melting material is another option; the inclusions either melt before the jet reaches the well casing, weakening the material, or serve as crack
nucleation
Nucleation
Nucleation is the extremely localized budding of a distinct thermodynamic phase. Some examples of phases that may form by way of nucleation in liquids are gaseous bubbles, crystals or glassy regions. Creation of liquid droplets in saturated vapor is also characterized by nucleation...
sites, and the slug breaks up on impact. The dispersion of the second phase can be achieved also with castable alloys (e.g., copper with a low-melting-point metal insoluble in copper, such as bismuth, 1-5% lithium, or up to 50% (usually 15-30%) lead; the size of inclusions can be adjusted by thermal treatment. Non-homogeneous distribution of the inclusions can also be achieved. Other additives can modify the alloy properties; tin (4-8%), nickel (up to 30% (often together with tin), up to 8% aluminium, phosphorus (forming brittle phosphides) or 1-5% silicon form brittle inclusions serving as crack initiation sites. Up to 30% zinc can be added to lower the material cost and to form additional brittle phases.
Oxide glass liners produce jets of low density, therefore yielding less penetration depth. Double-layer liners, with one layer of a less dense but pyrophoric metal (e.g. aluminum or
magnesium
Magnesium
Magnesium is a chemical element with the symbol Mg, atomic number 12, and common oxidation number +2. It is an alkaline earth metal and the eighth most abundant element in the Earth's crust and ninth in the known universe as a whole...
), can be used to enhance
incendiary
Incendiary ammunition
-World War I:One of the first uses of incendiary ammunition occurred in World War I. At the time, phosphorus—the primary ingredient in the incendiary charge—ignited upon firing, leaving a trail of blue smoke. They were also known as 'smoke tracer' for this reason. The effective range of...
effects following the armour-piercing action; explosive welding can be used for making those, as then the metal-metal interface is homogeneous, does not contain significant amount of
intermetallics
Intermetallics
Intermetallics or intermetallic compounds is a term that is used in a number of different ways. Most commonly it refers to solid-state phases involving metals. There is a "research definition" adhered to generally in scientific publications, and a wider "common use" term...
, and does not have adverse effects to the formation of the jet.
The penetration depth is proportional to the maximum length of the jet, which is a product of the jet tip velocity and time to particulation. The jet tip velocity depends on bulk sound velocity in the liner material, the time to particulation is dependent on the ductility of the material. The maximum achievable jet velocity is roughly 2.34 times the sound velocity in the material. The speed can reach 10 km/s, peaking some 40 microseconds after detonation; the cone tip is subjected to acceleration of about 25 million g. The jet tail reaches about 2–5 km/s. The pressure between the jet tip and the target can reach one terapascal. The immense pressure makes the metal flow like a liquid, though x-ray diffraction has shown the metal stays solid; one of the theories explaining this behavior proposes molten core and solid sheath of the jet. The best materials are face-centered cubic metals, as they are the most ductile, but even
graphite
Graphite
The mineral graphite is one of the allotropes of carbon. It was named by Abraham Gottlob Werner in 1789 from the Ancient Greek γράφω , "to draw/write", for its use in pencils, where it is commonly called lead . Unlike diamond , graphite is an electrical conductor, a semimetal...
and zero-ductility
ceramic
Ceramic
A ceramic is an inorganic, nonmetallic solid prepared by the action of heat and subsequent cooling. Ceramic materials may have a crystalline or partly crystalline structure, or may be amorphous...
cones show significant penetration.
The explosive
For optimal penetration, a high explosive having a high detonation velocity and pressure is normally chosen. The most common explosive used in high performance anti-armor warheads is
HMX
HMX
HMX, also called octogen, is a powerful and relatively insensitive nitroamine high explosive, chemically related to RDX. Like RDX, the name has been variously listed as High Melting eXplosive, Her Majesty's eXplosive, High-velocity Military eXplosive, or High-Molecular-weight rdX.The molecular...
(octogen), though it is never used in pure form, as it would be too sensitive. It is normally compounded with a few percent of some type of plastic binder, such as in the polymer-bonded explosive (PBX) LX-14, or with another less-sensitive explosive, such as
TNT
, with which it forms
Octol
Octol
Octol is a melt-castable, high explosive mixture consisting of HMX and TNT in different weight proportions.-Composition:Two formulations are commonly used:* 70% HMX & 30% TNT* 75% HMX & 25% TNT...
. Other common high-performance explosives are
RDX
RDX
RDX, an initialism for Research Department Explosive, is an explosive nitroamine widely used in military and industrial applications. It was developed as an explosive which was more powerful than TNT, and it saw wide use in WWII. RDX is also known as cyclonite, hexogen , and T4...
-based compositions, again either as PBXs or mixtures with TNT (to form
Composition B
Composition B
Composition B, colloquially "comp B", is an explosive consisting of castable mixtures of RDX and TNT. It is used as the main explosive filling in artillery projectiles, rockets, land mines, hand grenades, sticky bombs and various other munitions...
and the
Cyclotol
Cyclotol
Cyclotol is an explosive consisting of castable mixtures of RDX and TNT.It is related to the more common Composition B, which is roughly 60% RDX and 40% TNT; various compositions of Cyclotol contain from 65% to 80% RDX....
s) or wax (Cyclonites). Some explosives incorporate powdered aluminum to increase their blast and detonation temperature, but this addition generally results in decreased performance of the shaped charge. There has been research into using the very high-performance but sensitive explosive CL-20 in shaped-charge warheads, but, at present, due to its sensitivity, this has been in the form of the PBX composite LX-19 (CL-20 and Estane binder).
Other features
A
waveshaper
Waveshaper
In electronic music a waveshaping is a type of distortion synthesis in which complex spectra are produced from simple tones by altering the shape of the waveforms.- Uses :...
is a body (typically a disc or cylindrical block) of an inert material (typically solid or foamed plastic, but sometimes metal, perhaps hollow) inserted within the explosive for the purpose of changing the path of the detonation wave. The effect is to modify the collapse of the cone and resulting jet formation, with the intent of increasing penetration performance. Waveshapers are often used to save space; a shorter charge can achieve the same performance as a longer one without a waveshaper.
Another useful design feature is
sub-calibration
, the use of a liner having a smaller diameter (caliber) than the explosive charge. In an ordinary charge, the explosive near the base of the cone is so thin that it is unable to accelerate the adjacent liner to sufficient velocity to form an effective jet. In a sub-calibrated charge, this part of the device is effectively cut off, resulting in a shorter charge with the same performance.
Defense against shaped charges
During
World War II
World War II
World War II, or the Second World War , was a global conflict lasting from 1939 to 1945, involving most of the world's nations—including all of the great powers—eventually forming two opposing military alliances: the Allies and the Axis...
, the precision of the charge's construction and its detonation mode were both inferior to modern warheads. This lower precision caused the jet to curve and to break up at an earlier time and hence at a shorter distance. The resulting dispersion decreased the penetration depth for a given cone diameter and also shortened the optimum standoff distance. Since the charges were less effective at larger standoffs,
side and turret skirts
Spaced armour
Armour with two or more plates spaced a distance apart is called spaced armour. When sloped it reduces the penetrating power of bullets and solid shot as after penetrating each plate they tend to tumble, deflect, deform, or disintegrate; when not sloped it increases the protection offered by the...
(known as
Schürzen
) fitted to some German tanks to protect against ordinary
anti-tank rifle
Anti-tank rifle
An anti-tank rifle is a rifle designed to penetrate the armour of vehicles, particularly tanks. The usefulness of rifles for this purpose ran from the introduction of tanks in World War I and until the Korean War...
s were fortuitously found to give the jet room to disperse and hence reduce also HEAT penetration.
The use of add-on spaced armor skirts on armoured vehicles may have the opposite effect and actually
increase
the penetration of some shaped charge warheads. Due to constraints in the length of the projectile/missile, the built-in stand-off on many warheads is not the optimum distance. The skirting effectively increases the distance between the armor and the target, providing the warhead with a more optimum standoff and greater penetration if the optimum stand-off is not drastically exceeded. Skirting should not be confused with
cage armor
Cage armor
Slat armor is a type of vehicle armor designed to protect against anti-tank rocket-propelled grenade attacks...
which is used to damage the fusing system of
RPG-7
RPG-7
The RPG-7 is a widely-produced, portable, unguided, shoulder-launched, anti-tank rocket-propelled grenade launcher. Originally the RPG-7 and its predecessor, the RPG-2, were designed by the Soviet Union, and now manufactured by the Bazalt company...
projectiles. The armour works by deforming the inner and outer
ogive
Ogive
An ogive is the roundly tapered end of a two-dimensional or three-dimensional object.-Applied physical science and engineering:In ballistics or aerodynamics, an ogive is a pointed, curved surface mainly used to form the approximately streamlined nose of a bullet or other projectile.The traditional...
s and shorting the firing circuit between the rocket's piezoelectric nose probe and rear
fuse
Fuse
The word fuse has several meanings:* Fuse , a device used in electrical systems to protect against excessive current....
assembly. Cage armour can also cause the projectile to pitch up or down on impact, lengthening the penetration path for the shaped charge's penetration stream. If the nose probe strikes between one of the cage armour slats, the warhead will function as normal.
Linear shaped charges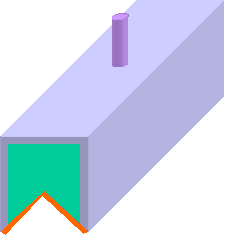 A linear shaped charge (LSC) has a liner with V-shaped profile and varying length. The liner is surrounded with explosive, the explosive then encased within a suitable material that serves to protect the explosive and to confine (tamp) it on detonation. The charge is detonated at some point in the explosive above the liner apex. The detonation projects the liner to form a continuous, knife-like (planar) jet. The jet cuts any material in its path, to a depth depending on the size and materials used in the charge. For the cutting of complex geometries, there are also flexible versions of the linear shaped charge, these with a lead or high-density foam sheathing and a ductile/flexible liner material, which also is often lead. LSCs are commonly used in the cutting of rolled steel joists (RSJ) and other structural targets, such as in the
controlled demolition
Building implosion
In the controlled demolition industry, building implosion is the strategic placing of explosive material and timing of its detonation so that a structure collapses on itself in a matter of seconds, minimizing the physical damage to its immediate surroundings...
of buildings. LSCs are also used to separate the stages of multi-stage rockets.
Explosively formed penetrator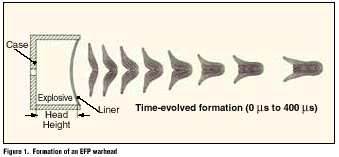 The Explosively Formed Penetrator (EFP) is also known as the Self-Forging Fragment (SFF), Explosively Formed Projectile (EFP), SElf-FOrging Projectile (SEFOP), Plate Charge, and
Misznay-Schardin
Misznay-Schardin effect
The Misznay–Schardin effect, or platter effect, is a characteristic of the detonation of a broad sheet of explosive. The explosive blast expands directly away from the surface of an explosive...
(MS) Charge. An EFP uses the action of the explosive's detonation wave (and to a lesser extent the propulsive effect of its detonation products) to project and deform a plate or dish of ductile metal (such as copper, iron, or tantalum) into a compact high-velocity projectile, commonly called the slug. This slug is projected toward the target at about two kilometers per second. The chief advantage of the EFP over a conventional (e.g., conical) shaped charge is its effectiveness at very great standoffs, equal to hundreds of times the charge's diameter (perhaps a hundred meters for a practical device).
The EFP is relatively unaffected by first-generation reactive armor and can travel up to perhaps 1000 charge diameters (CDs) before its velocity becomes ineffective at penetrating armor due to aerodynamic drag, or successfully hitting the target becomes a problem. The impact of a ball or slug EFP normally causes a large-diameter but relatively shallow hole, of, at most, a couple of CDs. If the EFP perforates the armor, spalling and extensive behind armor effects (BAE, also called behind armor damage, BAD) will occur. The BAE is mainly caused by the high-temperature and high-velocity armor and slug fragments being injected into the interior space and the blast
overpressure
Overpressure
The term Overpressure is applied to a pressure difference, relative to a "normal" or "ambient" pressure, in various circumstances:* In engineering: the pressure difference over the wall thickness of a pressure vessel...
caused by this debris. More modern EFP warhead versions, through the use of advanced initiation modes, can also produce long-rods (stretched slugs), multi-slugs and finned rod/slug projectiles. The long-rods are able to penetrate a much greater depth of armor, at some loss to BAE, multi-slugs are better at defeating light or area targets and the finned projectiles are much more accurate. The use of this warhead type is mainly restricted to lightly armored areas of main battle tanks (MBT) such as the top, belly and rear armored areas. It is well suited for the attack of other less heavily protected armored fighting vehicles (AFV) and in the breaching of material targets (buildings, bunkers, bridge supports, etc.). The newer rod projectiles may be effective against the more heavily armored areas of MBTs. Weapons using the EFP principle have already been used in combat; the "smart" submunitions in the
CBU-97
CBU-97
The CBU-97 Sensor Fuzed Weapon is a United States Air Force 1,000-pound-class non-guided Cluster Bomb Unit . It was developed and produced by Textron Defense Systems.-Overview:...
cluster bomb
Cluster bomb
A cluster munition is a form of air-dropped or ground-launched explosive weapon that releases or ejects smaller sub-munitions. Commonly, this is a cluster bomb that ejects explosive bomblets that are designed to kill enemy personnel and destroy vehicles...
used by the US Air Force and Navy in the 2003 Iraq war employed this principle, and the US Army is reportedly experimenting with precision-guided artillery shells under Project SADARM (Seek And Destroy ARMor). There are also various other projectile (BONUS, DM 642) and rocket submunitions (Motiv-3M, DM 642) and mines (MIFF, TMRP-6) that use EFP principle. Examples of EFP warheads are US patents 5038683 and US6606951.
Tandem warhead
Some modern anti-tank rockets (
RPG-27
RPG-27
The RPG-27 is a Soviet disposable rocket launcher.-History:The RPG-27 Tavolga was developed by the State Research and Production Enterprise, Bazalt as a modern anti-tank grenade launcher designed to defeat modern and future tanks with advanced reactive and composite armor as well as fortified...
,
RPG-29
RPG-29
The RPG-29 is a Russian rocket-propelled grenade launcher. Adopted by the Soviet Army in 1989, it was the most recent weapon of its type to be adopted by the Russian military before the fall of the Soviet Union in 1991. The RPG-29 has since been supplemented by other rocket-propelled systems, such...
) and missiles (
TOW 2B
BGM-71 TOW
The BGM-71 TOW is an anti-tank missile. "BGM" is a weapon classification that stands for "Multiple Environment , Surface-Attack , Missile ". "TOW" is an acronym that stands for "Tube-launched, Optically-tracked, Wire command data link, guided missile"...
,
ERYX
ERYX
ERYX is a short-range portable SACLOS-based wire-guided anti-tank missile produced by European company MBDA. It is used by several countries, including the Canadian Army, French, and Norwegian armies. The weapon can also be used against bunkers and pillboxes. It also has some capability in the...
,
HOT
Euromissile HOT
The HOT is a second-generation long-range anti-tank missile system developed originally as an effort to meet a joint German-French Army requirement, by the then German firm Bolkow and the French firm Nord, to replace the older SS.11 wire guided...
,
MILAN
MILAN
MILAN " is French and German for "kite bird") is a European anti-tank guided missile. Design of the MILAN started in 1962. It was ready for trials in 1971, and was accepted for service in 1972. It is a wire guided SACLOS missile, which means the sight of the launch unit has to be aimed at the...
) use a tandem warhead shaped charge, consisting of two separate shaped charges, one in front of the other, typically with some distance between them. TOW-2B was the first to use tandem warheads to in the mid 1980s, an aspect of the weapon which the US Army had to reveal under news media and Congressional pressure resulting from the concern that NATO antitank missiles were ineffective against Soviet tanks that were fitted with the new
ERA boxes
Reactive armour
Reactive armour is a type of vehicle armour that reacts in some way to the impact of a weapon to reduce the damage done to the vehicle being protected. It is most effective in protecting against shaped charges and specially hardened long rod penetrators...
. The Army revealed that a 40mm precursor shape charge warhead was fitted on tip of the TOW-2B collapsible probe. Usually, the front charge is somewhat smaller than the rear one, as it is intended primarily to disrupt ERA boxes or tiles. Examples of tandem warheads are US patents 7363862 and US 5561261. The US
Hellfire
AGM-114 Hellfire
The AGM-114 Hellfire is an air-to-surface missile developed primarily for anti-armor use. It has multi-mission, multi-target precision-strike capability, and can be launched from multiple air, sea, and ground platforms. The Hellfire missile is the primary 100 lb-class air-to-ground precision...
antiarmor missile is one of the few that have accomplished the complex engineering feat of having two shaped charges of the same diameter stacked in one warhead. Recently, a Russian arms firm revealed a 125mm tank cannon round with two same diameter shaped charges one behind the other, but with the back one offset so its penetration stream will not interfere with the front shaped charge's penetration stream. The reasoning behind both the Hellfire and the Russian 125mm munitions having tandem same diameter warheads is not to increase penetration, but to increase the
beyond-armour effect
Beyond-armour effect
Beyond-Armour Effect is a term coined by Försvarets Fabriksverk , a semi-governmental Swedish defense firm, while developing the AT4. From the 1980s this phrase was used in its brochures, press releases, weapon instruction manuals and other documentation to denote the post-penetration effect of...
.
Voitenko compressor
In 1965 a Russian scientist proposed that a shaped charge originally developed for piercing thick steel armor be adapted to the task of accelerating shock waves. The resulting device, looking a little like a wind tunnel, is called a Voitenko compressor. The Voitenko compressor initially separates a test gas from a shaped charge with a malleable
steel
Steel
Steel is an alloy that consists mostly of iron and has a carbon content between 0.2% and 2.1% by weight, depending on the grade. Carbon is the most common alloying material for iron, but various other alloying elements are used, such as manganese, chromium, vanadium, and tungsten...
plate. When the shaped charge detonates, most of its energy is focused on the steel plate, driving it forward and pushing the test gas ahead of it. Ames translated this idea into a self-destroying shock tube. A 66-pound shaped charge accelerated the gas in a 3-cm glass-walled tube 2 meters in length. The velocity of the resulting shock wave was 220,000 feet per second (67 km/sec). The apparatus exposed to the detonation was completely destroyed, but not before useful data was extracted. In a typical Voitenko compressor, a shaped charge accelerates
hydrogen
Hydrogen
Hydrogen is the chemical element with atomic number 1. It is represented by the symbol H. With an average atomic weight of , hydrogen is the lightest and most abundant chemical element, constituting roughly 75% of the Universe's chemical elemental mass. Stars in the main sequence are mainly...
gas which in turn accelerates a thin disk up to about 40 km/s. A slight modification to the Voitenko compressor concept is a super-compressed detonation, a device that uses a compressible liquid or solid fuel in the steel compression chamber instead of a traditional gas mixture. A further extension of this technology is the explosive
diamond anvil cell
Diamond anvil cell
A diamond anvil cell is a device used in scientific experiments. It allows compressing a small piece of material to extreme pressures, which can exceed 3,000,000 atmospheres ....
, utilizing multiple opposed shaped charge jets projected at a single steel encapsulated fuel, such as hydrogen. The fuels used in these devices, along with the secondary combustion reactions and long blast impulse, produce similar conditions to those encountered in fuel-air and thermobaric explosives.
Nuclear shaped charges
A requirement for the
Project Orion nuclear propulsion
Project Orion (nuclear propulsion)
Project Orion was a study of a spacecraft intended to be directly propelled by a series of explosions of atomic bombs behind the craft...
system, the design (and testing) of nuclear shaped charges is still unknown. However, there seems little doubt that nuclear shaped charges have existed at least since the late 1950s and by 1961 bomb design had reached the point where the yield could be collimated within a cone of 22.5 degrees.
Examples in the media
The Future Weapons program of the Discovery channel featured the 'Krakatoa', a simple shaped charge weapon system designed by Alford Technologies for special operations deployment. The weapon consisted of a simple plastic outer shell, a copper cone and a volume of plastic explosive. This device was effective at penetrating 1 inches (25.4 mm) steel plate at a range of several meters.
External links