Pantone
Pantone Inc.
is a corporation headquartered in
Carlstadt
Carlstadt, New Jersey
Carlstadt is a borough in Bergen County, New Jersey, United States. As of the 2010 United States Census, the borough population was 6,127.Carlstadt was originally formed as a village by an Act of the New Jersey Legislature on March 12, 1860, within Lodi Township. It was named after Dr...
,
New Jersey
New Jersey
New Jersey is a state in the Northeastern and Middle Atlantic regions of the United States. , its population was 8,791,894. It is bordered on the north and east by the state of New York, on the southeast and south by the Atlantic Ocean, on the west by Pennsylvania and on the southwest by Delaware...
, USA. The company is best known for its
Pantone Matching System
(
PMS
), a
proprietary
Property
Property is any physical or intangible entity that is owned by a person or jointly by a group of people or a legal entity like a corporation...
color space
Color space
A color model is an abstract mathematical model describing the way colors can be represented as tuples of numbers, typically as three or four values or color components...
used in a variety of industries, primarily printing, though sometimes in the manufacture of colored paint, fabric, and plastics.
In October 2007,
X-Rite Inc
X-Rite
X-Rite, Inc. is a manufacturer of color matching products, located in Grand Rapids, Michigan, United States. Their products include those used for matching paint colors. They also create products that regulate quality in the processing of film and x-rays....
, a supplier of color measurement instruments and software, purchased Pantone Inc for $180 million.
Overview
Pantone began as a commercial printing company in the 1950s. In 1956, they hired recent
Hofstra University
Hofstra University
Hofstra University is a private, nonsectarian institution of higher learning located in the Village of Hempstead, New York, United States, about east of New York City: less than an hour away by train or car...
graduate Lawrence Herbert as a part-time employee. Herbert used his chemistry knowledge to systematize and simplify the company's stock of
pigment
Pigment
A pigment is a material that changes the color of reflected or transmitted light as the result of wavelength-selective absorption. This physical process differs from fluorescence, phosphorescence, and other forms of luminescence, in which a material emits light.Many materials selectively absorb...
s and production of colored
ink
Ink
Ink is a liquid or paste that contains pigments and/or dyes and is used to color a surface to produce an image, text, or design. Ink is used for drawing and/or writing with a pen, brush, or quill...
s; by 1962, Herbert was running the ink and printing division at a profit, while the commercial-display division was $50,000 in debt; he subsequently purchased the company's technological assets from his employers and renamed them "Pantone".
The company's primary products include the Pantone Guides, which consist of a large number of small (approximately 6×2 inches or 15×5 cm) thin
cardboard
Paperboard
Paperboard is a thick paper based material. While there is no rigid differentiation between paper and paperboard, paperboard is generally thicker than paper. According to ISO standards, paperboard is a paper with a basis weight above 224 g/m2, but there are exceptions. Paperboard can be single...
sheets, printed on one side with a series of related
color
Color
Color or colour is the visual perceptual property corresponding in humans to the categories called red, green, blue and others. Color derives from the spectrum of light interacting in the eye with the spectral sensitivities of the light receptors...
swatches and then bound into a small "fan deck". For instance, a particular "page" might contain a number of yellows of varying
tint
Tint
In color theory, a tint is the mixture of a color with white.Tint may also refer to:* Tint control, an adjustment to correct for phase error in the picture color on a NTSC television set* Tint , an album by Merzbow...
s.
The idea behind the PMS is to allow designers to 'color match' specific colors when a design enters production stage—regardless of the equipment used to produce the color. This system has been widely adopted by graphic designers and reproduction and printing houses for a number of years now. Pantone recommends that PMS Color Guides be purchased annually as their inks become more yellow over time. Color variance also occurs within editions based on the paper stock used (coated, matte or uncoated), while interedition color variance occurs when there are changes to the specific paper stock used.
Original Pantone Color Matching System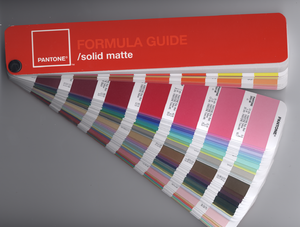 The Pantone Color Matching System is largely a standardized color reproduction system. By standardizing the colors, different manufacturers in different locations can all refer to the Pantone system to make sure colors match without direct contact with one another.
One such use is standardizing colors in the CMYK process. The CMYK process is a method of printing color by using four inks—cyan, magenta, yellow, and black. A majority of the world's printed material is produced using the CMYK process, and there is a special subset of Pantone colors that can be reproduced using CMYK . Those that are possible to simulate through the CMYK process are labeled as such within the company's guides.
However, most of the Pantone system's 1,114
spot color
Spot color
In offset printing, a spot color is any color generated by an ink that is printed using a single run.The widely spread offset-printing process is composed of four spot colors: Cyan, Magenta, Yellow, and Key commonly referred to as CMYK...
s cannot be simulated with CMYK but with 13 base pigments (15 including white and black) mixed in specified amounts.
The Pantone system also allows for many 'special' colors to be produced such as metallics and fluorescents. While most of the Pantone system colors are beyond the printed CMYK gamut, it was only in 2001 that Pantone began providing translations of their existing system with screen-based colors. (Screen-based colors use the RGB—red, green, blue—system to create various colors.) The Goe system has RGB and
LAB
Lab color space
A Lab color space is a color-opponent space with dimension L for lightness and a and b for the color-opponent dimensions, based on nonlinearly compressed CIE XYZ color space coordinates....
values with each color.
Pantone colors are described by their allocated number (typically referred to as, for example, 'PMS 130'). PMS colors are almost always used in branding and have even found their way into government legislation (to describe the colors of
flag
Flag
A flag is a piece of fabric with a distinctive design that is usually rectangular and used as a symbol, as a signaling device, or decoration. The term flag is also used to refer to the graphic design employed by a flag, or to its depiction in another medium.The first flags were used to assist...
s). In January 2003, the
Scottish Parliament
Scottish Parliament
The Scottish Parliament is the devolved national, unicameral legislature of Scotland, located in the Holyrood area of the capital, Edinburgh. The Parliament, informally referred to as "Holyrood", is a democratically elected body comprising 129 members known as Members of the Scottish Parliament...
debated a petition (reference PE512) to refer to the blue in the
Scottish flag
Flag of Scotland
The Flag of Scotland, , also known as Saint Andrew's Cross or the Saltire, is the national flag of Scotland. As the national flag it is the Saltire, rather than the Royal Standard of Scotland, which is the correct flag for all individuals and corporate bodies to fly in order to demonstrate both...
(saltire) as 'Pantone 300'. Countries such as
Canada
Flag of Canada
The national flag of Canada, also known as the Maple Leaf, and , is a red flag with a white square in its centre, featuring a stylized 11-pointed red maple leaf. Its adoption in 1965 marked the first time a national flag had been officially adopted in Canada to replace the Union Flag...
and
South Korea
Flag of South Korea
The flag of South Korea, or Taegeukgi has three parts: a white background; a red and blue taegeuk in the centre; and four black trigrams, one in each corner of the flag...
and organizations such as the
FIA
Fédération Internationale de l'Automobile
The Fédération Internationale de l'Automobile is a non-profit association established as the Association Internationale des Automobile Clubs Reconnus on 20 June 1904 to represent the interests of motoring organisations and motor car users...
have also chosen to refer to specific Pantone colors to use when producing flags. U.S. states including
Texas
Texas
Texas is the second largest U.S. state by both area and population, and the largest state by area in the contiguous United States.The name, based on the Caddo word "Tejas" meaning "friends" or "allies", was applied by the Spanish to the Caddo themselves and to the region of their settlement in...
have set legislated PMS colors of their flags.
Pantone Goe System
On September 5, 2007 Pantone introduced the Goe System. Goe consists of over 2,000 new colors in a brand new matching and numbering system. In addition to the standard swatch books (now called the GoeGuide), the new system also includes adhesive-backed GoeSticks, interactive software, tools, and an online community where users are able to share color swatches and information.
The Goe system is streamlined to use fewer base colors (10 + Clear coating for reflections) and accommodates many technical challenges in reproducing colors on a press.
Other products
In mid-2006 Pantone, partnering with Vermont-based
Fine Paints of Europe
Fine Paints of Europe
Fine Paints of Europe, located in the U.S. state of Vermont, is the sole North American importer of paints and varnishes manufactured in the Netherlands by Wijzonol Bouwverven B.V....
, introduced a new line of interior and exterior paints. The color palette uses Pantone's color research and trending and has more than 3000 colors.
Color of the Year
Annually Pantone will declare a particular color "Color of the Year". The color is chosen to purportedly connect with the
zeitgeist
Zeitgeist
Zeitgeist is "the spirit of the times" or "the spirit of the age."Zeitgeist is the general cultural, intellectual, ethical, spiritual or political climate within a nation or even specific groups, along with the general ambiance, morals, sociocultural direction, and mood associated with an era.The...
; for example the press release declaring Honeysuckle the color of 2011 said
"In times of stress, we need something to lift our spirits. Honeysuckle is a captivating, stimulating color that gets the adrenaline going – perfect to ward off the blues."
Intellectual property
Pantone asserts that their lists of color numbers and pigment values are the
intellectual property
Intellectual property
Intellectual property is a term referring to a number of distinct types of creations of the mind for which a set of exclusive rights are recognized—and the corresponding fields of law...
of Pantone and free use of the list is not allowed. This is frequently held as a reason why Pantone colors cannot be supported in
Open Source
Open source
The term open source describes practices in production and development that promote access to the end product's source materials. Some consider open source a philosophy, others consider it a pragmatic methodology...
software such as GNU Image Manipulation Program (GIMP) and are not often found in low-cost software. Pantone palettes supplied by printer manufacturers can be obtained freely, and, depending on supplier, do not come with usage restrictions beyond a sales ban on hard copies of the palette.
Pantone also produces
Hexachrome
Hexachrome
Hexachrome was a six-color printing process designed by Pantone Inc. In addition to custom CMYK inks, Hexachrome added orange and green inks to expand the color gamut, for better color reproduction. It was therefore also known as a CMYKOG process....
, a patented six-color printing system.
See also
Color chart

Color chart

In color-related fields, a color chart is a flat, physical object colored with an arrangement of standardized color samples, used for color comparisons and measurements such as checking the color reproduction of an imaging system...


, other color systems and charts
Database right (copyright protection of databases in the EU)
Natural Color System

Natural Color System

The Natural Color System is a proprietary perceptual color model published by the Scandinavian Colour Institute of Stockholm, Sweden. It is based on the color opponency description of color vision, first proposed by German physiologist Ewald Hering...


(NCS), Munsell color system

Munsell color system

In colorimetry, the Munsell color system is a color space that specifies colors based on three color dimensions: hue, value , and chroma . It was created by Professor Albert H...


, and other proprietary color spaces where most consumers use swatches to make color decisions; unlike Pantone, these systems are based on underlying color models rather than pigment mixtures.
Process color
RAL (color space system)

RAL (color space system)

RAL is a color matching system used in Europe. In colloquial speech RAL refers to the RAL CLASSIC system, mainly used for varnish and powder coating.- RAL CLASSIC:...



Spot color

Spot color

In offset printing, a spot color is any color generated by an ink that is printed using a single run.The widely spread offset-printing process is composed of four spot colors: Cyan, Magenta, Yellow, and Key commonly referred to as CMYK...



External links