 Panning (camera)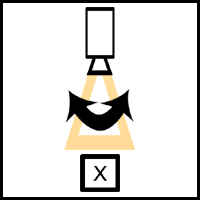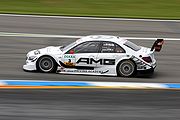 In photography,
panning
refers to the horizontal movement or rotation of a
still
Still camera
A still camera is a type of camera used to take photographs. Traditional cameras capture light onto photographic film. Digital cameras use electronics, usually a charge coupled device to store digital images in computer memory inside the camera...
or
video camera
Video camera
A video camera is a camera used for electronic motion picture acquisition, initially developed by the television industry but now common in other applications as well. The earliest video cameras were those of John Logie Baird, based on the electromechanical Nipkow disk and used by the BBC in...
, or the scanning of a subject horizontally on video or a display device. Panning a camera results in a motion similar to that of someone shaking their head "no" or of an aircraft performing a
yaw rotation
Aircraft principal axes
An aircraft in flight is free to rotate in three dimensions: pitch, nose up or down about an axis running from wing to wing), yaw, nose left or right about an axis running up and down; and roll, rotation about an axis running from nose to tail. The axes are alternatively designated as lateral,...
.
Film
Film
A film, also called a movie or motion picture, is a series of still or moving images. It is produced by recording photographic images with cameras, or by creating images using animation techniques or visual effects...
and
professional video camera
Professional video camera
A professional video camera is a high-end device for creating electronic moving images...
s
pan
by turning horizontally on a vertical axis, but the effect may be enhanced by adding other techniques, such as rails to move the whole camera platform. Slow panning is also combined with
zooming
Zoom lens
A zoom lens is a mechanical assembly of lens elements for which the focal length can be varied, as opposed to a fixed focal length lens...
in or out on a single subject, leaving the subject in the same portion of the frame, to emphasize or de-emphasize the subject respectively.
In
video
Video
Video is the technology of electronically capturing, recording, processing, storing, transmitting, and reconstructing a sequence of still images representing scenes in motion.- History :...
technology, the use of a camera to scan a subject horizontally is called panning.
In still photography, the panning technique is used to suggest fast motion, and bring out the subject from other elements in the frame. In photographic pictures it is usually noted by a foreground subject in action appearing still (i.e. a runner frozen in mid-stride) while the background is streaked and/or skewed in the apparently opposite direction of the subject's travel.
The term
panning
is derived from
panorama
Panorama
A panorama is any wide-angle view or representation of a physical space, whether in painting, drawing, photography, film/video, or a three-dimensional model....
, a word originally coined in 1787 by Robert Barker for the 18th century version of these applications, a machine that unrolled or unfolded a long horizontal painting to give the impression the scene was passing by; Barker also invented the
cyclorama
Cyclorama
For the classical album Cyclorama, see Jonathan Goldstein; For the rock album Cyclorama by Styx, see Cyclorama ; for the theatrical backdrop, see Cyclorama...
in which a large painting encircles an audience.
Achieving a smooth pan in photography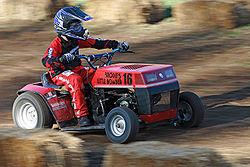 When photographing a moving subject, the panning technique is achieved by keeping the subject in the same position of the frame for the duration of the exposure. The length of the
exposure
Exposure (photography)
In photography, exposure is the total amount of light allowed to fall on the photographic medium during the process of taking a photograph. Exposure is measured in lux seconds, and can be computed from exposure value and scene luminance over a specified area.In photographic jargon, an exposure...
must be long enough to allow the background to blur due to the movement of the camera as the photographer follows the subject in the
viewfinder
Viewfinder
In photography, a viewfinder is what the photographer looks through to compose, and in many cases to focus, the picture. Most viewfinders are separate, and suffer parallax, while the single-lens reflex camera lets the viewfinder use the main optical system. Viewfinders are used in many cameras of...
.
The exact length of exposure required will depend on the speed at which the subject is moving, the focal length of the lens and the distance from the subject and background. An F1 car speeding along a straight might allow the photographer to achieve a blurred background at 1/250th of a second, while the photographer might need to go as slow as 1/40th to achieve the same amount of blur for a picture of a running man.
The faster
shutter speed
Shutter speed
In photography, shutter speed is a common term used to discuss exposure time, the effective length of time a camera's shutter is open....
allowed by fast moving subjects are easier to capture in a smoothly panned shot. With slower moving subjects, the risk is that the panning motion will be jerky, and it is also harder to keep the subject in the same position of the frame for the longer period of time.
To aid in capturing panned pictures, photographers use aids such as tripods and monopods, which make it easy to swing the camera along one plane, while keeping it steady in the others. A low budget option is to tie a piece of string around the lens, then to drop the other end to the floor and step on it to pull it taut. This will allow a little bit more stability and allow for smoother blur.
See also
Equatorial mount

Equatorial mount

An equatorial mount is a mount for instruments that follows the rotation of the sky by having one rotational axis parallel to the Earth's axis of rotation. This type of mount is used for astronomical telescopes and cameras...


which allows astronomers to take pictures of stars and galaxies by compensating Earth movement.
Pan and scan

Pan and scan

Pan and scan is a method of adjusting widescreen film images so that they can be shown within the proportions of a standard definition 4:3 aspect ratio television screen, often cropping off the sides of the original widescreen image to focus on the composition's most important aspects...



Pan tilt zoom camera (PTZ)
Tilt (camera)

Tilt (camera)

Tilting is a cinematographic technique in which the camera is stationary and rotates in a vertical plane . A rotation in a horizontal plane is known as panning...



Tripod (photography)

Tripod (photography)

In photography, a tripod is used to stabilize and elevate a camera, or to support flashes or other photographic equipment. All photographic tripods have three legs and a mounting head to couple with a camera...



View camera

View camera

The view camera is a type of camera first developed in the era of the Daguerreotype and still in use today, though with many refinements. It comprises a flexible bellows which forms a light-tight seal between two adjustable standards, one of which holds a lens, and the other a viewfinder or a...



Zoom lens

Zoom lens

A zoom lens is a mechanical assembly of lens elements for which the focal length can be varied, as opposed to a fixed focal length lens...