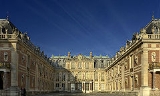 Palace of Versailles
The Palace of Versailles (icon or v; vɛʁˈsaj), or simply Versailles, is a royal
château
Château
A château is a manor house or residence of the lord of the manor or a country house of nobility or gentry, with or without fortifications, originally—and still most frequently—in French-speaking regions...
in Versailles in the
Île-de-France
Île-de-France (région)
Île-de-France is the wealthiest and most populated of the twenty-two administrative regions of France, composed mostly of the Paris metropolitan area....
region of France. In French it is the Château de Versailles.
When the château was built, Versailles was a country village; today, however, it is a suburb of Paris, some 20 kilometres southwest of the French capital. The court of Versailles was the centre of political power in France from 1682, when
Louis XIV
Louis XIV of France
Louis XIV , known as Louis the Great or the Sun King , was a Bourbon monarch who ruled as King of France and Navarre. His reign, from 1643 to his death in 1715, began at the age of four and lasted seventy-two years, three months, and eighteen days...
moved from Paris, until the
royal family
Royal family
A royal family is the extended family of a king or queen regnant. The term imperial family appropriately describes the extended family of an emperor or empress, while the terms "ducal family", "grand ducal family" or "princely family" are more appropriate to describe the relatives of a reigning...
was forced to return to the capital in October 1789 after the beginning of the
French Revolution
French Revolution
The French Revolution , sometimes distinguished as the 'Great French Revolution' , was a period of radical social and political upheaval in France and Europe. The absolute monarchy that had ruled France for centuries collapsed in three years...
.