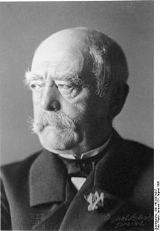 Otto von Bismarck
Otto Eduard Leopold, Prince of Bismarck, Duke of Lauenburg
(1 April 1815 – 30 July 1898), simply known as
Otto von Bismarck
, was a
Prussia
Prussia
Prussia was a German kingdom and historic state originating out of the Duchy of Prussia and the Margraviate of Brandenburg. For centuries, the House of Hohenzollern ruled Prussia, successfully expanding its size by way of an unusually well-organized and effective army. Prussia shaped the history...
n-
German
Germans
The Germans are a Germanic ethnic group native to Central Europe. The English term Germans has referred to the German-speaking population of the Holy Roman Empire since the Late Middle Ages....
statesman whose actions unified
Germany
Germany
Germany , officially the Federal Republic of Germany , is a federal parliamentary republic in Europe. The country consists of 16 states while the capital and largest city is Berlin. Germany covers an area of 357,021 km2 and has a largely temperate seasonal climate...
, made it a major player in world affairs, and created a balance of power that kept Europe at peace after 1871.
As Minister President of
Prussia
Kingdom of Prussia
The Kingdom of Prussia was a German kingdom from 1701 to 1918. Until the defeat of Germany in World War I, it comprised almost two-thirds of the area of the German Empire...
from 1862–1890, he oversaw the
unification of Germany
Unification of Germany
The formal unification of Germany into a politically and administratively integrated nation state officially occurred on 18 January 1871 at the Versailles Palace's Hall of Mirrors in France. Princes of the German states gathered there to proclaim Wilhelm of Prussia as Emperor Wilhelm of the German...
. In 1867 he became Chancellor of the
North German Confederation
North German Confederation
The North German Confederation 1866–71, was a federation of 22 independent states of northern Germany. It was formed by a constitution accepted by the member states in 1867 and controlled military and foreign policy. It included the new Reichstag, a parliament elected by universal manhood...
.