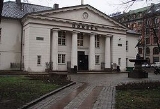 Oslo Stock Exchange
The
Oslo Stock Exchange
serves as the main market for trading in the shares of Norwegian companies. It opens at 9:00am and closes 5:30pm local time (
CET
Central European Time
Central European Time , used in most parts of the European Union, is a standard time that is 1 hour ahead of Coordinated Universal Time . The time offset from UTC can be written as +01:00...
). In additional to a wide range of domestic companies, the OSE attracts a lot of international companies within
petroleum
Petroleum
Petroleum or crude oil is a naturally occurring, flammable liquid consisting of a complex mixture of hydrocarbons of various molecular weights and other liquid organic compounds, that are found in geologic formations beneath the Earth's surface. Petroleum is recovered mostly through oil drilling...
,
shipping
Shipping
Shipping has multiple meanings. It can be a physical process of transporting commodities and merchandise goods and cargo, by land, air, and sea. It also can describe the movement of objects by ship.Land or "ground" shipping can be by train or by truck...
and other related areas.
The exchange has pre-market sessions from 08:15am to 09:00am, normal trading sessions from 09:00am to 05:20pm and post-market sessions from 05:20pm to 05:30pm on all days of the week except Saturdays, Sundays and holidays declared by the Exchange in advance.
History
The Oslo Stock Exchange started life as Christiania Børs in 1819. In the beginning, there was no organized listing or
stock exchange
Stock exchange
A stock exchange is an entity that provides services for stock brokers and traders to trade stocks, bonds, and other securities. Stock exchanges also provide facilities for issue and redemption of securities and other financial instruments, and capital events including the payment of income and...
; the Børs served as a meeting place for investors auctioning ships, shares in ships, commodities, and foreign currencies. Stocks and bonds only started trading on the exchange in 1881.
In 1988, the exchange introduced an electronic trading support system, and replaced the old auction model with continuous trading of listed shares throughout the day. Trading became fully electronic in 1999 and the trading floor was discontinued.
OBX Index
The OBX Index is a list of the 25 most
liquid
Market liquidity
In business, economics or investment, market liquidity is an asset's ability to be sold without causing a significant movement in the price and with minimum loss of value...
companies on the Oslo Stock Exchange main index. The companies have their own index common OBX index. All stocks on the OBX list can be traded with
options
Option (finance)
In finance, an option is a derivative financial instrument that specifies a contract between two parties for a future transaction on an asset at a reference price. The buyer of the option gains the right, but not the obligation, to engage in that transaction, while the seller incurs the...
and
futures
Futures contract
In finance, a futures contract is a standardized contract between two parties to exchange a specified asset of standardized quantity and quality for a price agreed today with delivery occurring at a specified future date, the delivery date. The contracts are traded on a futures exchange...
which are listed on the
SOLA
Sola Trading
Sola Trading is an electronic trading system platform that manages the transactions of securities products for a derivatives exchange.SOLA supports the trading of various types of derivative models across all asset classes in cash, commodity and fixed income markets.The Sola Trading Platform is...
derivative platform. The companies on the OBX list are rotated twice a year, on the third Friday of June and December.
Ownership
The Oslo Stock Exchange remained a self-owning institution until 2001 when it converted into a
joint stock company
Joint stock company
A joint-stock company is a type of corporation or partnership involving two or more individuals that own shares of stock in the company...
and offered shares to the public in an IPO.
DnB NOR
DnB NOR
DNB ASA is Norway's largest financial services group with total combined assets of more than NOK 2.0 trillion and a market capitalisation NOK 102 billion as per December the 31st. The Group includes brands such as DNB, Vital, Nordlandsbanken, Cresco, Postbanken, DnB NORD and Carlson...
now owns 18% of the company, with the rest of the shares held mostly by many foreign and domestic investors. On October 6, 2006, the larger market and pan-Scandinavian stock exchange group
OMX
OMX
OMX AB is a Swedish-Finnish financial services company, formed in 2003 through a merger between OM AB and HEX plc and is now a part of the NASDAQ OMX Group since February 2008.It has two divisions, OMX Exchanges, which operates eight stock exchanges mainly in the Nordic and Baltic...
acquired a 10% strategic stake.
See also
:Category:Companies listed on the Oslo Stock Exchange