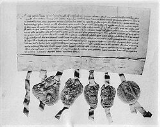 Joint stock company
A
joint-stock company
is a type of
corporation
Corporation
A corporation is created under the laws of a state as a separate legal entity that has privileges and liabilities that are distinct from those of its members. There are many different forms of corporations, most of which are used to conduct business. Early corporations were established by charter...
or
partnership
Partnership
A partnership is an arrangement where parties agree to cooperate to advance their mutual interests.Since humans are social beings, partnerships between individuals, businesses, interest-based organizations, schools, governments, and varied combinations thereof, have always been and remain commonplace...
involving two or more individuals that own shares of
stock
Stock
The capital stock of a business entity represents the original capital paid into or invested in the business by its founders. It serves as a security for the creditors of a business since it cannot be withdrawn to the detriment of the creditors...
in the
company
Company
A company is a form of business organization. It is an association or collection of individual real persons and/or other companies, who each provide some form of capital. This group has a common purpose or focus and an aim of gaining profits. This collection, group or association of persons can be...
. Certificates of ownership ("shares") are issued by the company in return for each financial contribution, and the shareholders are free to transfer their
ownership
Ownership
Ownership is the state or fact of exclusive rights and control over property, which may be an object, land/real estate or intellectual property. Ownership involves multiple rights, collectively referred to as title, which may be separated and held by different parties. The concept of ownership has...
interest at any time by selling their shareholding to others.
In Modern company law the existence of a joint-stock company is often synonymous with incorporation (i.e.