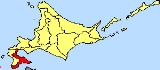 Oshima Subprefecture
is a
subprefecture
Subprefectures in Hokkaido
Hokkaido Prefecture had 14 branch offices called 支庁 in Japanese, which is often translated in English as subprefectures. Normally, a subprefecture consists of a few to a dozen cities, towns, and/or villages....
of
Hokkaidō
Hokkaido
, formerly known as Ezo, Yezo, Yeso, or Yesso, is Japan's second largest island; it is also the largest and northernmost of Japan's 47 prefectural-level subdivisions. The Tsugaru Strait separates Hokkaido from Honshu, although the two islands are connected by the underwater railway Seikan Tunnel...
,
Japan
Japan
Japan is an island nation in East Asia. Located in the Pacific Ocean, it lies to the east of the Sea of Japan, China, North Korea, South Korea and Russia, stretching from the Sea of Okhotsk in the north to the East China Sea and Taiwan in the south...
. As of 2004 it had a population of 456,621 and an area of 3,715.38 km².
Hakodate Airport
Hakodate Airport
, is an airport located east of Hakodate Station in Hakodate, a city in Hokkaidō, Japan. It is operated by the Ministry of Land, Infrastructure and Transport. It serves as the hub for airtransse.- History :...
is located in the City of
Hakodate
Hakodate, Hokkaido
is a city and port located in Oshima Subprefecture, Hokkaido, Japan. It is the capital city of Oshima Subprefecture.Hakodate was Japan's first city whose port was opened to foreign trade in 1854 as a result of Convention of Kanagawa, and used to be the most important port in northern Japan...
.
Geography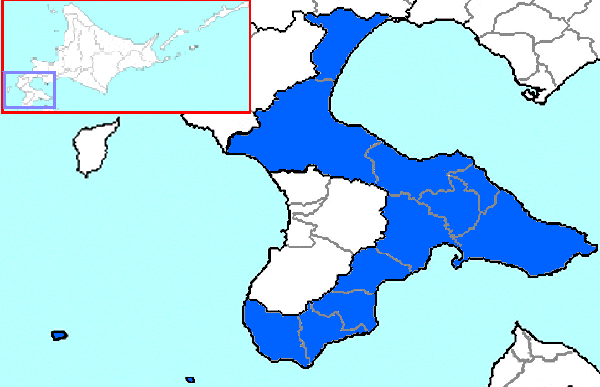 Towns and villages by district
External links
Official website
41.819755°N 140.753278°W
41.429146°N 140.111361°W(Matsumae General Branch Office)