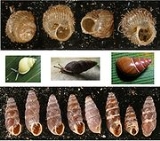 Orthurethra
Orthurethra
is a
clade
Clade
A clade is a group consisting of a species and all its descendants. In the terms of biological systematics, a clade is a single "branch" on the "tree of life". The idea that such a "natural group" of organisms should be grouped together and given a taxonomic name is central to biological...
of terrestrial pulmonate gastropods (i.e. air-breathing
land snail
Land snail
A land snail is any of the many species of snail that live on land, as opposed to those that live in salt water and fresh water. Land snails are terrestrial gastropod mollusks that have shells, It is not always an easy matter to say which species are terrestrial, because some are more or less...
s).
In the
taxonomy of the Gastropoda by Bouchet & Rocroi, 2005
Taxonomy of the Gastropoda (Bouchet & Rocroi, 2005)
The taxonomy of the Gastropoda as it was revised by Philippe Bouchet and Jean-Pierre Rocroi is currently the most up-to-date overall system for classifying gastropod mollusks...
, Orthurethra is treated as an informal group and subclade of
Stylommatophora
Stylommatophora
Stylommatophora is a taxon of air-breathing land snails and slugs, terrestrial pulmonate gastropod molluscs. This taxon is currently considered to be a clade. It was previously regarded as an infraorder...
.
Taxonomy
(Families that are exclusively fossil are indicated with a dagger †)