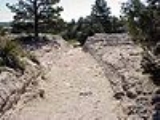 Oregon Trail Ruts (Guernsey, Wyoming)
Oregon Trail Ruts
is a preserved site of wagon ruts of the
Oregon Trail
Oregon Trail
The Oregon Trail is a historic east-west wagon route that connected the Missouri River to valleys in Oregon and locations in between.After 1840 steam-powered riverboats and steamboats traversing up and down the Ohio, Mississippi and Missouri rivers sped settlement and development in the flat...
on the
North Platte River
North Platte River
The North Platte River is a major tributary of the Platte River and is approximately long counting its many curves, It travels about distance. Its course lies in the U.S...
, about .5 miles south of
Guernsey, Wyoming
Guernsey, Wyoming
Guernsey is a town in Platte County, Wyoming, United States. The population was 1,147 at the 2000 census.-Geography:Guernsey is located at ....
. The Oregon Trail here was winding up towards
South Pass
South Pass
South Pass is two mountain passes on the Continental Divide in the Rocky Mountains in southwestern Wyoming. The passes are located in a broad low region, 35 miles broad, between the Wind River Range to the north and the Oregon Buttes and Great Divide Basin to the south, in southwestern Fremont...
. Wagon wheels, draft animals, and people wore down the trail about two to six feet into a sandstone ridge here, during its heavy usage from 1841-1869. The half-mile stretch is "unsurpassed" and is the best-preserved of Oregon Trail ruts anywhere along its former length.
It was declared a
National Historic Landmark
National Historic Landmark
A National Historic Landmark is a building, site, structure, object, or district, that is officially recognized by the United States government for its historical significance...
in 1966.
The site is maintained as a State Historic Site within
Guernsey State Park
Guernsey State Park
Lake Guernsey State Park, also known as Guernsey State Park Historic District, Lake Guernsey Park, Guernsey Lake Park, or Guernsey State Park, is a historic district and state park near Guernsey, Wyoming...
, which separately was declared a National Historic Landmark for its
Civilian Conservation Corps
Civilian Conservation Corps
The Civilian Conservation Corps was a public work relief program that operated from 1933 to 1942 in the United States for unemployed, unmarried men from relief families, ages 18–25. A part of the New Deal of President Franklin D...
structures, unrelated to the Oregon Trail Ruts.
External links