 Opus sectile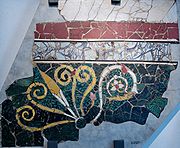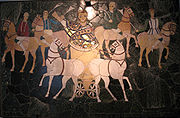 Opus sectile
refers to an art technique popularized in the ancient and medieval Roman world where materials were cut and
inlaid
Inlay
Inlay is a decorative technique of inserting pieces of contrasting, often coloured materials into depressions in a base object to form patterns or pictures that normally are flush with the matrix. In a wood matrix, inlays commonly use wood veneers, but other materials like shells, mother-of-pearl,...
into walls and floors to make a picture or pattern. Common materials were
marble
Marble
Marble is a metamorphic rock composed of recrystallized carbonate minerals, most commonly calcite or dolomite.Geologists use the term "marble" to refer to metamorphosed limestone; however stonemasons use the term more broadly to encompass unmetamorphosed limestone.Marble is commonly used for...
,
mother of pearl
Nacre
Nacre , also known as mother of pearl, is an organic-inorganic composite material produced by some mollusks as an inner shell layer; it is also what makes up pearls. It is very strong, resilient, and iridescent....
, and
glass
Glass
Glass is an amorphous solid material. Glasses are typically brittle and optically transparent.The most familiar type of glass, used for centuries in windows and drinking vessels, is soda-lime glass, composed of about 75% silica plus Na2O, CaO, and several minor additives...
. The materials were cut in thin pieces, polished, then trimmed further according to a chosen pattern. Unlike
mosaic
Mosaic
Mosaic is the art of creating images with an assemblage of small pieces of colored glass, stone, or other materials. It may be a technique of decorative art, an aspect of interior decoration, or of cultural and spiritual significance as in a cathedral...
techniques, where the placement of very small uniformly sized pieces forms a picture, opus sectile pieces are much larger and can be shaped to define large parts of the design.
Origin
Although early examples have been found from
Egypt
Egypt
Egypt , officially the Arab Republic of Egypt, Arabic: , is a country mainly in North Africa, with the Sinai Peninsula forming a land bridge in Southwest Asia. Egypt is thus a transcontinental country, and a major power in Africa, the Mediterranean Basin, the Middle East and the Muslim world...
and
Asia Minor
Anatolia
Anatolia is a geographic and historical term denoting the westernmost protrusion of Asia, comprising the majority of the Republic of Turkey...
, the most prominent artifacts remain from 4th century Rome. A large set from the
Basilica of Junius Bassus
Basilica of Junius Bassus
The Basilica of Junius Bassus was a civil basilica on the Esquiline Hill in Rome, on a site now occupied by the Seminario Pontificio di Studi Orientali, in via Napoleone III, 3. It is best known for its examples of opus sectile work.-History:It was built by Junius Annius Bassus in 331 during his...
survived, depicting an elaborate
chariot
Chariot
The chariot is a type of horse carriage used in both peace and war as the chief vehicle of many ancient peoples. Ox carts, proto-chariots, were built by the Proto-Indo-Europeans and also built in Mesopotamia as early as 3000 BC. The original horse chariot was a fast, light, open, two wheeled...
and other things. The popularity of opus sectile decoration continued in Rome through the 6th century, and affected areas as far as
Constantinople
Constantinople
Constantinople was the capital of the Roman, Eastern Roman, Byzantine, Latin, and Ottoman Empires. Throughout most of the Middle Ages, Constantinople was Europe's largest and wealthiest city.-Names:...
(now
Istanbul
Istanbul
Istanbul , historically known as Byzantium and Constantinople , is the largest city of Turkey. Istanbul metropolitan province had 13.26 million people living in it as of December, 2010, which is 18% of Turkey's population and the 3rd largest metropolitan area in Europe after London and...
in Turkey). Particularly remarkable are a series of opus sectile glass panels, found in a possible sanctuary of Isis at the eastern Corinthian port of Kenchreai, in excavations carried out in the 1960s; they have scenes of famous authors like Homer and Plato, scenes of
Nilotic landscapes
Nilotic landscape
Nilotic landscape is term used to describe artistic representations of landscapes which emulate or are inspired by the Nile river in Egypt. The term was coined to refer primarily to such landscapes created outside of Egypt, especially in the Aegean, though it is occasionally used to refer to scenes...
,harbour-front cities and geometric panels.
Later uses
Although the technique died in Rome with the decline of the Empire, it continued to be used prominently in
Byzantine
Byzantium
Byzantium was an ancient Greek city, founded by Greek colonists from Megara in 667 BC and named after their king Byzas . The name Byzantium is a Latinization of the original name Byzantion...
churches, primarily in floor designs. From Byzantium it was eventually brought back to
Sicily
Sicily
Sicily is a region of Italy, and is the largest island in the Mediterranean Sea. Along with the surrounding minor islands, it constitutes an autonomous region of Italy, the Regione Autonoma Siciliana Sicily has a rich and unique culture, especially with regard to the arts, music, literature,...
and the Italian mainland, in the 12th century as the
Cosmatesque
Cosmatesque
Cosmatesque, or Cosmati, is a style of geometric decorative inlay stonework typical of Medieval Italy, and especially of Rome and its surroundings. It was used most extensively for the decoration of church floors, but was also used to decorate church walls, pulpits, and bishop's thrones...
style, concentrating on geometric patterns. There was a major revival from the
Italian Renaissance
Italian Renaissance
The Italian Renaissance began the opening phase of the Renaissance, a period of great cultural change and achievement in Europe that spanned the period from the end of the 13th century to about 1600, marking the transition between Medieval and Early Modern Europe...
in the form of
pietra dura
Pietra dura
Pietra dura or pietre dure , called parchin kari in South Asia, is a term for the technique of using cut and fitted, highly-polished colored stones to create images. It is considered a decorative art...
work, although this normally consists of much smaller compositions and it is used on furniture, mainly. Architectural work from later periods tends to be called
Intarsia
Intarsia
Intarsia is a form of wood inlaying that is similar to marquetry. The term is also used for a similar technique used with small, highly polished stones set in a marble matrix .- History :...
.
In England, the technique was revived in the late 19th century by artists working in the
Arts and Crafts movement
Arts and Crafts movement
Arts and Crafts was an international design philosophy that originated in England and flourished between 1860 and 1910 , continuing its influence until the 1930s...
. Charles Hardgrave, whose designs were executed by James Powell & Sons at the Whitefriars Glass Works, was a noted designer in this technique.