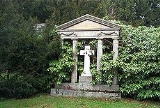 Ohlsdorf Cemetery
Ohlsdorf Cemetery
in the quarter Ohlsdorf of the city of
Hamburg
Hamburg
-History:The first historic name for the city was, according to Claudius Ptolemy's reports, Treva.But the city takes its modern name, Hamburg, from the first permanent building on the site, a castle whose construction was ordered by the Emperor Charlemagne in AD 808...
,
Germany
Germany
Germany , officially the Federal Republic of Germany , is a federal parliamentary republic in Europe. The country consists of 16 states while the capital and largest city is Berlin. Germany covers an area of 357,021 km2 and has a largely temperate seasonal climate...
, is the biggest non-military cemetery in the world and the second-largest cemetery in the world after
Calverton National Cemetery
Calverton National Cemetery
Calverton National Cemetery is a United States National Cemetery located in eastern Long Island, the hamlet of Wading River, the Town of Riverhead in Suffolk County, New York...
in eastern
Long Island
Long Island
Long Island is an island located in the southeast part of the U.S. state of New York, just east of Manhattan. Stretching northeast into the Atlantic Ocean, Long Island contains four counties, two of which are boroughs of New York City , and two of which are mainly suburban...
.
The cemetery has an area of 391 hectares (966 acre) with 12 chapels, over 1.4 million burials in more than 256,000 burial sites and streets with a length of 17 km (11 mi). Public transport is provided with 25 bus stops of two bus lines of the
Hamburger Verkehrsverbund
Hamburger Verkehrsverbund
The Hamburger Verkehrsverbund is a company coordinating the public transport in and around Hamburg, Germany. Its main objectives are to provide the user with a unified fare system, requiring only a single ticket for journeys with transfers between different operating companies, and to further...
.
History
In 1877 the Ohlsdorf Cemetery was established as a non-denominational and multi-regional burial site outside of Hamburg. In 1923 the burials of Commonwealth servicemen from several cemeteries in Germany were brought to Hamburg, to build one of four permanent cemeteries in Germany.
Memorials for the victims of Nazism
There are six memorial sites for the victims of the
Nazi era
Nazi Germany
Nazi Germany , also known as the Third Reich , but officially called German Reich from 1933 to 1943 and Greater German Reich from 26 June 1943 onward, is the name commonly used to refer to the state of Germany from 1933 to 1945, when it was a totalitarian dictatorship ruled by...
, the "Monument for the Victims of Nazi Persecution" (
Gedenkstätte für die Opfer nationalsozialistischer Verfolgung
); the monument, "Passage over the River Styx" (
Fahrt über den Styx
) for the victims of the
Hamburg firestorm
Bombing of Hamburg in World War II
The Allied bombing of Hamburg during World War II included numerous strategic bombing missions and diversion/nuisance raids. As a large port and industrial center, Hamburg's shipyards, U-boat pens, and the Hamburg-Harburg area oil refineries were attacked throughout the war...
; the "Memorial Grove for the Hamburg Resistance Fighters", which includes a memorial erected on the initiative of the
Sophie Scholl
Sophie Scholl
Sophia Magdalena Scholl was a German student, active within the White Rose non-violent resistance group in Nazi Germany. She was convicted of high treason after having been found distributing anti-war leaflets at the University of Munich with her brother Hans...
Foundation, the "Ehrenfeld Hamburg Resistance Fighters"; the "Cemetery for Foreign Victims", erected in 1977 to honor the victims of
Nazi concentration camps
Nazi concentration camps
Nazi Germany maintained concentration camps throughout the territories it controlled. The first Nazi concentration camps set up in Germany were greatly expanded after the Reichstag fire of 1933, and were intended to hold political prisoners and opponents of the regime...
and
forced labor
Forced labor in Germany during World War II
The use of forced labour in Nazi Germany and throughout German-occupied Europe during World War II took place on an unprecedented scale. It was a vital part of the German economic exploitation of conquered territories. It also contributed to the mass extermination of populations in German-occupied...
; and the
Erinnerungsspirale
("memory spiral") erected in 2001 in the "Garden of Women", as a memorial for the female victims and opponents of the Nazi regime. An additional memorial site was erected in 1951 at the nearby Jewish cemetery, Ilandkoppel, the "Monument for the Murdered Hamburg Jews".
Memorial for the victims of Nazi persecution
The "Monument for the Victims of Nazi Persecution" lies across from the "new crematorium". Erected in 1949, it has a stele with a marble slab lying in front, engraved with the names of 25 concentration camps. The adjacent graveyard has 105 above-ground urns and 29 buried ones containing the ashes of victims and German concentration camp soil. This memorial evolved from what was established there during a week-long remembrance in November 1945.
Monument for the victims of the Hamburg firestorm
The remains of some 38,000 victims of Operation Gomorrha, the bombing campaign that took place from July 24 to August 3, 1943, lie in a cross-shaped, landscaped mass grave. In 1952, a monument by
Gerhard Marcks
Gerhard Marcks
Gerhard Marcks was a German sculptor, who is also well-known for his drawings, woodcuts, lithographs and ceramics.-Background:...
called "Passage over the River
Styx
Styx
In Greek mythology the Styx is the river that forms the boundary between the underworld and the world of the living, as well as a goddess and a nymph that represents the river.Styx may also refer to:-Popular culture:...
" was erected in the middle of the site.
Memorial grove for the Hamburg Resistance fighters
To the right of the main entrance on Bergstraße, is the memorial grove for the Resistance fighters from Hamburg, 1933–1945. Located here since September 8, 1946, this memorial is the burial site for 55 anti-fascists who were either executed by the Nazis or died in custody. A bronze sculpture, created in 1953 by Hamburg sculptor Richard Steffen (1903–1964), stands at the entrance to the grove. A stone wall borders the grove, on which are the words of the Czech Resistance fighter and journalist, Julius Fučík, executed in 1943, "Mankind, we loved you — be vigilant".
Notable burial sites
Part of the cemetery are three plots of the
Commonwealth War Graves Commission
Commonwealth War Graves Commission
The Commonwealth War Graves Commission is an intergovernmental organisation of six independent member states whose principal function is to mark, record and maintain the graves, and places of commemoration, of Commonwealth of Nations military service members who died in the two World Wars...
(CWGC), which were used as a burial site for Allied servicemen of both world wars. There are more than 2473 identified casualties by the CWGC.
The following notable persons are buried in the cemetery:
Hans Albers

Hans Albers

Hans Philipp August Albers was a German actor and singer. He was the single biggest male movie star in Germany between 1930 and 1945 and one of the most popular German actors of the twentieth century.- Life and work :...


, actor (1891–1960)
Wilhelm Amsinck, First mayor of Hamburg (1752–1831)
Wilhelm Cuno

Wilhelm Cuno

Wilhelm Carl Josef Cuno was a German politician who was the Chancellor of Germany from 1922 to 1923. He was born in Suhl, Prussian Saxony. Cuno's government is best known for its passive resistance of the French occupation of the Ruhr Area . Cuno's government was also responsible for its poor...


, German chancellor (1876–1933)
Gustaf Gründgens

Gustaf Gründgens

Gustaf Gründgens , born Gustav Heinrich Arnold Gründgens, was one of Germany's most famous and influential actors of the 20th century, intendant and artistic director of theatres in Berlin, Düsseldorf, and Hamburg...


, actor (1899–1963)
Gustav Hertz, physicist and Nobel Prize winner (1887–1975)
Michael Jary

Michael Jary

Michael Jary was a German composer.- Early years :...


, composer (1906–1988)
Carlo Karges

Carlo Karges

Carlo Karges was a German musician who became a guitarist and songwriter for the rock band, Nena. He wrote the lyrics of Nena's most famous song, "99 Luftballons", released in 1983...


, songwriter and guitarist (1951–2002)
Christian Graf von Krockow

Christian Graf von Krockow

Christian Graf von Krockow, was a German writer and political scientist,Christian Count of Krockow was the son of a historic Pomeranian noble family. He was born in Rumbske near the city of Stolp...


, writer and political scientist (1927–2002)
Richard Kuöhl

Richard Kuöhl

Richard Kuöhl was a German sculptor, specializing in providing architectural sculpture for the architects of the Brick Expressionism style in northern Germany in the 1920s....


, sculptor (1880–1961)
Felix von Luckner

Felix von Luckner

Felix Graf von Luckner was a German nobleman, navy officer, author and noted sailor who earned the epithet Der Seeteufel -- and his crew that of Die Piraten des Kaisers -- for his exploits in command of the sailing commerce raider SMS Seeadler in...


, navy officer and author (1881–1966)
Domenica Niehoff

Domenica Niehoff

Domenica Anita Niehoff , also known as Domenica, was a German prostitute. She appeared in television shows in the 1980s, where she campaigned for legalization of the profession.- Early life :...


, prostitute (1945–2009)
Loki Schmidt

Loki Schmidt

Hannelore "Loki" Schmidt, née Glaser was a German environmentalist. She was the wife of Helmut Schmidt, who was the Chancellor of Germany from 1974 to 1982.-Life and work:...


wife of former chancellor Helmut Schmidt (1919–2010)
Kurt Sieveking

Kurt Sieveking

-External links:...


, Hamburg first mayor (1897–1986)
Herbert Weichmann

Herbert Weichmann

Herbert Weichmann was a German lawyer and politician and First Mayor of Hamburg . In his position as mayor of Hamburg, he served as President of the Bundesrat .-Life:Weichmann was born in Landsberg, Upper Silesia, then part of the German Reich, to a Jewish family of physicians...


, First mayor of Hamburg (1896–1983)
Lawrence Winters

Lawrence Winters

Lawrence Winters , bass-baritone, was an African American opera singer who had an active international career from the mid 1940s through the mid 1960s. He was part of the first generation of black opera singers to achieve wide success and is viewed as part of an instrumental group of performers who...


, opera singer (1915–1965)
Carolin Wosnitza

Sexy Cora

Sexy Cora was a German pornographic actress, model, and reality show participant....


, pornographic actress (1987–2011)
Helmut Zacharias

Helmut Zacharias

Helmut Zacharias was a German violinist and composer. At the time of his death, he had created over 400 works and sold 14 million records. He also appeared in number of films, usually playing musicians.-Early life:...


, violinist (1920–2002)
Further reading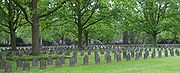 Helmut Schönfeld: Der Ohlsdorfer Friedhof Edition Temmen, 2000. ISBN 3-7672-1341-9
Susanne Schniering: Ich trage Dich in meinem Herzen : der Gedenkplatz für nicht beerdigte Kinder in Ohlsdorf. Pinnow

Pinnow

Pinnow is a municipality in the Uckermark district, in Brandenburg, Germany....


: Strack, 2001. ISBN 3-929813-53-X
Günter Henzler: Ohlsdorf : Baum und Raum ; der Friedhof als Landschaftspark Hamburg : Kabel Verl., 1998. ISBN 3-8225-0470-X
Great Britain. Commonwealth War Graves Commission: The war dead of the Commonwealth : the register of the names of those who fell in the Great War and are buried in Hamburg Cemetery, Ohlsdorf Germany. Maidenhead, Berkshire : Commonwealth War Graves Commission, 1988.
External links