 Nuclear sclerosis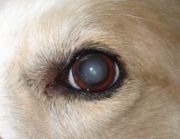 Nuclear sclerosis
is an age-related change in the
density
Density
The mass density or density of a material is defined as its mass per unit volume. The symbol most often used for density is ρ . In some cases , density is also defined as its weight per unit volume; although, this quantity is more properly called specific weight...
of the
crystalline lens
Lens (anatomy)
The crystalline lens is a transparent, biconvex structure in the eye that, along with the cornea, helps to refract light to be focused on the retina. The lens, by changing shape, functions to change the focal distance of the eye so that it can focus on objects at various distances, thus allowing a...
nucleus that occurs in all older animals. It is caused by compression of older lens fibers in the nucleus by new fiber formation. The denser construction of the nucleus causes it to
scatter
Scattering
Scattering is a general physical process where some forms of radiation, such as light, sound, or moving particles, are forced to deviate from a straight trajectory by one or more localized non-uniformities in the medium through which they pass. In conventional use, this also includes deviation of...
light. Although nuclear sclerosis may describe a type of early
cataract
Cataract
A cataract is a clouding that develops in the crystalline lens of the eye or in its envelope, varying in degree from slight to complete opacity and obstructing the passage of light...
in
human medicine
Medicine
Medicine is the science and art of healing. It encompasses a variety of health care practices evolved to maintain and restore health by the prevention and treatment of illness....
, in
veterinary medicine
Veterinary medicine
Veterinary Medicine is the branch of science that deals with the prevention, diagnosis and treatment of disease, disorder and injury in non-human animals...
the term is also known as
lenticular sclerosis
and describes a bluish-grey haziness at the nucleus that usually does
not
affect vision, except for unusually dense cases.
Veterinary medicine
In veterinary practice, nuclear sclerosis is a consistent finding in dogs greater than six years old. Nuclear sclerosis appears as a bilateral bluish-grey haziness at the nucleus, or center of the lens, caused by an increase in the
refractive index
Refractive index
In optics the refractive index or index of refraction of a substance or medium is a measure of the speed of light in that medium. It is expressed as a ratio of the speed of light in vacuum relative to that in the considered medium....
of that part of the lens due to its increased density. It is often confused with cataracts. The condition is differentiated from a cataract by its appearance and by shining a penlight into the eye. With nuclear sclerosis, a reflection from the
tapetum
Tapetum lucidum
The tapetum lucidum is a layer of tissue in the eye of many vertebrate animals....
will be seen, while a cataract will block reflection.
External links