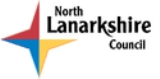 North Lanarkshire
North Lanarkshire
is one of 32 council areas in
Scotland
Scotland
Scotland is a country that is part of the United Kingdom. Occupying the northern third of the island of Great Britain, it shares a border with England to the south and is bounded by the North Sea to the east, the Atlantic Ocean to the north and west, and the North Channel and Irish Sea to the...
. It borders onto the northeast of the City of Glasgow and contains much of Glasgow's suburbs and
commuter town
Commuter town
A commuter town is an urban community that is primarily residential, from which most of the workforce commutes out to earn their livelihood. Many commuter towns act as suburbs of a nearby metropolis that workers travel to daily, and many suburbs are commuter towns...
s and villages. It also borders Stirling, Falkirk,
East Dunbartonshire
East Dunbartonshire
This article is about the East Dunbartonshire council area of Scotland. See also East Dunbartonshire .East Dunbartonshire is one of the 32 council areas of Scotland. It borders onto the north-west of the City of Glasgow. It contains many of the suburbs of Glasgow as well as containing many of...
,
West Lothian
West Lothian
West Lothian is one of the 32 unitary council areas in Scotland, and a Lieutenancy area. It borders the City of Edinburgh, Falkirk, North Lanarkshire, the Scottish Borders and South Lanarkshire....
and
South Lanarkshire
South Lanarkshire
South Lanarkshire is one of 32 unitary council areas of Scotland, covering the southern part of the former county of Lanarkshire. It borders the south-east of the city of Glasgow and contains many of Glasgow's suburbs, commuter towns and smaller villages....
. The council covers parts of the traditional
counties
Counties of Scotland
The counties of Scotland were the principal local government divisions of Scotland until 1975. Scotland's current lieutenancy areas and registration counties are largely based on them. They are often referred to as historic counties....
of
Lanarkshire
Lanarkshire
Lanarkshire or the County of Lanark ) is a Lieutenancy area, registration county and former local government county in the central Lowlands of Scotland...
,
Dunbartonshire
Dunbartonshire
Dunbartonshire or the County of Dumbarton is a lieutenancy area and registration county in the west central Lowlands of Scotland lying to the north of the River Clyde. Until 1975 it was a county used as a primary unit of local government with its county town and administrative centre at the town...
, and
Stirlingshire
Stirlingshire
Stirlingshire or the County of Stirling is a registration county of Scotland, based around Stirling, the former county town. It borders Perthshire to the north, Clackmannanshire and West Lothian to the east, Lanarkshire to the south, and Dunbartonshire to the south-west.Until 1975 it was a county...
.