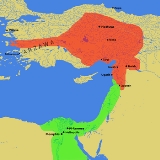 Nineteenth dynasty of Egypt
The
Nineteenth Dynasty
of ancient Egypt (notated
Dynasty XIX
) was one of the periods of the Egyptian
New Kingdom
New Kingdom
The New Kingdom of Egypt, also referred to as the Egyptian Empire is the period in ancient Egyptian history between the 16th century BC and the 11th century BC, covering the Eighteenth, Nineteenth, and Twentieth Dynasties of Egypt....
. Founded by
Vizier
Vizier (Ancient Egypt)
The vizier was the highest official in Ancient Egypt to serve the king, or pharaoh during the Old, Middle, and New Kingdoms. Vizier is the generally accepted rendering of ancient Egyptian tjati, tjaty etc, among Egyptologists...
Ramesses I
Ramesses I
Menpehtyre Ramesses I was the founding Pharaoh of Ancient Egypt's 19th dynasty. The dates for his short reign are not completely known but the time-line of late 1292-1290 BC is frequently cited as well as 1295-1294 BC...
, whom
Pharaoh
Pharaoh
Pharaoh is a title used in many modern discussions of the ancient Egyptian rulers of all periods. The title originates in the term "pr-aa" which means "great house" and describes the royal palace...
Horemheb
Horemheb
Horemheb was the last Pharaoh of the 18th Dynasty from either 1319 BC to late 1292 BC, or 1306 to late 1292 BC although he was not related to the preceding royal family and is believed to have been of common birth.Before he became pharaoh, Horemheb was the commander in chief...
chose as his successor to the throne, this dynasty is best known for its military conquests in
Palestine
Palestine
Palestine is a conventional name, among others, used to describe the geographic region between the Mediterranean Sea and the Jordan River, and various adjoining lands....
,
Lebanon
Lebanon
Lebanon , officially the Republic of LebanonRepublic of Lebanon is the most common term used by Lebanese government agencies. The term Lebanese Republic, a literal translation of the official Arabic and French names that is not used in today's world. Arabic is the most common language spoken among...
, and
Syria
Syria
Syria , officially the Syrian Arab Republic , is a country in Western Asia, bordering Lebanon and the Mediterranean Sea to the West, Turkey to the north, Iraq to the east, Jordan to the south, and Israel to the southwest....
.
The warrior kings of the early
18th Dynasty
Eighteenth dynasty of Egypt
The eighteenth dynasty of ancient Egypt is perhaps the best known of all the dynasties of ancient Egypt...
had encountered only little resistance from neighbouring kingdoms, allowing them to expand their realm of influence easily.