 Night Thoughts (poem)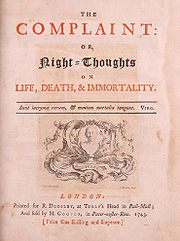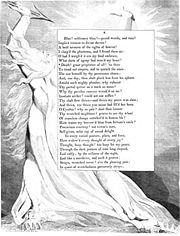 The Complaint: or, Night-Thoughts on Life, Death, & Immortality
, better known simply as
Night-Thoughts
, is a
long poem
Long poem
The long poem is a literary genre including all poetry of considerable length. Though the definition of a long poem is vague and broad, the genre includes some of the most important poetry ever written....
by
Edward Young
Edward Young
Edward Young was an English poet, best remembered for Night Thoughts.-Early life:He was the son of Edward Young, later Dean of Salisbury, and was born at his father's rectory at Upham, near Winchester, where he was baptized on 3 July 1683. He was educated at Winchester College, and matriculated...
published in nine parts (or "nights") between 1742 and 1745.
The poem is written in
blank verse
Blank verse
Blank verse is poetry written in unrhymed iambic pentameter. It has been described as "probably the most common and influential form that English poetry has taken since the sixteenth century" and Paul Fussell has claimed that "about three-quarters of all English poetry is in blank verse."The first...
. It describes the poet's musings on death over a series of nine "nights" in which he ponders the loss of his wife and friends, and laments human frailties. The best-known line in the poem is the adage "procrastination is the thief of time", which is part of a passage in which the poet discusses how quickly life and opportunities can slip away.
Night-Thoughts
had a very high reputation for many years after its publication, but is now best known for the fact that it gave rise to a major series of illustrations by
William Blake
William Blake
William Blake was an English poet, painter, and printmaker. Largely unrecognised during his lifetime, Blake is now considered a seminal figure in the history of both the poetry and visual arts of the Romantic Age...
.
The nine nights are each a poem of their own. They are: "Life, Death, and Immortality" (dedicated to
Arthur Onslow
Arthur Onslow
Arthur Onslow was an English politician. He set a record for length of service when repeatedly elected to serve as Speaker of the House of Commons, where he was known for his integrity.-Early life and education:...
); "Time, Death, Friendship" (dedicated to
Spencer Compton
Spencer Compton, 1st Earl of Wilmington
Spencer Compton, 1st Earl of Wilmington KG, KB, PC was a British Whig statesman who served continuously in government from 1715 until his death. He served as the nominal head of government from 1742 until his death in 1743, but was merely a figurehead for the true leader of the government, Lord...
); "Narcissa" (dedicated to
Margaret Bentinck
Margaret Bentinck, Duchess of Portland
Margaret Cavendish Bentinck, Duchess of Portland , styled Lady Margaret Harley before 1734, Duchess of Portland from 1734 to her husband's death in 1761, and Dowager Duchess of Portland from 1761 until her own death in 1785...
); "The Christian Triumph" (dedicated to
Philip Yorke
Philip Yorke, 1st Earl of Hardwicke
Philip Yorke, 1st Earl of Hardwicke PC was an English lawyer and politician who served as Lord Chancellor. He was a close confidant of the Duke of Newcastle, Prime Minister between 1754 and 1756 and 1757 until 1762....
); "The Relapse" (dedicated to
George Lee
George Lee, 2nd Earl of Lichfield
George Henry Lee I, 2nd Earl of Lichfield was the sixth son of Edward Henry Lee, 1st Earl of Lichfield and his wife Charlotte Fitzroy, an illegitimate daughter of Charles II by his mistress, the celebrated courtesan Barbara Villiers. On 14 July 1716 George Henry Lee succeeded his father as the 2nd...
); "The Infidel Reclaim'd" (in two parts, "Glories and Riches" and "The Nature, Proof, and Importance of Immortality"; dedicated to
Henry Pelham
Henry Pelham
Henry Pelham was a British Whig statesman, who served as Prime Minister of Great Britain from 27 August 1743 until his death in 1754...
); "Virtue's Apology; or, The Man of the World Answered" (with no dedication); and "The Consolation" (dedicated to Thomas Pelham-Holles).
Blake's Illustrations of 1795–97
William Blake was commissioned in 1795 to illustrate
Night-Thoughts
for a major new edition of the poem to be published by Richard Edwards. Blake began by making a series of 537 watercolour illustrations from which he planned to engrave about 200 for publication. The first volume—with forty-three engravings by Blake—was published in 1797, but it was a commercial failure and the expensive publishing venture was abandoned.
Because the principal evidence of Blake's work on these illustrations was the comparatively short series of engravings, art history has been slow to recognise the significance of the project within Blake's oeuvre. In 1980, the Oxford University Press began publication of a projected five-volume scholarly edition of Blake's version of
Night-Thoughts
, edited by J. E. Grant et al.; two volumes have so far appeared and the fifth has apparently been abandoned. In 2005
The Folio Society
Folio Society
The Folio Society is a book club based in London that produces new editions of classic books. Their books are notable for their high quality bindings and original illustrations...
published in two volumes a fine edition facsimile accompanied by a commentary by Robyn Hamlyn. The Folio Society facsimile was the first (and thus far only) time that all 537 of Blake's illustrations have been published together in full color.