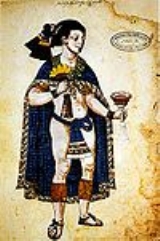 Nezahualpilli
Nezahualpilli
was ruler (
tlatoani
Tlatoani
Tlatoani is the Nahuatl term for the ruler of an altepetl, a pre-Hispanic state. The word literally means "speaker", but may be translated into English as "king". A is a female ruler, or queen regnant....
) of the
Mesoamerica
Mesoamerica
Mesoamerica is a region and culture area in the Americas, extending approximately from central Mexico to Belize, Guatemala, El Salvador, Honduras, Nicaragua, and Costa Rica, within which a number of pre-Columbian societies flourished before the Spanish colonization of the Americas in the 15th and...
n
city-state
Altepetl
The altepetl, in Pre-Columbian and Spanish conquest-era Aztec society, was the local, ethnically based political entity. The word is a combination of the Nahuatl words ā-tl, meaning water, and tepē-tl, meaning mountain....
of Texcoco, elected by the city's nobility after the death of his father,
Nezahualcoyotl
Nezahualcoyotl
Nezahualcoyotl was a philosopher, warrior, architect, poet and ruler of the city-state of Texcoco in pre-Columbian Mexico...
, in 1472.
Like his father, he was a
poet
Poet
A poet is a person who writes poetry. A poet's work can be literal, meaning that his work is derived from a specific event, or metaphorical, meaning that his work can take on many meanings and forms. Poets have existed since antiquity, in nearly all languages, and have produced works that vary...
, was considered a sage, and had the reputation of being a fair ruler. Only one of his poems survives: "
Icuic Nezahualpilli yc tlamato huexotzinco
" ("Song of Nezahualpilli during the war with Huexotzinco"). His court was a haven for astronomers, engineers, and soothsayers. During his reign, he abolished
capital punishment
Capital punishment
Capital punishment, the death penalty, or execution is the sentence of death upon a person by the state as a punishment for an offence. Crimes that can result in a death penalty are known as capital crimes or capital offences. The term capital originates from the Latin capitalis, literally...
for a number of crimes and struggled to keep the political independence of Texcoco during the increasing centralization of
Aztec
Aztec
The Aztec people were certain ethnic groups of central Mexico, particularly those groups who spoke the Nahuatl language and who dominated large parts of Mesoamerica in the 14th, 15th and 16th centuries, a period referred to as the late post-classic period in Mesoamerican chronology.Aztec is the...
power in
Tenochtitlán
.
When he told
Moctezuma II
Moctezuma II
Moctezuma , also known by a number of variant spellings including Montezuma, Moteuczoma, Motecuhzoma and referred to in full by early Nahuatl texts as Motecuhzoma Xocoyotzin, was the ninth tlatoani or ruler of Tenochtitlan, reigning from 1502 to 1520...
that the Texcocan
wise men
Tlamatini
Tlamatini is a Nahuatl language word meaning "someone who knows something", generally translated as "wise man". The word is analyzable as derived from the transitive verb mati "to know" with the prefix tla- indicating an unspecified inanimate object translatable by "something" and the...
had foretold foreign dominion over the
Valley of Mexico
Valley of Mexico
The Valley of Mexico is a highlands plateau in central Mexico roughly coterminous with the present-day Distrito Federal and the eastern half of the State of Mexico. Surrounded by mountains and volcanoes, the Valley of Mexico was a centre for several pre-Columbian civilizations, including...
, the emperor challenged him to a ball game. Moctezuma considered the loss of the game a negative omen.
He married a daughter of Ahuitzotl only to later have her executed. Her public improprieties and high social status qualified her for a punishment that would not have been applicable to someone of a lower status. He was said to have taken numerous consorts and fathered 144 children.
Nezahualpilli was succeeded by his son Cacama.
External links