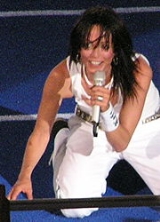 Nena
Gabriele Susanne Kerner
(born 24 March 1960), better known by her stage name
Nena
, is a
German
Germans
The Germans are a Germanic ethnic group native to Central Europe. The English term Germans has referred to the German-speaking population of the Holy Roman Empire since the Late Middle Ages....
singer and actress. She rose to international fame in 1983 with the
New German Wave
Neue Deutsche Welle
Neue Deutsche Welle is a genre of German music originally derived from punk rock and New Wave music...
song "99 Luftballons". In 1984, she re-recorded this song in English as "99 Red Balloons".
Nena
Nena (band)
Nena was a German Neue Deutsche Welle band, consisting by Gabriele Susanne Kerner , Rolf Brendel, Carlo Karges, Uwe Fahrenkrog-Petersen and Jürgen Dehmel. The band was active from 1982 to 1987...
was also the name of the band with whom she released the song. With the re-recording and subsequent release of some of her old songs, her career re-emerged in 2002. In 2007, she co-founded the school "
Neue Schule Hamburg
Neue Schule Hamburg
Neue Schule Hamburg is a private Sudbury school in Rahlstedt, Hamburg, Germany, established in 2007.-History:The school was founded by Philipp Palm, who was the school's principal, Nena, Silke Steinfadt and Thomas Simmerl in September 2007 in Rahlstedt with 85 pupils and six teachers. It was the...
".
Early life
Gabriele Susanne Kerner was born on 24 March 1960 in
Hagen
Hagen
Hagen is the 39th-largest city in Germany, located in the federal state of North Rhine-Westphalia. It is located on the eastern edge of the Ruhr area, 15 km south of Dortmund, where the rivers Lenne, Volme and Ennepe meet the river Ruhr...
,
North Rhine-Westphalia
North Rhine-Westphalia
North Rhine-Westphalia is the most populous state of Germany, with four of the country's ten largest cities. The state was formed in 1946 as a merger of the northern Rhineland and Westphalia, both formerly part of Prussia. Its capital is Düsseldorf. The state is currently run by a coalition of the...
,
West Germany
West Germany
West Germany is the common English, but not official, name for the Federal Republic of Germany or FRG in the period between its creation in May 1949 to German reunification on 3 October 1990....
, while her family lived in the nearby town of
Breckerfeld
Breckerfeld
Breckerfeld is a town in the district of Ennepe-Ruhr-Kreis, in North Rhine-Westphalia, . It is located in the southeastern-most part of the Ruhr area in northern Sauerland. The town is a member of Regionalverband Ruhr .-Geography:...
. She spent the earliest part of her childhood in Breckerfeld and later lived in
Hagen
Hagen
Hagen is the 39th-largest city in Germany, located in the federal state of North Rhine-Westphalia. It is located on the eastern edge of the Ruhr area, 15 km south of Dortmund, where the rivers Lenne, Volme and Ennepe meet the river Ruhr...
. She acquired her nickname, based on the Spanish word "nena" (colloquial for "niña"), or "little girl", at the age of three, while on a vacation to Spain with her parents. In 1977 she left high school before graduation, and in the three following years she was trained as a goldsmith.
Musical beginnings
Her musical career began in the summer of 1979 when guitarist Rainer Kitzmann offered her a position as the lead singer in his band,
The Stripes
The Stripes
The Stripes was a German pop music ensemble founded in Hagen, Germany, by Rainer Kitzman who played guitar. The lead singer was Nena Kerner, who would later form the band 'Nena'. Another future member of 'Nena', Rolf Brendel, played the drums. Frank Rohler played bass. The band was known for...
. The group had a minor hit with the song "Ecstasy", but never achieved mainstream success, and soon disbanded.
In 1981 Nena and her then-boyfriend Rolf Brendel moved to
West Berlin
West Berlin
West Berlin was a political exclave that existed between 1949 and 1990. It comprised the western regions of Berlin, which were bordered by East Berlin and parts of East Germany. West Berlin consisted of the American, British, and French occupation sectors, which had been established in 1945...
, where they met future band members, guitarist
Carlo Karges
Carlo Karges
Carlo Karges was a German musician who became a guitarist and songwriter for the rock band, Nena. He wrote the lyrics of Nena's most famous song, "99 Luftballons", released in 1983...
, keyboard player
Uwe Fahrenkrog-Petersen
Uwe Fahrenkrog-Petersen
Jörn-Uwe Fahrenkrog-Petersen is a keyboard player and songwriter, known for his work with the German rock group Nena.Born in Berlin he first played in a band called "Vanguard"in 1977 - 1979 with bassist Sven Bode, Guitarist Fritz... and drummer Didier, composing an amazing Rock Opera. Concerts...
, and bass player
Jürgen Dehmel
Jürgen Dehmel
Jürgen Dehmel is a German bass player and songwriter.-Biography:Dehmel was brought by keyboardist Uwe Fahrenkrog-Petersen to join the rock band Nena in 1981. Fahrenkrog-Petersen and Dehmel had previously been together in a band called Odessa, releasing a self-titled album in 1980...
. Together they formed the band "Nena".
In 1982 "Nena" released their first single, "Nur geträumt" ("Only dreamt"), which became an instant hit in Germany after the band appeared on the German television show
Musikladen
Musikladen
Der Musikladen was a West German music television programme that ran from December 13, 1972 to November 29, 1984. The show continued the 1960s Beat-Club under a new name, and in turn was replaced by Extratour.-History:...
. The single reportedly sold 40,000 copies the day after the song appeared on the show and reached number two in the German charts.
International success and band breakup
In 1983 the band released its first album Nena, which contained the singles "Leuchtturm" ("Lighthouse") and "99 Luftballons" (the English version is called "99 Red Balloons."). "99 Luftballons" became a number-one hit in Germany in 1983 and went on to major international chart success the following year, an English version hitting number one in the UK and the original German version hitting number two in the US. It was also a huge hit in many other countries, and to this day it is one of the best-known German rock songs in many parts of the world.
Although "99 Luftballons" was Nena's only hit in the
English-speaking world
English-speaking world
The English-speaking world consists of those countries or regions that use the English language to one degree or another. For more information, please see:Lists:* List of countries by English-speaking population...
, the band continued to enjoy success in several European countries in the following years. The band split in 1987, and Nena went solo thereafter.
Personal life
Nena started dating Swiss actor Benedict Freitag shortly after the band separated in 1987. Benedict is the son of the German actress Maria Becker and Austrian-Swiss actor
Robert Freitag
Robert Freitag
Robert Freitag was an Austrian-Swiss stage and screen actor and film director.- Life :...
. The couple had three children together, the first being Christopher Daniel, who was born disabled allegedly due to medical mistakes made during the birth that caused Nena to go into
cardiac arrest
Cardiac arrest
Cardiac arrest, is the cessation of normal circulation of the blood due to failure of the heart to contract effectively...
. He died at the age of 11 months. In 1990 they had twins, Larissa Marie and Sakias Manuel. After splitting with Freitag, Nena started a relationship with drummer and music producer Philipp Palm from
Stuttgart
Stuttgart
Stuttgart is the capital of the state of Baden-Württemberg in southern Germany. The sixth-largest city in Germany, Stuttgart has a population of 600,038 while the metropolitan area has a population of 5.3 million ....
, with whom she had two children, Samuel Vincent (1995), and Simeon Joel (1997). The couple and the four children currently live in
Hamburg
Hamburg
-History:The first historic name for the city was, according to Claudius Ptolemy's reports, Treva.But the city takes its modern name, Hamburg, from the first permanent building on the site, a castle whose construction was ordered by the Emperor Charlemagne in AD 808...
. On Christmas Day 2009, Nena became a grandmother when Larissa gave birth to a girl, Carla Maria. Only two days later, Nena's son Sakias became a father to a boy named Noah.
Throughout the 1990s, Nena released a wide range of solo albums, a number of them consisting of songs for children. Simultaneously, she hosted several TV shows, including Metro and Countdown Grand Prix, the German preselection for the
Eurovision Song Contest
Eurovision Song Contest
The Eurovision Song Contest is an annual competition held among active member countries of the European Broadcasting Union .Each member country submits a song to be performed on live television and then casts votes for the other countries' songs to determine the most popular song in the competition...
, in 1998.
Return to prominence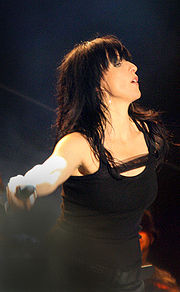 In 2002 Nena celebrated her 20th anniversary on stage with the album Nena feat. Nena, a disc consisting of newly arranged recordings of her hits from the 1980s. This album marked a "comeback" for Nena, and spawned a number of successful chart entries. The
remake of "Anyplace, Anywhere, Anytime"
Anyplace, Anywhere, Anytime
"Anyplace, Anywhere, Anytime" is a 2003 duet single by German singer Nena and British singer Kim Wilde. The video was recorded in and around Change Alley, London EC3....
as an English-German duet with
Kim Wilde
Kim Wilde
Kim Wilde is an English pop singer, author and television presenter who burst onto the music scene in 1981 with the number 2 UK Singles Chart new wave classic "Kids in America". In 1987 she had a major hit in the United States when her version of The Supremes' classic "You Keep Me Hangin' On"...
was a hit in various European countries, reaching the Number 1 spot in the Netherlands and Austria, and Number 3 in Germany, in 2003. A DVD followed: the 2005 album Willst du mit mir gehn ("Do You Wanna Go with Me?") which quickly achieved platinum status. The first single from the album, "Liebe ist" ("Love Is"), reached number 1 on the German charts in early 2005, and was the theme song for a German telenovela,
Verliebt in Berlin
Verliebt in Berlin
Verliebt in Berlin is a Golden Rose-winning German telenovela, starring Alexandra Neldel, along with Mathis Künzler, Tim Sander, and Laura Osswald. It premiered on February 28, 2005, on Sat.1 in most of German-speaking Europe, with its final episode broadcast on October 12, 2007...
. Nena's 2005 tour in Germany, Austria, and Switzerland in November and December 2005 had several sold-out concerts. In 2004, Nena took the stage during the
Howard Jones
Howard Jones (musician)
Howard Jones is a musician, singer and songwriter. According to the Guinness Book of British Hit Singles & Albums, "Jones is an accomplished singer-songwriter who was a regular chart visitor in the mid 1980s with his brand of synthpop. Jones, who was equally popular in the U.S., appeared at Live...
20th Anniversary concert at Shepherd's Bush Empire in
London
London
London is the capital city of :England and the :United Kingdom, the largest metropolitan area in the United Kingdom, and the largest urban zone in the European Union by most measures. Located on the River Thames, London has been a major settlement for two millennia, its history going back to its...
. Nena sang "99 Luftballons", with both German and English lyrics. In 2004, Nena went on stage at the Mayday Music Festival, in Dortmund, accompagned by the techno duo Toktok. She sang the song "Bang Bang", and was later joined on stage by
DJ Westbam
WestBam
WestBam, real name Maximilian Lenz , is techno DJs in Germany. His brother is Fabian Lenz, also known as DJ Dick....
to sing the song "Oldschool Baby". In October 2007, Nena released a new album entitled
Cover Me
Cover Me (Nena album)
Cover Me is a cover album by German pop star Nena, released in 2007. It contains songs that she likes.- CD 1 :# "Mach die Augen auf" # "Eiszeit" # "Der Sheriff" # "Mein weg ist mein Weg" # "Helden"...
, made up entirely of cover songs.
David Bowie
David Bowie
David Bowie is an English musician, actor, record producer and arranger. A major figure for over four decades in the world of popular music, Bowie is widely regarded as an innovator, particularly for his work in the 1970s...
, Rolling Stones and
Rammstein
Rammstein
Rammstein is a German Neue Deutsche Härte band from Berlin, formed in 1994. The band consists of members Till Lindemann , Richard Z. Kruspe , Paul H. Landers , Oliver "Ollie" Riedel , Christoph "Doom" Schneider and Christian "Flake" Lorenz...
are three of the bands covered. She also released the single, "Ich Kann nix Dafür" ("It's not my Fault") in April 2007 for the film, Vollidiot (Complete Idiot). Nena also released a single for her cover of "She's a Rainbow" by the Rolling Stones. It was released in the US and the UK and made No. 42 in the British Charts. Nena also recorded and released a new version of her hit song "99 Luftballons" in 2009, which more closely follows the 1980s original, in contrast to her 2002 version. This song was first performed in Germany on September 6, 2009. Some parts of the new version are in French.
Nena released a new single on 4 September 2009, called "Wir sind wahr", and a new album on the 23rd: Made in Germany. She has developed an interest in the teachings of Indian mystic
Osho (Bhagwan Shree Rajneesh)
Osho (Bhagwan Shree Rajneesh)
Osho , born Chandra Mohan Jain , and also known as Acharya Rajneesh from the 1960s onwards, as Bhagwan Shree Rajneesh during the 1970s and 1980s and as Osho from 1989, was an Indian mystic, guru, and spiritual teacher who garnered an international following.A professor of philosophy, he travelled...
in recent years, and practises his meditation methods, an impression of which is featured in the "Wir sind wahr" video. Most recently, she collaborated with the popular techno-rap artists Die Atzen to produce a new single, "Strobo Pop". In 2011 she contributed vocals to the track "Let Go Tonight" by
Kevin Costner and Modern West
Kevin Costner and Modern West
Kevin Costner & Modern West is a rock/country band which Kevin Costner founded with the encouragement of his wife Christine. He began a worldwide tour with the band in October 2007, which included shows in Istanbul and Rome...
.
Other work
Besides her singing career, she has also voiced the character Saphira for the German dub of the movie
Eragon
Eragon
Eragon is the first book in the Inheritance Cycle by Christopher Paolini, who began writing at the age of 15. After writing the first draft for a year, he spent a second year rewriting it and fleshing out the story and characters. Paolini's parents saw the final manuscript and decided to...
and the role of the Princess for the German version of
Arthur and the Invisibles
Arthur and the Invisibles
Arthur and the Invisibles is a French/American part-animated, part-live action feature film adaptation of the 2002 children's book Arthur et les minimoys / Arthur and the Minimoys, and the 2003 sequel Arthur et la cité interdite /...
alongside
Tokio Hotel's
Tokio Hotel
Tokio Hotel is a pop rock band from Germany, founded in 2001 by singer Bill Kaulitz, guitarist Tom Kaulitz, drummer Gustav Schäfer and bassist Georg Listing...
Bill Kaulitz
Bill Kaulitz
Bill Kaulitz is a German singer, songwriter, voice actor, designer and model. He is best known for his work from 2001 to the present as the lead singer of the band Tokio Hotel....
. Kaulitz has also stated on many occasions that Nena is his favourite singer.
In 2007, jointly with Philipp Palm, Thomas Simmerl, and Silke Steinfadt, she founded the Neue Schule Hamburg, a school following the Sudbury model.
Nena wrote an autobiographical book, Willst du mit mir gehn (Do you want to go with me?), jointly with Claudia Thesenfitz, a journalist. Nena's contributions are her disparate accounts of various episodes in her life. Most of Thesenfitz's contributions are excerpts from interviews of many of Nena's friends, co-workers, and relatives.
Discography
1980: The Stripes

The Stripes

The Stripes was a German pop music ensemble founded in Hagen, Germany, by Rainer Kitzman who played guitar. The lead singer was Nena Kerner, who would later form the band 'Nena'. Another future member of 'Nena', Rolf Brendel, played the drums. Frank Rohler played bass. The band was known for...


(Pre-Nena Album)
1983: Nena

Nena (album)

Nena is the debut album of German pop-rock band Nena. It was released in 1983 and brought the breakthrough in the German pop music. It was part of the music genre called Neue Deutsche Welle movement in the German music....



1984: ? (Fragezeichen)

? (Nena album)

? is the second album by German pop-rock band Nena. It was released in 1984 just a few months before the band's first international album99 Luftballons, which contains songs from their previously album Nena and this album, re-recorded with English lyrics.-Track listing:-Singles:*"? "/ B Side:...



1984: 99 Luftballons (International Album)
1985: Feuer und Flamme

Feuer und Flamme

Feuer und Flamme is German pop band Nena's fourth album, released in 1985. It was another success for Nena.- Informations :...



1985: It's All in the Game

It's All In The Game (Nena Album)

It's All in the Game is the fifth and first completely English album by German pop band Nena, released in 1985. The songs are translations from the band's previously album Feuer und Flamme.- Background :...



1986: Eisbrecher

Eisbrecher (Nena album)

Eisbrecher is the sixth and final album by German pop rock band Nena. After the split-up the following year, the band's lead singer Gabriele Kerner went an a solo career in pop music...



1989: Wunder gescheh'n

Wunder gescheh'n (Nena album)

Wunder gescheh'n is the first album by German Pop singer Nena as a solo artist.It is the first Nena album released after a 2 year musical break due to the band's breakup in 1987....



1990: Komm lieber Mai...
1991: Nena Die Band

Nena Die Band (album)

Nena Die Band is a best-of album by German pop singer Nena released in 1991. It contains 15 hit songs by the band Nena. The first track "Lass mich dein Pirat sein" was remixed and put on the album as "Lass mich dein Pirat sein ". The ending vocal part of the worldwide hit "99 Luftballons" was...



1992: Bongo Girl
1994: Und Alles Dreht Sich

Und Alles Dreht Sich

Und Alles Dreht Sich is an album by German pop singer Nena released in 1994. It had moderate success in Germany.-Track listing:# Ich Halt' Dich Fest 3:50 # Hol' Mich Zurück 3:31 # Weisse Wolke 6:10...



1995: Nena Live
1995: Unser Apfelhaus
1996: Bambus Bären Bande (Soundtrack)
1997: Jamma Nich
1997: Nenas Weihnachtsreise
1998: Wenn Alles Richtig Ist, Dann Stimmt Was Nicht

Wenn Alles Richtig Ist, Dann Stimmt Was Nicht

Wenn Alles Richtig Ist, Dann Stimmt Was Nicht is the last studio album released by Nena in the 90s. It has more of a rock sound than Nena's other releases from the same decade, which had a more pop sound.-Track listing:# Willkommen 0:01...



1998: Nena Live '98

Nena Live '98

Nena Live '98 is a live recording by German Pop Star Nena of her show at the Rhein Stadium in Düsseldorf. It contains hits like "99 Luftballons", "Leuchtturm", "Irgendwie, Irgendwo, Irgendwann" and "Nur Geträumt".-Track listing:# Leuchtturm 3:25...



1999: Rabatz
2001: Chokmah

Chokmah (Nena album)

Chokmah is a 2001 album by German artist Nena. It received mixed reviews, the majority being positive. It spawned one very successful single "Carpe Diem"...



2002: Tausend Sterne (Nena Kids)
2002: Nena feat. Nena

Nena feat. Nena

Nena featuring Nena, also called "20 Jahre Nena" , or "20 Jahre—Das Jubiläums-Album" is an anniversary album by popular German singer Nena...



2002: Madou und das Licht der Fantasie (Nena Kids)
2003: Nena feat. Nena Live
2004: Nena live Nena
2005: Willst du mit mir gehen?

Willst du mit mir gehen?

Willst du mit mir gehen? is a 2005 album by German pop singer Nena. It was released as 2 CD album. The first CD has a more energetic sound, while the second CD has a more meditative sound. The sigles released from the album were "Willst du mit mir gehen?", "Liebe ist" Willst du mit mir gehen? is a...



2007: Cover Me
2008: Himmel, Sonne, Wind und Regen
2009: Made in Germany
2010: Made in Germany Live

Made In Germany Live

Made In Germany Live is a 2-CD live album released by German pop singer Nena, released on September 17, 2010. It contains her live performance from Berlin that took place on the 24th of April 2010...



2010: Best of Nena
Filmography (for the lead singer)
Gib Gas ich will Spaß (1982)
Richy Guitar (1985)
Der Unsichtbare (1987)
Tobias Totz und sein Löwe (voice, 1999)
Die Abrafaxe – Unter schwarzer Flagge (voice, 2001)
Die Affäre Semmeling (TV series) (1999)
Eragon

Eragon (film)

Eragon is a 2006 fantasy-adventure film based on the novel of the same name by author Christopher Paolini. The cast includes Edward Speleers in the title role, Jeremy Irons, Garrett Hedlund, Sienna Guillory, Robert Carlyle, John Malkovich, Djimon Hounsou, Alun Armstrong, Joss Stone, and the voice...


(German dub, 2006) (voice)
Arthur und die Minimoys (voice)
External links