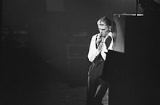 David Bowie
David Bowie
is an English musician, actor, record producer and
arranger
Arrangement
The American Federation of Musicians defines arranging as "the art of preparing and adapting an already written composition for presentation in other than its original form. An arrangement may include reharmonization, paraphrasing, and/or development of a composition, so that it fully represents...
. A major figure for over four decades in the world of popular music, Bowie is widely regarded as an innovator, particularly for his work in the 1970s. He is known for his distinctive voice, and the intellectual depth and eclecticism of his work.
Bowie first caught the eye and ear of the public in July 1969, when his song "Space Oddity" reached the top five of the
UK Singles Chart
UK Singles Chart
The UK Singles Chart is compiled by The Official Charts Company on behalf of the British record-industry. The full chart contains the top selling 200 singles in the United Kingdom based upon combined record sales and download numbers, though some media outlets only list the Top 40 or the Top 75 ...
.
I'm an instant star. Just add water and stir.

Quoted in Halliwell's Who's Who in the Movies 15th Edition (2003) by Leslie Halliwell, p. 60
I get offered so many bad movies. And they're all raging queens or transvestites or Martians.

1983 Comment, quoted in Halliwell's Who's Who in the Movies 15th Edition (2003) by Leslie Halliwell, p. 60
Heathenism is a state of mind. You can take it that I'm referring to one who does not see his world. He has no mental light. He destroys almost unwittingly. He cannot feel any Gods presence in his life. He is the 21st century man. However, there's no theme or concept behind Heathen, just a number of songs but somehow there is a thread that runs through it that is quite as strong as any of my thematic type albums.

I had to resign myself, many years ago, that I'm not too articulate when it comes to explaining how I feel about things. But my music does it for me, it really does. There, in the chords and melodies, is everything I want to say. The words just jolly it along. It's always been my way of expressing what for me is inexpressible by any other means.

We can be heroes, just for one day.

"Heroes"
I, I can remember (I remember) Standing, by the wall (by the wall) And the guns, shot above our heads (over our heads) And we kissed, as though nothing could fall (nothing could fall) And the shame, was on the other side Oh we can beat them, for ever and ever

"Heroes"
I've nothing much to offer, There's nothing much to take. I'm an absolute beginner, But I'm absolutely sane. As long as we're together The rest can go to hell. I absolutely love you, But we're absolute beginners. With eyes completely open, But nervous all the same.

Absolute Beginners