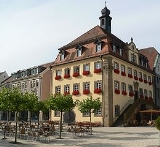 Neckarsulm
Neckarsulm
is a
city
City
A city is a relatively large and permanent settlement. Although there is no agreement on how a city is distinguished from a town within general English language meanings, many cities have a particular administrative, legal, or historical status based on local law.For example, in the U.S...
in northern
Baden-Württemberg
Baden-Württemberg
Baden-Württemberg is one of the 16 states of Germany. Baden-Württemberg is in the southwestern part of the country to the east of the Upper Rhine, and is the third largest in both area and population of Germany's sixteen states, with an area of and 10.7 million inhabitants...
,
Germany
Germany
Germany , officially the Federal Republic of Germany , is a federal parliamentary republic in Europe. The country consists of 16 states while the capital and largest city is Berlin. Germany covers an area of 357,021 km2 and has a largely temperate seasonal climate...
, near
Stuttgart
Stuttgart
Stuttgart is the capital of the state of Baden-Württemberg in southern Germany. The sixth-largest city in Germany, Stuttgart has a population of 600,038 while the metropolitan area has a population of 5.3 million ....
, and part of the
district Heilbronn
Heilbronn (district)
Heilbronn is a district in the north of Baden-Württemberg, Germany. Neighboring districts are Neckar-Odenwald, Hohenlohe, Schwäbisch Hall, Rems-Murr, Ludwigsburg, Enz, Karlsruhe and Rhein-Neckar...
. As of 2004, Neckarsulm had 27,296 inhabitants.
The rivers
Neckar
Neckar
The Neckar is a long river, mainly flowing through the southwestern state of Baden-Württemberg, but also a short section through Hesse, in Germany. The Neckar is a major right tributary of the River Rhine...
and
Sulm
Sulm (German river)
The Sulm is an unnavigable right tributary of the Neckar in the Heilbronn district of Baden-Wuerttemberg. It arises in the Löwensteiner Mountains and after 25.3 km and 315 meters of elevation flows into the Neckar in Untereisesheim, near Neckarsulm.- Geography :The Sulm flows south from the city...
join there, hence the name, which is often misunderstood or mispronounced as "Neckars Ulm", which would mean the
Ulm
Ulm
Ulm is a city in the federal German state of Baden-Württemberg, situated on the River Danube. The city, whose population is estimated at 120,000 , forms an urban district of its own and is the administrative seat of the Alb-Donau district. Ulm, founded around 850, is rich in history and...
of the Neckar, in comparison to the city of Ulm, which is far to the East, and on the
Danube
Danube
The Danube is a river in the Central Europe and the Europe's second longest river after the Volga. It is classified as an international waterway....
at the border between Baden-Wuerttemburg and Bavaria.
Both the former
NSU Motorenwerke AG
NSU Motorenwerke AG
NSU Motorenwerke AG, normally just NSU, was a German manufacturer of automobiles, motorcycles and pedal cycles, founded in 1873. It was acquired by Volkswagen Group in 1969...
(which has been acquired by
Audi
Audi
Audi AG is a German automobile manufacturer, from supermini to crossover SUVs in various body styles and price ranges that are marketed under the Audi brand , positioned as the premium brand within the Volkswagen Group....
), the Audi Aluminium Plant, and
quattro GmbH
Quattro GmbH
quattro GmbH is a wholly owned private subsidiary of the German automobile manufacturer AUDI AG, part of the Volkswagen Group.Founded in October 1983, it primarily specialises in producing high performance Audi cars and components, along with purchaser specified customisations...
are located here. The
NSU
logo on early vehicles stands for "NeckarSUlm".
Lidl
Lidl
Lidl is a discount supermarket chain based in Germany that operates over 7,200 stores across Europe. The company's full name is Lidl Stiftung & Co. KG...
is also from Neckarsulm.
Neckarsulm is famous for being ranked first in the German
Solarbundesliga
(cities beginning at 10,000 inhabitants), a competition in
renewable energy
Renewable energy
Renewable energy is energy which comes from natural resources such as sunlight, wind, rain, tides, and geothermal heat, which are renewable . About 16% of global final energy consumption comes from renewables, with 10% coming from traditional biomass, which is mainly used for heating, and 3.4% from...
installations. Its other fame is that the Neckarsulm-Gundelsheim Weingaertnergenossenschaft (vintner's co-operative) is reputed to be the oldest in Germany; trollinger and lemberger are the principal varieties of grape that are grown.
Buildings and Constructions
Teutonic Knights

Teutonic Knights

The Order of Brothers of the German House of Saint Mary in Jerusalem , commonly the Teutonic Order , is a German medieval military order, in modern times a purely religious Catholic order...


castle with Deutsches Zweirad- und NSU-Museum(the Motorcycle Museum of Germany)
Neckarsulm TDS Office Tower

Neckarsulm TDS Office Tower

Neckarsulm TDS Office Tower is a 20 floor tall office building in Neckarsulm, Stuttgart, Germany. Neckarsulm TDS Office Tower houses the offices of TDS AG, dsb AG and the LIDL training center.TDS Office Tower was constructed during the period 1997 to 1999...



Obereisesheim transmitter

Obereisesheim transmitter

Obereisesheim transmitter is a facility of SWR used for mediumwave broadcasting on 711 kHz with a power of 5 kilowatts. It is located near Neckarsulm, Germany. Obereisesheim transmitter, which is situated at 49°11'28" N and 9°11'47" E, uses as aerial a 74 metre tall ground-fed, insulated mast...



The mediaeval city wall is mostly intact along the riverside aspect of the town.
Sister Cities
City
Country
Year
Carmaux

Carmaux

Carmaux is a commune in the Tarn department in southern France.Carmaux was famous for its important coal mining and its glassworks . "In 1892, Jean Jaurès supported the miners of Carmaux when they went on strike over the dismissal of their leader, Jean Baptiste Calvignac."...



  France
Bordighera

Bordighera

Bordighera is a town and comune in the Province of Imperia, Liguria .-History:The city was founded around the 4th century BC by the Ligures....



  Italy
Grenchen

Grenchen

Grenchen is a municipality in the district of Lebern in the canton of Solothurn in Switzerland.It is located at the foot of the Jura mountains between Solothurn and Biel. With over 16,000 inhabitants, it is one of the larger towns of the canton of Solothurn...



  Switzerland
Zschopau

Zschopau

Zschopau , a town in the German state Saxony, is located on both banks of the river Zschopau, south-east from Chemnitz. It is part of the Erzgebirgskreis district. Its population is 11,584...



  Germany
Budakeszi

Budakeszi

Budakeszi is a town in Pest County, in the Budapest metropolitan area, Hungary. It is located beyond the Jánoshegy hill at the western city limits of Budapest, about west of the Zero Kilometre Stone in the city centre...



  Hungary