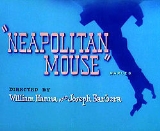 Neapolitan Mouse
Neapolitan Mouse
is the 86th one
reel
Reel
A reel is an object around which lengths of another material are wound for storage. Generally a reel has a cylindrical core and walls on the sides to retain the material wound around the core...
animated
Animated cartoon
An animated cartoon is a short, hand-drawn film for the cinema, television or computer screen, featuring some kind of story or plot...
Tom and Jerry
Tom and Jerry
Tom and Jerry are the cat and mouse cartoon characters that were evolved starting in 1939.Tom and Jerry also may refer to:Cartoon works featuring the cat and mouse so named:* The Tom and Jerry Show...
short
Short subject
A short film is any film not long enough to be considered a feature film. No consensus exists as to where that boundary is drawn: the Academy of Motion Picture Arts and Sciences defines a short film as "an original motion picture that has a running time of 40 minutes or less, including all...
, created in
1953
1953 in film
The year 1953 in film involved some significant events.-Events:*September 16 — The Robe debuts as the first anamorphic, widescreen CinemaScope film.-Top grossing films : After theatrical re-issue- Awards :Academy Awards:A...
directed by
William Hanna
William Hanna
William Denby Hanna was an American animator, director, producer, and cartoon artist, whose film and television cartoon characters entertained millions of people for much of the 20th century. When he was a young child, Hanna's family moved frequently, but they settled in Compton, California, by...
and
Joseph Barbera
Joseph Barbera
Joseph Roland Barbera was an influential American animator, director, producer, storyboard artist, and cartoon artist, whose film and television cartoon characters entertained millions of fans worldwide for much of the twentieth century....
and produced by
Fred Quimby
Fred Quimby
Frederick C. "Fred" Quimby was an American cartoon producer, best known as a producer of Tom and Jerry cartoons, for which he won seven Academy Awards...
with music by Scott Bradley. The cartoon was animated by Ed Barge, Irven Spence, Ray Patterson and Kenneth Muse, with backgrounds by John Didrik Johnsen. It was released on October 2, 1954 by
Metro-Goldwyn-Mayer
Metro-Goldwyn-Mayer
Metro-Goldwyn-Mayer Inc. is an American media company, involved primarily in the production and distribution of films and television programs. MGM was founded in 1924 when the entertainment entrepreneur Marcus Loew gained control of Metro Pictures, Goldwyn Pictures Corporation and Louis B. Mayer...
.
Plot
The cartoon begins with Tom and Jerry arriving on a cruise ship to
Naples
Naples
Naples is a city in Southern Italy, situated on the country's west coast by the Gulf of Naples. Lying between two notable volcanic regions, Mount Vesuvius and the Phlegraean Fields, it is the capital of the region of Campania and of the province of Naples...
. Jerry emerges from a mouse hole-size door on the ship only to be crushed by Tom when he slams open the human-size door on the ship. Jerry retaliates by slamming the door back on Tom initiating a chase scene leading off the ship. Tom runs past a pile of luggage where Jerry, wearing some bristles from a broom as a disguise, tells him the mouse he is looking for is in another direction. Tom runs off before realizing he was tricked and turns back around to chase Jerry, who ditches his disguise. Tom runs up to a fountain with several lion-shaped statues spitting water from their mouths. Jerry has hidden himself standing on top of one of the lions but after a second, runs out of water. Tom climbs up onto the fountain where Jerry spits in his face and runs off. Tom and Jerry run onto a busy street corner where Jerry spills a bucket full of apples all over the road. Tom slips on the apples and goes crashing into the side of a flower cart. He bends a metal bucket on the cart out of shape and it gets stuck to his head, like a hat, and then a necklace of flowers lands on his neck. Jerry runs down another street where Tom leaps out of nowhere surprising him. They both run into a corner where Tom begins trying to hit Jerry with a frying pan, producing quite a racket.
The racket drives a mouse, Topo, out of his mouse hole. At first he is upset about the noise until he sees what was making the noise. He then proceeds to punch Tom in the face and hit him with the pan. He then explains to Jerry that he has his own problems to deal with. We see Tom being bullied by a Neapolitan blue dog. The dog trips him and then sends him running into a wall where he collapses into an accordion shape. He plays Tom like an accordion then drops him on the ground in front. Tom tries running away again but the dog holds him up. Topo comes in, grabbing the dog by his tail, then throwing him up and over. He then ties the dog's tail around his legs and his ears around his nose. This sends the dog running away, mentioning Topo's power and strength. Topo then realizes who Tom & Jerry are, mentioning that he is a fan of their cartoons. He then agrees to take them on a tour around Naples.
They go to an outdoor market where Topo makes Tom a sandwich with meat, cheese, a tomato, and a can of an unspecified food. The sandwich is very tall but Tom crushes it and eats it whole. It then re-expands in his stomach making Jerry laugh. Topo then drops a large bag of food into Jerry's mouth making him swell up like a knock-over doll. They then continue on their tour. Upon approaching
Nisida
Nisida
Nisida is a volcanic islet of the Flegrean Islands archipelago, in southern Italy. It lies at a very short distance from Cape Posillipo, just north of Naples; it is now connected to the mainland by a stone bridge. The islet is almost circular, with a flooded crater forming the bay of Porto Paone on...
, Topo begins singing a song which makes him tear up. Meanwhile, the blue dog from earlier along with two friends, a white dog and a short, orange dog, come out from behind a tree. The blue dog point out their target and they come creeping out. Tom & Jerry are enjoying Topo's song when they notice the dogs' approach and run away, just as Topo finishes his song. Topo says that his song always makes him cry before noticing that Tom & Jerry are gone and the dogs are around him, beginning a chase scene. Tom calls Topo up to the food stand from before where he and Jerry, along with Topo's help, roll three large cheese wheels off the counter. The cheese wheels go rolling on to the ground and down the same hill the dogs are running up. The dogs turn and run from the cheese where their paths split. The short, orange dog is chased around the edge of a fountain before rejoining his friends. The dogs are forced to stop when they almost run off the edge of a dock but get knocked off by the wheels of cheese which then roll off, job accomplished. Tom, Jerry, and Topo look over the edge of the dock before the ship foghorn blows. They run off, quickly returning to bid Topo good bye. Topo waves goodbye from the dock along with the three unharmed dogs as Tom & Jerry sail back home to America.