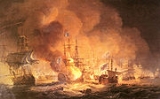 Naval battle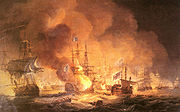 A
naval battle
is a
battle
Battle
Generally, a battle is a conceptual component in the hierarchy of combat in warfare between two or more armed forces, or combatants. In a battle, each combatant will seek to defeat the others, with defeat determined by the conditions of a military campaign...
fought using
boat
Boat
A boat is a watercraft of any size designed to float or plane, to provide passage across water. Usually this water will be inland or in protected coastal areas. However, boats such as the whaleboat were designed to be operated from a ship in an offshore environment. In naval terms, a boat is a...
s,
ship
Ship
Since the end of the age of sail a ship has been any large buoyant marine vessel. Ships are generally distinguished from boats based on size and cargo or passenger capacity. Ships are used on lakes, seas, and rivers for a variety of activities, such as the transport of people or goods, fishing,...
s or other waterborne vessels. Most naval battles have occurred at
sea
Sea
A sea generally refers to a large body of salt water, but the term is used in other contexts as well. Most commonly, it means a large expanse of saline water connected with an ocean, and is commonly used as a synonym for ocean...
, but a few have taken place on
lake
Lake
A lake is a body of relatively still fresh or salt water of considerable size, localized in a basin, that is surrounded by land. Lakes are inland and not part of the ocean and therefore are distinct from lagoons, and are larger and deeper than ponds. Lakes can be contrasted with rivers or streams,...
s or
river
River
A river is a natural watercourse, usually freshwater, flowing towards an ocean, a lake, a sea, or another river. In a few cases, a river simply flows into the ground or dries up completely before reaching another body of water. Small rivers may also be called by several other names, including...
s. The earliest recorded naval battle took place in 1210 BC near
Cyprus
Cyprus
Cyprus , officially the Republic of Cyprus , is a Eurasian island country, member of the European Union, in the Eastern Mediterranean, east of Greece, south of Turkey, west of Syria and north of Egypt. It is the third largest island in the Mediterranean Sea.The earliest known human activity on the...
. There have been few large significant battles since
World War II
World War II
World War II, or the Second World War , was a global conflict lasting from 1939 to 1945, involving most of the world's nations—including all of the great powers—eventually forming two opposing military alliances: the Allies and the Axis...
, as navies have taken on more of a policing role, performing search-and-rescue operations, enforcing trade sanctions, and fighting piracy and smuggling.
Although the nature of the ships involved in battles has changed drastically, from
trireme
Trireme
A trireme was a type of galley, a Hellenistic-era warship that was used by the ancient maritime civilizations of the Mediterranean, especially the Phoenicians, ancient Greeks and Romans.The trireme derives its name from its three rows of oars on each side, manned with one man per oar...
s to
sailing ship
Sailing ship
The term sailing ship is now used to refer to any large wind-powered vessel. In technical terms, a ship was a sailing vessel with a specific rig of at least three masts, square rigged on all of them, making the sailing adjective redundant. In popular usage "ship" became associated with all large...
s to
battleship
Battleship
A battleship is a large armored warship with a main battery consisting of heavy caliber guns. Battleships were larger, better armed and armored than cruisers and destroyers. As the largest armed ships in a fleet, battleships were used to attain command of the sea and represented the apex of a...
s,
submarine
Submarine
A submarine is a watercraft capable of independent operation below the surface of the water. It differs from a submersible, which has more limited underwater capability...
s and
aircraft carrier
Aircraft carrier
An aircraft carrier is a warship designed with a primary mission of deploying and recovering aircraft, acting as a seagoing airbase. Aircraft carriers thus allow a naval force to project air power worldwide without having to depend on local bases for staging aircraft operations...
s, many of the
tactical principles
Naval tactics
Naval tactics is the collective name for methods of engaging and defeating an enemy ship or fleet in battle at sea during naval warfare, the naval equivalent of military tactics on land....
remain the same, such as the importance of manoeuvre before the engagement proper, and the desirability of breaking off combat rather than risking the complete loss of a fleet.
There are several contenders for the
largest naval battle of all time
Largest naval battle in history
The title of "largest naval battle in history" is disputed between adherents of criteria which include the numbers of personnel and/or vessels involved in the battle, and the total tonnage of the vessels involved...
.
See also
List of single-ship actions

Single-ship action

A single ship action is a naval engagement fought between two warships of opposing sides, excluding submarine engagements; called so because there is a single ship on each side...



Naval history

Naval history

Naval history is the area of military history concerning war at sea and the subject is also a sub-discipline of the broad field of maritime history....



Naval ship

Naval ship

A naval ship is a ship used for combat purposes, commonly by a navy. Naval ships are differentiated from civilian ships by construction and purpose...