 National Romantic Style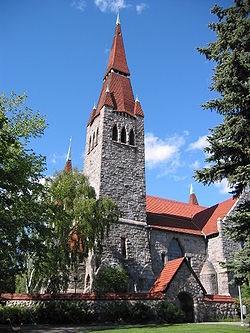 The
National Romantic style
was a
Nordic
Nordic countries
The Nordic countries make up a region in Northern Europe and the North Atlantic which consists of Denmark, Finland, Iceland, Norway and Sweden and their associated territories, the Faroe Islands, Greenland and Åland...
architectural style that was part of the
national romantic movement
Romantic nationalism
Romantic nationalism is the form of nationalism in which the state derives its political legitimacy as an organic consequence of the unity of those it governs...
during the late 19th and early 20th century. Designers turned to early Medieval and even prehistoric precedents to construct a style appropriate to the perceived character of a people. The style can be seen as a reaction to industrialism and an expression of the same "dream of the North" nationalism that gave impetus to renewed interest in the
edda
Edda
The term Edda applies to the Old Norse Poetic Edda and Prose Edda, both of which were written down in Iceland during the 13th century in Icelandic, although they contain material from earlier traditional sources, reaching into the Viking Age...
s and
saga
Saga
Sagas, are stories in Old Norse about ancient Scandinavian and Germanic history, etc.Saga may also refer to:Business*Saga DAB radio, a British radio station*Saga Airlines, a Turkish airline*Saga Falabella, a department store chain in Peru...
s. Unlike much nostalgic Gothic Revival elsewhere, National Romantic architecture expressed progressive social and political ideals, through reformed domestic architecture.
Examples of National Romantic architecture
Finnish National Theatre

Finnish National Theatre

The Finnish National Theatre , founded in 1872 in the city of Pori, is located in central Helsinki on the northern side of the Helsinki Central Railway Station Square. It is the world's oldest theatre with performances in Finnish...


(Suomen Kansallisteatteri) (1902)
Vålerenga church (Vålerenga kirke) (1902)
Copenhagen City Hall

Copenhagen City Hall

Copenhagen City Hall is the headquarters of the Municipal Council as well as the Lord mayor of the City of Copenhagen, Denmark. The building is situated on The City Hall Square in central Copenhagen....


(Rådhus) (1905)
National Museum of Finland

National Museum of Finland

The National Museum of Finland presents Finnish history from the Stone Age to the present day, through objects and cultural history. The Finnish National Romantic style building is located in central Helsinki and operates in collaboration with the National Board of Antiquities , an association...


(Suomen Kansallismuseo) (1905)
Frogner church

Frogner church

Frogner Church is a church in the Frogner borough of the city of Oslo, Norway. The congregation is part of the Church of Norway, the country's state church.-History:...


(Frogner kirke] (1907)
Norwegian Institute of Technology

Norwegian Institute of Technology

The Norwegian Institute of Technology, known by its Norwegian abbrevation NTH was a science institute in Trondheim, Norway. It was established in 1910, and existed as an independent technical university for 85 years, after which it was merged into the University of Trondheim as an independent...


(Norges tekniske høgskole] (1910)
Tarvaspää

Tarvaspää

Tarvaspää or the Gallen-Kallela Museum, located in Espoo, Finland and built between 1911 and 1913 was a home and studio for Finnish painter Akseli Gallen-Kallela. Tarvaspää has been a museum since 1961.- External links :*...


, (1913) the house and studio built for himself by Finnish painter Akseli Gallen-Kallela

Akseli Gallen-Kallela

Akseli Gallen-Kallela was a Finnish painter who is best known for his illustrations of the Kalevala, the Finnish national epic . His work was considered very important for the Finnish national identity...



Stockholm Court House

Stockholm Court House

Stockholm Court House is situated on Kungsholmen in Central Stockholm, Sweden. The building was constructed between 1909 and 1915. The architecture is influenced by the Castles of the Vasa era and it bears a resemblance to Vadstena Castle...


(Stockholms Rådhus) (1915)
Röhss Museum

Röhss Museum

The Röhsska Museum in Gothenburg, Sweden, is a museum focused on design and applied arts. It was created through donations from Wilhelm and August Röhss and opened to the public in 1916; it has since expanded. The museum has a fine collection of Chinese art and craft and a permanent exhibition of...


(Röhsska konstslöjdsmuseet) (1916)
Stockholm City Hall

Stockholm City Hall

Stockholm City Hall is the building of the Municipal Council for the City of Stockholm in Sweden. It stands on the eastern tip of Kungsholmen island, next to Riddarfjärden's northern shore and facing the islands of Riddarholmen and Södermalm. It houses offices and conference rooms as well as...


(Stockholms stadshus ) (1923)