 NBC suit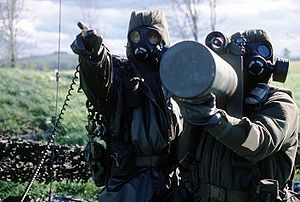 An
NBC suit
is a type of military
personal protective equipment
Personal protective equipment
Personal protective equipment refers to protective clothing, helmets, goggles, or other garment or equipment designed to protect the wearer's body from injury by blunt impacts, electrical hazards, heat, chemicals, and infection, for job-related occupational safety and health purposes, and in...
designed to provide protection against direct contact with and contamination by
radioactive
Radioactive contamination
Radioactive contamination, also called radiological contamination, is radioactive substances on surfaces, or within solids, liquids or gases , where their presence is unintended or undesirable, or the process giving rise to their presence in such places...
, biological or chemical substances, and provides protection from contamination with radioactive materials and some types of radiation, depending on the design. It is generally designed to be worn for extended periods to allow the wearer to fight (or generally function) while under threat of or under actual nuclear, biological, or chemical attack. The civilian equivalent is the
Hazmat suit
Hazmat suit
A hazmat suit is a garment worn as protection from hazardous materials or substances. A hazmat suit is generally combined with breathing apparatus for protection and may be used by firefighters, emergency personnel responding to toxic spills, researchers, specialists cleaning up contaminated...
. The term NBC has been replaced by
CBRN
CBRN
CBRN is an initialism for chemical, biological, radiological, and nuclear. It is used to refer to situations in which any of these four hazards have presented themselves. The term CBRN is a replacement for the cold war term NBC , which had replaced the term ABC that was used in the fifties...
(
C
hemical,
B
iological,
R
adiological,
N
uclear), with the addition of a new threat, radiological, meaning
radiological weapon
Radiological weapon
A radiological weapon or radiological dispersion device is any weapon that is designed to spread radioactive material with the intent to kill, and cause disruption upon a city or nation....
.
Reality
NBC stands for
nuclear
Nuclear warfare
Nuclear warfare, or atomic warfare, is a military conflict or political strategy in which nuclear weaponry is detonated on an opponent. Compared to conventional warfare, nuclear warfare can be vastly more destructive in range and extent of damage...
,
biological
Biological warfare
Biological warfare is the use of biological toxins or infectious agents such as bacteria, viruses, and fungi with intent to kill or incapacitate humans, animals or plants as an act of war...
,
chemical
Chemical warfare
Chemical warfare involves using the toxic properties of chemical substances as weapons. This type of warfare is distinct from Nuclear warfare and Biological warfare, which together make up NBC, the military acronym for Nuclear, Biological, and Chemical...
. It is a term used in the armed forces and in health and safety, mostly in the context of
weapons of mass destruction (WMD)
Weapons of mass destruction
A weapon of mass destruction is a weapon that can kill and bring significant harm to a large number of humans and/or cause great damage to man-made structures , natural structures , or the biosphere in general...
clean-up in overseas conflict or protection of emergency services during the response to a terrorist attack, though there are civilian and common-use applications (such as recovery and clean up efforts after industrial accidents).
In military operations, NBC suits are intended to be quickly donned over a soldier's uniform and can continuously protect the user for up to several days. Most are made of impermeable material such as rubber, but some incorporate a filter, allowing air, sweat and condensation to slowly pass through. An example of this is the Canadian military NBC suit.
The older Soviet suit was impermeable rubber-coated canvas. Now known as the
CBRN
CBRN
CBRN is an initialism for chemical, biological, radiological, and nuclear. It is used to refer to situations in which any of these four hazards have presented themselves. The term CBRN is a replacement for the cold war term NBC , which had replaced the term ABC that was used in the fifties...
suit, the British Armed Forces suit is reinforced nylon with charcoal impregnated felt. It is more comfortable because of the breathability but has a shorter useful life, and must be replaced often. The British Armed Forces suit is known as a "Noddy suit" because some of them had a pointed hood like the hat worn by the fictional character Noddy. The Soviet style suit will protect the wearer at higher concentrations than the British suit but is less comfortable due to the build-up of moisture within it. A Soviet suit was known as a
Womble
Womble (disambiguation)
Womble can refer to:* The Wombles, fictional creatures living on Wimbledon Common** The Wombles , featuring the fictional creatures** The Wombles , British pop group spinoff from the TV series...
because of its long faced respirator with round visor glasses. In Canadian terminology, an NBC suit or any kind of similar protective over-suit is also known as a Bunnysuit.
Fiction
A contemporary fictional example is shown by the Hazardous Environment Suit as worn by
Gordon Freeman
Gordon Freeman
Gordon Freeman is a fictional character and the main protagonist of the Half-Life video game series. He is a theoretical physicist who finds himself thrust into a battle for survival against both alien and human forces. Throughout the series, Gordon must prevail in hostile situations despite...
in the
Half-Life series
Half-Life (series)
The Half-Life series of video games share a science fiction alternate history. Nearly all of the games are first-person shooters on the GoldSource or Source engines, and most are linear, narrative, single-player titles....
of video games. In this context, Freeman's HEV suit is used as an explanation for his resistance to environmental hazards and physical damage, the suit also having some of the properties of power armor. The protagonist of Half-Life: Opposing Force, USMC Corporal Adrian Shephard, wears a military version of the HEV suit called the Powered Combat Vest (PCV).
In the games
Fallout 3
Fallout 3
Fallout 3 is an action role-playing game released by Bethesda Game Studios, and the third major installment in the Fallout series. The game was released in North America, Europe and Australia in October 2008, and in Japan in December 2008 for Microsoft Windows, PlayStation 3 and Xbox 360...
and
Fallout: New Vegas
Fallout: New Vegas
Fallout: New Vegas is a first person action role-playing video game in the Fallout series developed by Obsidian Entertainment, and published by Bethesda Softworks. The game is based in a post-apocalyptic environment in and around Las Vegas, Nevada...
, radiation suits are commonly used due to the radiation in the game. They are either yellow or white with a clear or red plastic visors. They block out some radiation found in the worlds. In the
New Vegas
add-on Dead Money, creatures known as Ghost People are in fact humans trapped in their radiation suits.
In
Tom Clancy's Rainbow Six: Vegas 2
Tom Clancy's Rainbow Six: Vegas 2
Tom Clancy's Rainbow Six: Vegas 2 is the sixth installment in the Rainbow Six series. It is a first person shooter video game and the sequel to Tom Clancy's Rainbow Six: Vegas. It was announced by Ubisoft on November 20, 2007...
, a character may be outfitted with different levels of exposure protection, including half-face respirators and other face masks. During the level in the sports stadium, the player and teammates are depicted wearing either a Level B or C suits. (It is unknown whether there is a SCBA unit.)
In the game
STALKER
Stalker
-In media:* Stalker , a 1995 dark ambient album by Lustmord & Robert Rich, inspired by the film* Stalker , an episode of the American television series CSI...
, many of the NPC's are seen wearing protective Environmental and Exoskeleton suits.
In the game
Killing Floor (2009 video game)
Killing Floor (2009 video game)
Killing Floor is a cooperative first-person shooter video game developed and published by Tripwire Interactive. It was first released on May 14, 2009, for Microsoft Windows, and for Mac OS X on May 5, 2010.-Gameplay:...
One of the default characters is wearing a British NBC suit in conjunction with a vest and British military helmet.
Blackwatch Troopers in the game
Prototype
Prototype (video game)
Prototype is an open world action video game developed by Radical Entertainment and published by Activision. The game was released in North America on June 9, 2009, and in southwestern parts of North America as well as Oceania on June 10, and was released in Europe on June 12.The game is set in New...
wear stylized NBC suits. This, according to the game designers, was a design decision in order to dehumanize them in the eyes of the player.
In the novel
Metro 2033
Metro 2033 (book)
Metro 2033 is a novel written by Russian author Dmitry Glukhovsky.-History:Some twenty years after a nuclear war, only a few thousands of people survive in the metro...
by
Dmitry Glukhovsky
Dmitry Glukhovsky
Dmitry A. Glukhovsky is a professional Russian author and journalist. Glukhovsky started in 2002 by publishing his first novel, Metro 2033, on his own website to be viewed for free. The novel has later become an interactive experiment, drawing in many readers, and has since been made into a video...
people visiting the irradiated surface of Moscow wear black radiation suits with unique clear faced gas masks. However in the video game of the same name no suit is needed only a gas mask.
See also
Images