 Mounted police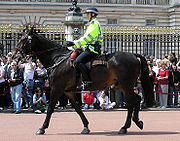 Mounted police
are
police
Police
The police is a personification of the state designated to put in practice the enforced law, protect property and reduce civil disorder in civilian matters. Their powers include the legitimized use of force...
who patrol on
horse
Horse
The horse is one of two extant subspecies of Equus ferus, or the wild horse. It is a single-hooved mammal belonging to the taxonomic family Equidae. The horse has evolved over the past 45 to 55 million years from a small multi-toed creature into the large, single-toed animal of today...
back (equestrians) or
camel
Camel
A camel is an even-toed ungulate within the genus Camelus, bearing distinctive fatty deposits known as humps on its back. There are two species of camels: the dromedary or Arabian camel has a single hump, and the bactrian has two humps. Dromedaries are native to the dry desert areas of West Asia,...
back. They continue to serve in remote areas and in metropolitan areas where their day-to-day function may be picturesque or ceremonial, but they are also employed in
crowd control
Crowd control
Crowd control is the controlling of a crowd, to prevent the outbreak of disorder and prevention of possible riot. Examples are at soccer matches, when a sale of goods has attracted an excess of customers, refugee control, or mass decontamination and mass quarantine situations . It calls for gentler...
because of their mobile mass and height advantage and increasingly in the UK for crime prevention and high visibility policing roles. Mounted police may be employed for specialized duties ranging from patrol of parks and wilderness areas, where
police car
Police car
A police car is a ground vehicle used by police, to assist with their duties in patrolling and responding to incidents. Typical uses of a police car include transportation for officers to reach the scene of an incident quickly, to transport criminal suspects, or to patrol an area, while providing a...
s would be impractical or noisy, to
riot
Riot
A riot is a form of civil disorder characterized often by what is thought of as disorganized groups lashing out in a sudden and intense rash of violence against authority, property or people. While individuals may attempt to lead or control a riot, riots are thought to be typically chaotic and...
duty, where the horse serves to intimidate those whom it is desired to disperse through its larger size, or may be sent in to snatch trouble makers or offenders from the crowd. For example, in the UK, mounted police are most often seen at
football
Football (soccer)
Association football, more commonly known as football or soccer, is a sport played between two teams of eleven players with a spherical ball...
matches, although they are also a common sight on the streets of many towns and cities as a visible police presence and crime deterrent during the day and night. Some mounted police units are trained in
search and rescue
Search and rescue
Search and rescue is the search for and provision of aid to people who are in distress or imminent danger.The general field of search and rescue includes many specialty sub-fields, mostly based upon terrain considerations...
due to the horse's ability to travel where vehicles cannot.
A well-known mounted police force is the
Royal Canadian Mounted Police
Royal Canadian Mounted Police
The Royal Canadian Mounted Police , literally 'Royal Gendarmerie of Canada'; colloquially known as The Mounties, and internally as 'The Force') is the national police force of Canada, and one of the most recognized of its kind in the world. It is unique in the world as a national, federal,...
(RCMP). The RCMP now uses standard police methods and does not use any horses operationally. However, horses are used in the
Musical Ride
Musical Ride
The Musical Ride of the Royal Canadian Mounted Police is a formal event showcasing the equestrian skills performed by thirty-two cavalry who are regular members of the force. The event is held in Canada and worldwide to promote the RCMP...
as well as by several provincial and municipal police detachments. In the United States, mounted patrols are still essential to local law enforcement operations.
The U.S. Border Patrol had 200 horses in 2005. Most of these are employed along the U.S.-Mexico border. In
Arizona
Arizona
Arizona ; is a state located in the southwestern region of the United States. It is also part of the western United States and the mountain west. The capital and largest city is Phoenix...
, these animals are fed special processed feed pellets so that their wastes do not spread non-native plants in the national parks and wildlife areas they patrol. The Houston, Texas Police Department's Mounted Patrol Unit has become increasingly well known due to the decision to, over time, remove the shoes of all its mounted horses and embrace the concept of naturalizing their horses' diet and care in addition to riding them barefoot.
Equipment
Tack
Horse tack
Tack is a term used to describe any of the various equipment and accessories worn by horses in the course of their use as domesticated animals. Saddles, stirrups, bridles, halters, reins, bits, harnesses, martingales, and breastplates are all forms of horse tack...
used by mounted police is similar to standard riding tack, with adaptations for police use. Synthetic
saddle
Saddle
A saddle is a supportive structure for a rider or other load, fastened to an animal's back by a girth. The most common type is the equestrian saddle designed for a horse, but specialized saddles have been created for camels and other creatures...
s are often favored over those made of natural
leather
Leather
Leather is a durable and flexible material created via the tanning of putrescible animal rawhide and skin, primarily cattlehide. It can be produced through different manufacturing processes, ranging from cottage industry to heavy industry.-Forms:...
to reduce weight, important both because of long riding hours and because police officers must carry numerous articles of personal equipment. High-traction
horseshoe
Horseshoe
A horseshoe, is a fabricated product, normally made of metal, although sometimes made partially or wholly of modern synthetic materials, designed to protect a horse's hoof from wear and tear. Shoes are attached on the palmar surface of the hooves, usually nailed through the insensitive hoof wall...
s made of speciality metals or fitted with rubber soles are typically used in urban areas in place of standard steel horseshoes, which are prone to slip on pavement. Rubber soled shoes also produce less noise than steel shoes and jar the hoof less. Horses working in riot control wear facial armor, made of perspex so that the animals can still see. The officers themselves are often equipped with especially long wooden or polycarbonate
batons
Baton (law enforcement)
A truncheon or baton is essentially a club of less than arm's length made of wood, plastic, or metal...
for use on horseback, as standard patrol batons would have insufficient length to strike individuals at ground level.
See also
List of mounted police forces
Mounted search and rescue

Mounted search and rescue

Mounted search and rescue is a specialty within search and rescue , using horses as search partners and for transportation to search for missing persons. SAR responders on horseback are primarily a search resource, but also can provide off-road logistics support and transportation...



Police paddock

Police paddock

Police paddock is an Australian term that refers to a plot of suburban land that has or has historically been set aside for police horses.Before the universal adoption of the motor car as the preferred mode of urban transport, urban and suburban police stations rode horses...



Paddock Paradise
External links