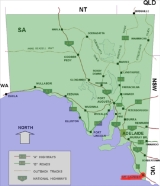 Mount Gambier, South Australia
Mount Gambier
is the largest regional
city
City
A city is a relatively large and permanent settlement. Although there is no agreement on how a city is distinguished from a town within general English language meanings, many cities have a particular administrative, legal, or historical status based on local law.For example, in the U.S...
in
South Australia
South Australia
South Australia is a state of Australia in the southern central part of the country. It covers some of the most arid parts of the continent; with a total land area of , it is the fourth largest of Australia's six states and two territories.South Australia shares borders with all of the mainland...
located approximately 450 kilometres south of the capital
Adelaide
Adelaide
Adelaide is the capital city of South Australia and the fifth-largest city in Australia. Adelaide has an estimated population of more than 1.2 million...
and just 17 kilometres from the Victorian border.
It takes its name from the
Mount Gambier
Mount Gambier (volcano)
Mount Gambier is a maar complex in South Australia associated with the Newer Volcanics Province. It contains four lake-filled maars called Blue Lake, Valley Lake, Leg of Mutton Lake, and Brownes Lake...
, a crater sighted in 1800 by Lieutenant
James Grant
James Grant (navigator)
James Grant was a British Royal Navy officer and navigator in the early nineteenth century. He made several voyages to Australia and Tasmania, and was the first to map parts of the south coast of Australia.-Early life:...
from the survey brig, HMS
Lady Nelson
Lady Nelson
The Royal Navy purchased Lady Nelson in 1799. She spent her career exploring the coast of Australia in the early years of the 19th century. She was the first known vessel to sail eastward through Bass Strait, the first to sail along the South coast of Victoria, as well as the first to enter Port...
, and named for Lord James Gambier, Admiral of the Fleet.
It is known for its interesting geography, particularly its volcanic features and the
Blue Lake
Blue Lake (South Australia)
The Blue Lake in Mount Gambier, South Australia is a large monomictic lake located in an extinct volcanic maar associated with the Mount Gambier maar complex. It is one of four crater lakes on Mount Gambier...
.
Before European settlement, the
Buandig
Buandig
The Buandig people are Indigenous Australians from the Mount Gambier region in western Victoria and south-eastern South Australia.-Traditional Lands:...
(or Boandik) people were the original Aboriginal inhabitants of the area.