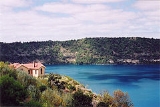 Blue Lake (South Australia)
The
Blue Lake
in
Mount Gambier, South Australia
Mount Gambier, South Australia
Mount Gambier is the largest regional city in South Australia located approximately 450 kilometres south of the capital Adelaide and just 17 kilometres from the Victorian border....
is a large
monomictic
Monomictic
Monomictic lakes are holomictic lakes that mix from top to bottom during one mixing period each year. Monomictic lakes may be subdivided into Cold and Warm types.-Cold monomictic lakes:...
lake
Lake
A lake is a body of relatively still fresh or salt water of considerable size, localized in a basin, that is surrounded by land. Lakes are inland and not part of the ocean and therefore are distinct from lagoons, and are larger and deeper than ponds. Lakes can be contrasted with rivers or streams,...
located in an extinct volcanic
maar
Maar
A maar is a broad, low-relief volcanic crater that is caused by a phreatomagmatic eruption, an explosion caused by groundwater coming into contact with hot lava or magma. A maar characteristically fills with water to form a relatively shallow crater lake. The name comes from the local Moselle...
associated with the
Mount Gambier
Mount Gambier (volcano)
Mount Gambier is a maar complex in South Australia associated with the Newer Volcanics Province. It contains four lake-filled maars called Blue Lake, Valley Lake, Leg of Mutton Lake, and Brownes Lake...
maar complex. It is one of four crater lakes on Mount Gambier. Of the four lakes, only two remain, as the other two (Leg of Mutton and Brown) have dried up over the past 30 to 40 years as the water table has dropped.
Conflicting dates have been estimated for its last eruption, of 28,000 years ago and 4300 years ago.