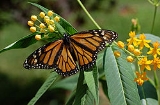 Monarch butterfly
The
Monarch butterfly
is a
milkweed butterfly
Milkweed butterfly
Milkweed butterflies are a subfamily, Danainae, in the family Nymphalidae, or brush-footed butterflies. They lay their eggs on various milkweeds on which their larvae feed...
(subfamily Danainae), in the family
Nymphalidae
Nymphalidae
The Nymphalidae is a family of about 5,000 species of butterflies which are distributed throughout most of the world. These are usually medium sized to large butterflies. Most species have a reduced pair of forelegs and many hold their colourful wings flat when resting. They are also called...
. It is perhaps the best known of all
North America
North America
North America is a continent wholly within the Northern Hemisphere and almost wholly within the Western Hemisphere. It is also considered a northern subcontinent of the Americas...
n butterflies. Since the 19th century, it has been found in
New Zealand
New Zealand
New Zealand is an island country in the south-western Pacific Ocean comprising two main landmasses and numerous smaller islands. The country is situated some east of Australia across the Tasman Sea, and roughly south of the Pacific island nations of New Caledonia, Fiji, and Tonga...
, and in Australia since 1871 where it is called the
Wanderer
. It is resident in the
Canary Islands
Canary Islands
The Canary Islands , also known as the Canaries , is a Spanish archipelago located just off the northwest coast of mainland Africa, 100 km west of the border between Morocco and the Western Sahara. The Canaries are a Spanish autonomous community and an outermost region of the European Union...
, the
Azores
Azores
The Archipelago of the Azores is composed of nine volcanic islands situated in the middle of the North Atlantic Ocean, and is located about west from Lisbon and about east from the east coast of North America. The islands, and their economic exclusion zone, form the Autonomous Region of the...
, and
Madeira
Madeira
Madeira is a Portuguese archipelago that lies between and , just under 400 km north of Tenerife, Canary Islands, in the north Atlantic Ocean and an outermost region of the European Union...
, and is found as an occasional migrant in Western Europe and a rare migrant in the United Kingdom where it is called the Milkweed
http://www.ukbutterflies.co.uk/species.php?species=plexippus
.