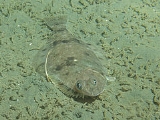 Microstomus pacificus
This article is about the Pacific Dover sole, not to be confused with the European common sole, often called the Dover sole.
Dover sole
,
Microstomus pacificus
, is a
Pacific
Pacific Ocean
The Pacific Ocean is the largest of the Earth's oceanic divisions. It extends from the Arctic in the north to the Southern Ocean in the south, bounded by Asia and Australia in the west, and the Americas in the east.At 165.2 million square kilometres in area, this largest division of the World...
flatfish
Flatfish
The flatfish are an order of ray-finned fish, also called the Heterosomata, sometimes classified as a suborder of Perciformes. In many species, both eyes lie on one side of the head, one or the other migrating through and around the head during development...
of the
flounder family
Pleuronectidae
Righteye flounders are a family, Pleuronectidae, of flounders. They are called "righteye flounders" because most species lie on the sea bottom on their left side, with both eyes on the right side. The Paralichthyidae are the opposite, with their eyes on the left side.Their dorsal and anal fins are...
which ranges from
Baja California
Baja California
Baja California officially Estado Libre y Soberano de Baja California is one of the 31 states which, with the Federal District, comprise the 32 Federal Entities of Mexico. It is both the northernmost and westernmost state of Mexico. Before becoming a state in 1953, the area was known as the North...
to the
Bering Sea
Bering Sea
The Bering Sea is a marginal sea of the Pacific Ocean. It comprises a deep water basin, which then rises through a narrow slope into the shallower water above the continental shelves....
. It takes its name from a resemblance to the common sole of
Europe
Europe
Europe is, by convention, one of the world's seven continents. Comprising the westernmost peninsula of Eurasia, Europe is generally 'divided' from Asia to its east by the watershed divides of the Ural and Caucasus Mountains, the Ural River, the Caspian and Black Seas, and the waterways connecting...
, which is often called a 'Dover sole'.
Dover sole can live for 45 years. They
spawn
Spawn (biology)
Spawn refers to the eggs and sperm released or deposited, usually into water, by aquatic animals. As a verb, spawn refers to the process of releasing the eggs and sperm, also called spawning...
annually in the winter season in deepwater between 800 and 1,000 metres. Males begin to spawn at four years of age, while females begin to spawn at age five.
Dover sole is generally
grilled
Grilling
Grilling is a form of cooking that involves dry heat applied to the surface of food, commonly from above or below.Grilling usually involves a significant amount of direct, radiant heat, and tends to be used for cooking meat quickly and meat that has already been cut into slices...
on the bone and is characterized by a light taste.