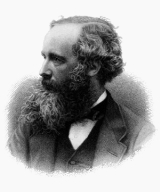 James Clerk Maxwell
James Clerk Maxwell
of
Glenlair
Glenlair
Glenlair House, near the village of Corsock in the Scottish Council area of Dumfries and Galloway, was the home of the physicist James Clerk Maxwell . The original structure was designed for Maxwell's father by Walter Newall; Maxwell himself oversaw the construction of an extension in the late...
(13 June 1831 – 5 November 1879) was a Scottish
physicist and mathematician
Mathematical physics
Mathematical physics refers to development of mathematical methods for application to problems in physics. The Journal of Mathematical Physics defines this area as: "the application of mathematics to problems in physics and the development of mathematical methods suitable for such applications and...
. His most prominent achievement was formulating classical electromagnetic theory. This united all previously unrelated observations, experiments and equations of
electricity
Electricity
Electricity is a general term encompassing a variety of phenomena resulting from the presence and flow of electric charge. These include many easily recognizable phenomena, such as lightning, static electricity, and the flow of electrical current in an electrical wire...
,
magnetism
Magnetism
Magnetism is a property of materials that respond at an atomic or subatomic level to an applied magnetic field. Ferromagnetism is the strongest and most familiar type of magnetism. It is responsible for the behavior of permanent magnets, which produce their own persistent magnetic fields, as well...
and
optics
Optics
Optics is the branch of physics which involves the behavior and properties of light, including its interactions with matter and the construction of instruments that use or detect it. Optics usually describes the behavior of visible, ultraviolet, and infrared light...
into a consistent theory.
Maxwell's equations
Maxwell's equations
Maxwell's equations are a set of partial differential equations that, together with the Lorentz force law, form the foundation of classical electrodynamics, classical optics, and electric circuits. These fields in turn underlie modern electrical and communications technologies.Maxwell's equations...
demonstrated that electricity, magnetism and light are all manifestations of the same phenomenon, namely the
electromagnetic field
Electromagnetic field
An electromagnetic field is a physical field produced by moving electrically charged objects. It affects the behavior of charged objects in the vicinity of the field. The electromagnetic field extends indefinitely throughout space and describes the electromagnetic interaction...
.
Colour as perceived by us is a function of three independent variables at least three are I think sufficient, but time will show if I thrive.

Maxwell, in a letter to William Thomson, The Scientific Letters and Papers of James Clerk Maxwell: 1846-1862 (1990), p. 245.
In every branch of knowledge the progress is proportional to the amount of facts on which to build, and therefore to the facility of obtaining data.

Letter to Lewis Campbell (9 November 1851) in Ch. 6 : Undergraduate Life At Cambridge October 1850 to January 1854 — ÆT. 19-22, p.159