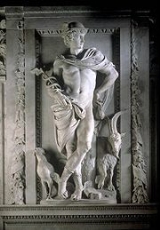 Mercury (mythology)
Mercury
was a messenger who wore winged sandals, and a god of trade, the son of Maia Maiestas and
Jupiter
Jupiter (mythology)
In ancient Roman religion and myth, Jupiter or Jove is the king of the gods, and the god of the sky and thunder. He is the equivalent of Zeus in the Greek pantheon....
in
Roman mythology
Roman mythology
Roman mythology is the body of traditional stories pertaining to ancient Rome's legendary origins and religious system, as represented in the literature and visual arts of the Romans...
. His name is related to the Latin word
merx
("merchandise"; compare
merchant
,
commerce
, etc.),
mercari
(
to trade
), and
merces
(
wages
). In his earliest forms, he appears to have been related to the
Etruscan deity
Etruscan mythology
The Etruscans were a diachronically continuous population, with a distinct language and culture during the period of earliest European writing, in the Mediterranean Iron Age in the second half of the first millennium BC...
Turms
Turms
In Etruscan mythology, Turms was the equivalent of Greek Hermes, god oftrade and the messenger god between people and gods.Turms is also a character in a book by Mika Waltari "Turms the Immortal" which takesplace at the end times of Etruscan civilization....
, but most of his characteristics and mythology were borrowed from the analogous Greek god,
Hermes
Hermes
Hermes is the great messenger of the gods in Greek mythology and a guide to the Underworld. Hermes was born on Mount Kyllini in Arcadia. An Olympian god, he is also the patron of boundaries and of the travelers who cross them, of shepherds and cowherds, of the cunning of thieves, of orators and...
.