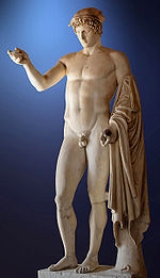 Hermes
Hermes
is the great messenger of the gods in
Greek mythology
Greek mythology
Greek mythology is the body of myths and legends belonging to the ancient Greeks, concerning their gods and heroes, the nature of the world, and the origins and significance of their own cult and ritual practices. They were a part of religion in ancient Greece...
and a
guide to the Underworld
Psychopomp
Psychopomps are creatures, spirits, angels, or deities in many religions whose responsibility is to escort newly deceased souls to the afterlife. Their role is not to judge the deceased, but simply provide safe passage...
. Hermes was born on
Mount Kyllini
Mount Kyllini
Mount Kyllini or Mount Cyllene , is a mountain on the Peloponnesus peninsula in Greece, famous for its association with the god Hermes. It rises to above sea level, making it the second highest point on the peninsula. It is located near the border between the historic regions of Arcadia and...
in Arcadia. An
Olympian god
Twelve Olympians
The Twelve Olympians, also known as the Dodekatheon , in Greek mythology, were the principal deities of the Greek pantheon, residing atop Mount Olympus. Zeus, Hera, Poseidon, Demeter, Hestia, and Hades were siblings. Ares, Hermes, Hephaestus, Athena, Apollo, and Artemis were children of Zeus...
, he is also the patron of boundaries and of the travelers who cross them, of
shepherd
Shepherd
A shepherd is a person who tends, feeds or guards flocks of sheep.- Origins :Shepherding is one of the oldest occupations, beginning some 6,000 years ago in Asia Minor. Sheep were kept for their milk, meat and especially their wool...
s and
cowherds
Pastoralism
Pastoralism or pastoral farming is the branch of agriculture concerned with the raising of livestock. It is animal husbandry: the care, tending and use of animals such as camels, goats, cattle, yaks, llamas, and sheep. It may have a mobile aspect, moving the herds in search of fresh pasture and...
, of the cunning of thieves, of orators and wit, of literature and poets, of athletics and sports, of weights and measures, of invention, and of commerce in general. His symbols include the tortoise, the rooster, the winged sandals, the winged hat, and the
caduceus
Caduceus
The caduceus is the staff carried by Hermes in Greek mythology. The same staff was also borne by heralds in general, for example by Iris, the messenger of Hera. It is a short staff entwined by two serpents, sometimes surmounted by wings...
.