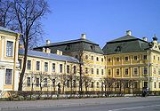 Menshikov Palace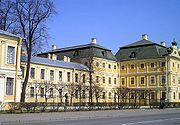 The
Menshikov Palace
is a
Petrine Baroque
Petrine Baroque
Petrine Baroque is a name applied by art historians to a style of Baroque architecture and decoration favoured by Peter the Great and employed to design buildings in the newly-founded Russian capital, Saint Petersburg, under this monarch and his immediate successors.Unlike contemporaneous Naryshkin...
edifice in
Saint Petersburg
Saint Petersburg
Saint Petersburg is a city and a federal subject of Russia located on the Neva River at the head of the Gulf of Finland on the Baltic Sea...
, situated on
Universitetskaya Embankment
Universitetskaya Embankment
Universitetskaya Embankment is a 1.2 km long embankment on the right bank of the Bolshaya Neva, on Vasilievsky Island in Saint Petersburg, Russia. Starting at the Spit of Vasilievsky Island, it spans between Palace Bridge and Blagoveshchensky Bridge....
of the
Bolshaya Neva
Bolshaya Neva
Bolshaya Neva is the largest armlet of Neva river. It starts near the Vasilievsky Island's Strelka .The length of Bolshaya Neva is 3.5 km, the width is from 200 to 400 meters, depth up to 12.8 meters...
on Vasilyevsky Island. It was the first stone building in the city. Since 1981, it has served as a public museum, a branch of the
Hermitage Museum
Hermitage Museum
The State Hermitage is a museum of art and culture in Saint Petersburg, Russia. One of the largest and oldest museums of the world, it was founded in 1764 by Catherine the Great and has been opened to the public since 1852. Its collections, of which only a small part is on permanent display,...
.
The palace was founded in 1710 as a residence of Saint Petersburg Governor General Alexander Menshikov and built by Italian architects
Giovanni Maria Fontana
Giovanni Maria Fontana
Giovanni Maria Fontana was an Italian-Swiss architect, born in Lugano, who worked in Russia, on the invitation of Peter the Great, who assembled a team of European architects and artisans for the construction of St Petersburg during his grand tour in 1697 and 1698...
, and, later, German architect Gottfried Johann Schädel. It was opened in 1711, but the construction continued until 1727 (assisted by
Domenico Trezzini
Domenico Trezzini
Domenico Trezzini was a Swiss Italian architect who elaborated the Petrine Baroque style of Russian architecture.Domenico was born in Astano, near Lugano, in the Italian-speaking Ticino . He probably studied in Rome...
,
Bartolomeo Rastrelli
Bartolomeo Rastrelli
Francesco Bartolomeo Rastrelli was an Italian architect naturalized Russian. He developed an easily recognizable style of Late Baroque, both sumptuous and majestic...
,
Georg Johann Mattarnovy
Georg Johann Mattarnovy
Georg Johann Mattarnovi was a German Baroque architect and sculptor, notable for his work in Saint Petersburg.The birthplace of Mattarnovi is unknown, but most probably it was Prussia. His year of birth is also unknown. He was a sculptor, and a disciple and assistant of German architect Andreas...
and Jean-Baptiste Le Blond), when Menshikov with his family was exiled to Siberia and his property was confiscated.
In 1731,
Cadet Corps
Cadet Corps (Russia)
The Cadet Corps is an admissions-based all boys military academy which prepared boys to become commissioned officers. Boys between the ages of 8 and 15 were enrolled. It was founded in Saint Petersburg, Russian Empire in 1731 by Tsarina Anne. The term of education was seven years...
were established and occupied the palace and neighboring buildings. At the end of the 19th century the Menshikov Palace was restored and became the museum of the Corps. In 1924, its collections were moved to the Hermitage and other museums. From 1956-1981 the Menshikov Palace was restored again and finally opened to the public as a branch of the Hermitage Museum with a collection of Russian art of the late 17th-early 18th century.
Sources
Калязина Н. В. Меншиковский дворец-музей. 2nd ed. Leningrad: Lenizdat, 1989. ISBN 5-289-00467-X.
External links