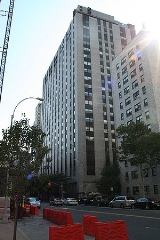 Memorial Sloan-Kettering Cancer Center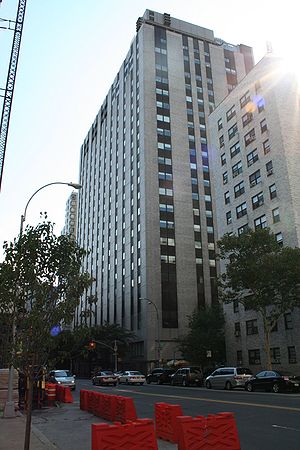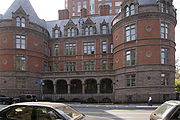 Memorial Sloan–Kettering Cancer Center (MSKCC)
is a
cancer
Cancer
Cancer , known medically as a malignant neoplasm, is a large group of different diseases, all involving unregulated cell growth. In cancer, cells divide and grow uncontrollably, forming malignant tumors, and invade nearby parts of the body. The cancer may also spread to more distant parts of the...
treatment and research institution founded in 1884 as the
New York Cancer Hospital
. The main campus is located at 1275
York Avenue
York Avenue
York Avenue is a short north-south thoroughfare on the East Side of the borough of Manhattan in New York City. It runs from 59th Street north to 91st Street on the Upper East Side. It is known for its upscale apartments, much like the rest of the Upper East Side...
, between 67th and 68th Streets in
New York City
New York City
New York is the most populous city in the United States and the center of the New York Metropolitan Area, one of the most populous metropolitan areas in the world. New York exerts a significant impact upon global commerce, finance, media, art, fashion, research, technology, education, and...
, with other locations in
Basking Ridge, New Jersey
Basking Ridge, New Jersey
- Demographics :As Basking Ridge is not an independent municipality, the following demographic data is based on the United States Census Bureau figures for the ZIP Code Tabulation Area for the 07920 ZIP Code...
,
Long Island
Long Island
Long Island is an island located in the southeast part of the U.S. state of New York, just east of Manhattan. Stretching northeast into the Atlantic Ocean, Long Island contains four counties, two of which are boroughs of New York City , and two of which are mainly suburban...
and
Westchester County, New York
Westchester County, New York
Westchester County is a county located in the U.S. state of New York. Westchester covers an area of and has a population of 949,113 according to the 2010 Census, residing in 45 municipalities...
.
History
MSKCC is actually composed of two intimately related institutions. Memorial Hospital for Cancer and Allied Diseases, currently led by Physician-In-Chief, Dr. Robert Wittes, provides patient care, whose origins stemmed from a medical laboratory established on the campus of Cornell Medical Center and funded by
John D. Rockefeller
John D. Rockefeller
John Davison Rockefeller was an American oil industrialist, investor, and philanthropist. He was the founder of the Standard Oil Company, which dominated the oil industry and was the first great U.S. business trust. Rockefeller revolutionized the petroleum industry and defined the structure of...
, in 1900. The original Memorial Hospital building was designed by Henry C. Pelton and constructed in 1939 by a group that included
John J. Astor
John Jacob Astor
John Jacob Astor , born Johann Jakob Astor, was a German-American business magnate and investor who was the first prominent member of the Astor family and the first multi-millionaire in the United States...
and his wife, Charlotte. Between 1970 and 1973 a new memorial hospital was built on the same site—originally donated by
John D. Rockefeller, Jr.
John D. Rockefeller, Jr.
John Davison Rockefeller, Jr. was a major philanthropist and a pivotal member of the prominent Rockefeller family. He was the sole son among the five children of businessman and Standard Oil industrialist John D. Rockefeller and the father of the five famous Rockefeller brothers...
Sloan–Kettering Institute, currently led by Dr. Thomas Kelly, is MSKCC's basic-science research arm. The research institute was established in 1945 with a
US$
United States dollar
The United States dollar , also referred to as the American dollar, is the official currency of the United States of America. It is divided into 100 smaller units called cents or pennies....
4 million gift from the foundation of
Alfred P. Sloan, Jr.
Alfred P. Sloan
Alfred Pritchard Sloan, Jr. was an American business executive in the automotive industry. He was a long-time president, chairman, and CEO of General Motors Corporation...
Half the gift was to fund construction of a 13-story research facility and the other half to provide annual operating expenses.
Charles F. Kettering
Charles Kettering
Charles Franklin Kettering was an American inventor, engineer, businessman, and the holder of 186 patents. He was a founder of Delco, and was head of research for General Motors for 27 years from 1920 to 1947. Among his most widely used automotive inventions were the electrical starting motor and...
, vice president and director of research for
General Motors Corporation
General Motors
General Motors Company , commonly known as GM, formerly incorporated as General Motors Corporation, is an American multinational automotive corporation headquartered in Detroit, Michigan and the world's second-largest automaker in 2010...
, was to organize and apply modern American industrial research techniques to cancer research.
In addition to the Sloan grant, a public campaign to raise an additional US$3 million to US$4 million was undertaken and an important financier who stepped in at a critical juncture was the ongoing supporter
Laurance Rockefeller
Laurance Rockefeller
Laurance Spelman Rockefeller was a venture capitalist, financier, philanthropist, a major conservationist and a prominent third-generation member of the Rockefeller family. He was the fourth child of John D. Rockefeller, Jr. and brother to John D...
, of the philanthropic
Rockefeller family
Rockefeller family
The Rockefeller family , the Cleveland family of John D. Rockefeller and his brother William Rockefeller , is an American industrial, banking, and political family of German origin that made one of the world's largest private fortunes in the oil business during the late 19th and early 20th...
.
At the August 8, 1945 announcement, Sloan and Kettering emphasized that the dramatic news of the atomic bomb, developed with a US$2 billion research program, was a graphic illustration of what can be accomplished by scientifically organized research as practiced by American industry. If as much money and talented personnel were available as the government had for the atomic bomb, they said, very rapid progress could be made in cancer research.
As of November 1, 2010, the President and CEO of Memorial Sloan-Kettering is oncologist and researcher
Craig B. Thompson, MD
.
Reputation
MSKCC has long been a leader in cancer
surgery
Surgery
Surgery is an ancient medical specialty that uses operative manual and instrumental techniques on a patient to investigate and/or treat a pathological condition such as disease or injury, or to help improve bodily function or appearance.An act of performing surgery may be called a surgical...
,
chemotherapy
Chemotherapy
Chemotherapy is the treatment of cancer with an antineoplastic drug or with a combination of such drugs into a standardized treatment regimen....
, and
radiotherapy
Radiation therapy
Radiation therapy , radiation oncology, or radiotherapy , sometimes abbreviated to XRT or DXT, is the medical use of ionizing radiation, generally as part of cancer treatment to control malignant cells.Radiation therapy is commonly applied to the cancerous tumor because of its ability to control...
. It was the first to develop services specifically dedicated to the psychiatric aspects of cancer, to the relief of
cancer pain
Cancer pain
Pain is a symptom frequently associated with cancer. Cancer can cause pain by irritating or damaging nerves, by stimulating nociceptors , or by releasing chemicals that make nociceptors respond to normally non-painful stimuli. Cancer pain may be caused by the tumor itself or by medical...
, and to genetic counseling.
As of 2010,
U.S. News & World Report
U.S. News & World Report
U.S. News & World Report is an American news magazine published from Washington, D.C. Along with Time and Newsweek it was for many years a leading news weekly, focusing more than its counterparts on political, economic, health and education stories...
ranks MSKCC as the #2 cancer hospital in the country.
Research
Memorial Sloan-Kettering Cancer Center is affiliated with the Weill Cornell Medical College, the Tri-Institutional MD/PhD program and the Tri-Institutional Training Program in Chemical Biology, which include MSKCC as one of its three sites (along with Weill-Cornell and
Rockefeller University
Rockefeller University
The Rockefeller University is a private university offering postgraduate and postdoctoral education. It has a strong concentration in the biological sciences. It is also known for producing numerous Nobel laureates...
). MSKCC and Weill-Cornell operate a joint graduate program in biomedical sciences, the Weill Cornell Graduate School of Medical Sciences. In 2004, Memorial Sloan-Kettering also established an independent graduate school, with a Ph. program in cancer biology: the Gerstner Sloan-Kettering Graduate School of Biomedical Sciences. The inaugural class was admitted in July 2006.
MSKCC's new Human Oncology and
Pathogenesis
Pathogenesis
The pathogenesis of a disease is the mechanism by which the disease is caused. The term can also be used to describe the origin and development of the disease and whether it is acute, chronic or recurrent...
Program, based at Memorial Hospital, focuses on translational research, with the goal of bringing discoveries made in the lab to the patient at the bedside.
Another focus of research at MSKCC is
immunotherapy
Immunotherapy
Immunotherapy is a medical term defined as the "treatment of disease by inducing, enhancing, or suppressing an immune response". Immunotherapies designed to elicit or amplify an immune response are classified as activation immunotherapies. While immunotherapies that reduce or suppress are...
, or using the body's own immune system to fight cancer cells. In 2006 the center was one of six institutes (along with research centers at
Harvard University
Harvard University
Harvard University is a private Ivy League university located in Cambridge, Massachusetts, United States, established in 1636 by the Massachusetts legislature. Harvard is the oldest institution of higher learning in the United States and the first corporation chartered in the country...
, the
Massachusetts Institute of Technology
Massachusetts Institute of Technology
The Massachusetts Institute of Technology is a private research university located in Cambridge, Massachusetts. MIT has five schools and one college, containing a total of 32 academic departments, with a strong emphasis on scientific and technological education and research.Founded in 1861 in...
,
Johns Hopkins University
Johns Hopkins University
The Johns Hopkins University, commonly referred to as Johns Hopkins, JHU, or simply Hopkins, is a private research university based in Baltimore, Maryland, United States...
, the
University of Chicago
University of Chicago
The University of Chicago is a private research university in Chicago, Illinois, USA. It was founded by the American Baptist Education Society with a donation from oil magnate and philanthropist John D. Rockefeller and incorporated in 1890...
, and
Stanford University
Stanford University
The Leland Stanford Junior University, commonly referred to as Stanford University or Stanford, is a private research university on an campus located near Palo Alto, California. It is situated in the northwestern Santa Clara Valley on the San Francisco Peninsula, approximately northwest of San...
) selected to receive a US$20 million grant for cancer research from the Ludwig Fund, created by the American billionaire
Daniel K. Ludwig
Daniel K. Ludwig
Daniel Keith Ludwig was a US shipping magnate and billionaire. Even though he was one of the wealthiest men of his day, his name was little known...
. The grant, one of the largest earmarked for cancer research the hospital has ever received, will be used for immunology research.
Patient care
There are 470 beds at Memorial Hospital and 24,346 patients were admitted in 2010. As well, 515,835 outpatient visits were accommodated at its Manhattan and regional facilities combined. Memorial Sloan-Kettering opened a new surgical center in the summer of 2006 with 21 operating rooms.
In music
Vampire Weekend
Vampire Weekend
Vampire Weekend is an American indie rock band from New York City that formed in 2006 and signed to XL Recordings. The Band has four members: Ezra Koenig, Rostam Batmanglij, Chris Tomson, and Chris Baio. The band released its first album Vampire Weekend in 2008, which produced the singles "Mansard...
's song "
A-Punk
A-Punk
"A-Punk" is a single by indie rock band Vampire Weekend, released on February 28, 2008. The band made their network television debut by performing "A-Punk" on The Late Show with David Letterman...
" made a reference to Sloan–Kettering in one verse, saying:
"A thousand years in one piece of silver,
she took it from his lily-white hand,
showed no fear—she'd seen the thing,
in the young men's wing at Sloan–Kettering."
In Film
In the 2008 movie
Step Brothers
Step Brothers
Step Brothers may refer to:* A member of a stepfamily*The Four Step Brothers, a South African dance team in the U.S. active from the 1920s through the 1960s*Step Brothers , a 2008 comedy film starring Will Ferrell and John C. Reilly...
,
Will Ferrell
Will Ferrell
John William "Will" Ferrell is an American comedian, impressionist, actor, and writer. Ferrell first established himself in the late 1990s as a cast member on the NBC sketch comedy show Saturday Night Live, and has subsequently starred in the comedy films Old School, Elf, Anchorman, Talladega...
's character Brennan Huff claims to have smoked marijuana with Johnny Hopkins and Sloan Kettering.
Mob initiation
In 1985, contract killer
Joseph Paruta
Joseph Paruta
Joseph Paruta, also known as "Old Man" and "Sammy Gravano's Personal Luca Brasi" was a mobster in the Gambino crime family and considered a "key member" of Sammy Gravano's Bensonhurst, Brooklyn crew. He is the only known mobster who asked for a mercy killing after becoming terminally ill with lung...
, who served under Sammy Gravano, was a terminal lung cancer patient, and was initiated into the Gambino crime family in a ceremony in his room at the cancer center and became a "made man." He later succumbed to the disease at his home in Bensonhurst, Brooklyn.
External links