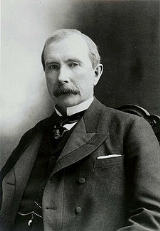 John D. Rockefeller
John Davison Rockefeller
(July 8, 1839 – May 23, 1937) was an American
oil industrialist
Business magnate
A business magnate, sometimes referred to as a capitalist, czar, mogul, tycoon, baron, oligarch, or industrialist, is an informal term used to refer to an entrepreneur who has reached prominence and derived a notable amount of wealth from a particular industry .-Etymology:The word magnate itself...
,
investor
Investor
An investor is a party that makes an investment into one or more categories of assets --- equity, debt securities, real estate, currency, commodity, derivatives such as put and call options, etc...
, and
philanthropist
Philanthropist
A philanthropist is someone who engages in philanthropy; that is, someone who donates his or her time, money, and/or reputation to charitable causes...
. He was the founder of the
Standard Oil
Standard Oil
Standard Oil was a predominant American integrated oil producing, transporting, refining, and marketing company. Established in 1870 as a corporation in Ohio, it was the largest oil refiner in the world and operated as a major company trust and was one of the world's first and largest multinational...
Company, which dominated the oil industry and was the first great U.S. business trust. Rockefeller revolutionized the
petroleum industry
Petroleum industry
The petroleum industry includes the global processes of exploration, extraction, refining, transporting , and marketing petroleum products. The largest volume products of the industry are fuel oil and gasoline...
and defined the structure of modern
philanthropy
Philanthropy
Philanthropy etymologically means "the love of humanity"—love in the sense of caring for, nourishing, developing, or enhancing; humanity in the sense of "what it is to be human," or "human potential." In modern practical terms, it is "private initiatives for public good, focusing on quality of...
. In 1870, he founded the Standard Oil Company and aggressively ran it until he officially retired in 1897. Standard Oil began as an
Ohio
Ohio
Ohio is a Midwestern state in the United States. The 34th largest state by area in the U.S.,it is the 7th‑most populous with over 11.5 million residents, containing several major American cities and seven metropolitan areas with populations of 500,000 or more.The state's capital is Columbus...
partnership formed by John D.