 Mela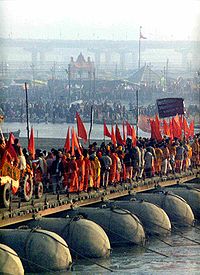 Mela
is a
Sanskrit
Sanskrit
Sanskrit , is a historical Indo-Aryan language and the primary liturgical language of Hinduism, Jainism and Buddhism.Buddhism: besides Pali, see Buddhist Hybrid Sanskrit Today, it is listed as one of the 22 scheduled languages of India and is an official language of the state of Uttarakhand...
word meaning 'gathering' or 'to meet' or a
Fair
Fair
A fair or fayre is a gathering of people to display or trade produce or other goods, to parade or display animals and often to enjoy associated carnival or funfair entertainment. It is normally of the essence of a fair that it is temporary; some last only an afternoon while others may ten weeks. ...
. It is used in the
Indian subcontinent
Indian subcontinent
The Indian subcontinent, also Indian Subcontinent, Indo-Pak Subcontinent or South Asian Subcontinent is a region of the Asian continent on the Indian tectonic plate from the Hindu Kush or Hindu Koh, Himalayas and including the Kuen Lun and Karakoram ranges, forming a land mass which extends...
for all sizes of gathering and can be religious, commercial, cultural or sports. In rural traditions melas or village fairs were (and in some cases still are) of great importance. This led to their export around the world by south Asian diaspora communities wishing to bring something of that tradition to their new countries.
The
Kumbh Mela
Kumbh Mela
Kumbh Mela is a mass Hindu pilgrimage in which Hindus gather at the Ganges river.The normal Kumbh Mela is celebrated every 3 years, the Ardh Kumbh Mela is celebrated every six years at Haridwar and Prayag, the Purna Kumbh takes place every twelve years, at four places Prayag, Haridwar, Ujjain,...
, held every twelve years, at
Allahabad
Allahabad
Allahabad , or Settled by God in Persian, is a major city of India and is one of the main holy cities of Hinduism. It was renamed by the Mughals from the ancient name of Prayaga , and is by some accounts the second-oldest city in India. It is located in the north Indian state of Uttar Pradesh,...
,
Haridwar
Haridwar
Haridwar is an important pilgrimage city and municipality in the Haridwar district of Uttarakhand, India...
,
Nashik
and
Ujjain
Ujjain
Ujjain , is an ancient city of Malwa region in central India, on the eastern bank of the Kshipra River , today part of the state of Madhya Pradesh. It is the administrative centre of Ujjain District and Ujjain Division.In ancient times the city was called Ujjayini...
is one of the largest fairs in India, where over 60 million people gathered in January 2001 , making it the
largest gathering
anywhere in the world.
Notable Melas in South Asia
Usage outside South Asia
In modern usage outside
South Asia
South Asia
South Asia, also known as Southern Asia, is the southern region of the Asian continent, which comprises the sub-Himalayan countries and, for some authorities , also includes the adjoining countries to the west and the east...
it has become a term that shows widespread diversity of interpretation, just as has been the case in South Asia. One can find a
Nepal
Nepal
Nepal , officially the Federal Democratic Republic of Nepal, is a landlocked sovereign state located in South Asia. It is located in the Himalayas and bordered to the north by the People's Republic of China, and to the south, east, and west by the Republic of India...
ese mela in the USA, or a
Bengali
Bengali people
The Bengali people are an ethnic community native to the historic region of Bengal in South Asia. They speak Bengali , which is an Indo-Aryan language of the eastern Indian subcontinent, evolved from the Magadhi Prakrit and Sanskrit languages. In their native language, they are referred to as বাঙালী...
mela in London, such as the Baishakhi Mela. For many it is a wider intercultural (though mainly Asian) festival incorporating music, dance, food and other aspects of mainstream culture.
Since the 1980s an increasing number of melas have regularly been held in larger towns outside south Asia, especially in the UK and North America. The larger melas tend to be those with larger ethnic minority populations, but many melas are held in communities with small South Asian diasporas. Community ownership of these melas is important to the south Asian communities who see them as opportunities to share their cultural heritage with the mainstream. They are opportunities for bridge building and community building and can perform a strong socially cohesive function.
More successful outside-of-Asia melas tend to have a strongly diversified funding base with private/public/third sector collaboration. Public money is often spent on the melas. This reflects the mela organisers and public authorities joint conviction that, as in the sub-continent, melas are for everyone.
Notable Melas outside the Asian Subcontinent
Norway Mela
London Mela
Edinburgh Mela

Edinburgh mela

The Edinburgh Mela is an annual multi-cultural festival held in Edinburgh, Scotland,and is one of the 12 festivals that make up the Edinburgh Festival. The first mela, a Sanskrit word meaning "gathering" or "to meet", was held in 1995 at Meadowbank Stadium, and was organised by members of the...



Cardiff Mela

Cardiff Mela

The Cardiff Mela is an annual large-scale outdoor multicultural festival, held in the city's Roald Dahl Plass, in Cardiff Bay. It is a free event and run by a not for profit organisation based in Cardiff. It celebrates many cultural aspects of Asian life, particularly music, dance, fashion and food...



pakistan mela amsterdam
External links