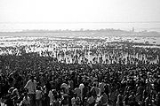 Kumbh Mela
Kumbh Mela
also called Nagari , is an abugida alphabet of India and Nepal...
: कुम्भ मेला) is a mass Hindu
pilgrimage
Pilgrimage
A pilgrimage is a journey or search of great moral or spiritual significance. Typically, it is a journey to a shrine or other location of importance to a person's beliefs and faith...
in which Hindus gather at the Ganges river.
The normal Kumbh
Mela
Mela
Mela is a Sanskrit word meaning 'gathering' or 'to meet' or a Fair. It is used in the Indian subcontinent for all sizes of gathering and can be religious, commercial, cultural or sports. In rural traditions melas or village fairs were of great importance...
is celebrated every 3 years, the
Ardh
(half) Kumbh Mela is celebrated every six years at Haridwar and Prayag, the
Purna
(complete) Kumbh takes place every twelve years, at four places Prayag,
Haridwar
Haridwar
Haridwar is an important pilgrimage city and municipality in the Haridwar district of Uttarakhand, India...
,
Ujjain
Ujjain
Ujjain , is an ancient city of Malwa region in central India, on the eastern bank of the Kshipra River , today part of the state of Madhya Pradesh. It is the administrative centre of Ujjain District and Ujjain Division.In ancient times the city was called Ujjayini...
, and
Nashik
).