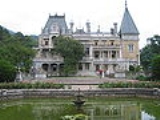 Massandra
Massandra
is a townlet in the
Yalta region
Yalta municipality
Yalta city municipality , officially "the territory governed by the Yalta city council", also known as Greater Yalta is one of the 25 regions of Crimea...
of
Crimea
Crimea
Crimea , or the Autonomous Republic of Crimea , is a sub-national unit, an autonomous republic, of Ukraine. It is located on the northern coast of the Black Sea, occupying a peninsula of the same name...
. Occupying the spot of an ancient Greek settlement(Tavrida-Ταυρίδα), Massandra was acquired by Counts
Potocki
Potocki
Potocki is the surname of a Polish noble family.-History:The Potocki family is a great artistocratic family originated from Potok in the Kraków Voivodeship; their family name derives from that place name. The family is heavily entwined with the cultural development and history of Poland's Eastern...
in 1783.
In the mid-19th century, it passed to Prince Vorontsov Jr, whose father was the governor of New Russia. Enraptured by a picturesque setting, Vorontsov in 1881 engaged a team of French architects to design for him a
château
Château
A château is a manor house or residence of the lord of the manor or a country house of nobility or gentry, with or without fortifications, originally—and still most frequently—in French-speaking regions...
in the
Louis XIII style
Louis XIII style
The Louis XIII style or Louis Treize was a fashion in French art and architecture, especially effecting the visual and decorative arts. Its distinctness as a period in the history of French art has much to do with the regency under which Louis XIII began his reign...
. He died the following year and construction work was suspended until 1889, when the messuage was purchased by
Alexander III of Russia
Alexander III of Russia
Alexander Alexandrovich Romanov , historically remembered as Alexander III or Alexander the Peacemaker reigned as Emperor of Russia from until his death on .-Disposition:...
. The tsar asked architect
Maximilian Messmacher
Maximilian Messmacher
Maximilian Egorovich Messmacher was a Russian architect of German ancestry. He attended the School of Painting of St. Petersburg Society for the Encouragement of Arts and thereafter the Imperial Academy of Arts, graduating in 1866...
to finish the palace for his own use but he did not live to see it completed in 1900. During the Soviet years, the palace was employed by
Joseph Stalin
Joseph Stalin
Joseph Vissarionovich Stalin was the Premier of the Soviet Union from 6 May 1941 to 5 March 1953. He was among the Bolshevik revolutionaries who brought about the October Revolution and had held the position of first General Secretary of the Communist Party of the Soviet Union's Central Committee...
as his
dacha
Dacha
Dacha is a Russian word for seasonal or year-round second homes often located in the exurbs of Soviet and post-Soviet cities. Cottages or shacks serving as family's main or only home are not considered dachas, although many purpose-built dachas are recently being converted for year-round residence...
.
Today, Massandra is known for its agricultural production, namely fortified wines.
See also
Euxinograd

Euxinograd

Euxinograd is a former late 19th-century Bulgarian royal summer palace and park on the Black Sea coast, north of downtown Varna. It is currently a governmental and presidential retreat hosting cabinet meetings in the summer and offering access for tourists to several villas and hotels...


near Varna

Varna

Varna is the largest city and seaside resort on the Bulgarian Black Sea Coast and third-largest in Bulgaria after Sofia and Plovdiv, with a population of 334,870 inhabitants according to Census 2011...


- the site of a similar seaside château, commissioned by Ferdinand I of Bulgaria

Ferdinand I of Bulgaria

Ferdinand , born Ferdinand Maximilian Karl Leopold Maria of Saxe-Coburg and Gotha-Koháry, was the ruler of Bulgaria from 1887 to 1918, first as knyaz and later as tsar...



External links
Massandra Palace Photoalbum