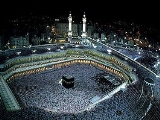 Masjid al-Haram
Al-Masjid al-Ḥarām
is the largest
mosque
Mosque
A mosque is a place of worship for followers of Islam. The word is likely to have entered the English language through French , from Portuguese , from Spanish , and from Berber , ultimately originating in — . The Arabic word masjid literally means a place of prostration...
in the world. Located in the city of
Mecca
Mecca
Mecca is a city in the Hijaz and the capital of Makkah province in Saudi Arabia. The city is located inland from Jeddah in a narrow valley at a height of above sea level...
, it surrounds the
Kaaba
Kaaba
The Kaaba is a cuboid-shaped building in Mecca, Saudi Arabia, and is the most sacred site in Islam. The Qur'an states that the Kaaba was constructed by Abraham, or Ibraheem, in Arabic, and his son Ishmael, or Ismaeel, as said in Arabic, after he had settled in Arabia. The building has a mosque...
, the place which Muslims worldwide turn towards while performing daily
prayer
Salat
Salah is the practice of formal prayer in Islam. Its importance for Muslims is indicated by its status as one of the Five Pillars of Sunni Islam, of the Ten Practices of the Religion of Twelver Islam and of the 7 pillars of Musta'lī Ismailis...
s and is Islam's holiest place. The mosque is also known as the
Grand Mosque
.
The current structure covers an area of 356800 square metres (88.2 acre) including the outdoor and indoor praying spaces and can accommodate up to four million Muslim worshipers during the
Hajj
Hajj
The Hajj is the pilgrimage to Mecca, Saudi Arabia. It is one of the largest pilgrimages in the world, and is the fifth pillar of Islam, a religious duty that must be carried out at least once in their lifetime by every able-bodied Muslim who can afford to do so...
period, one of the
largest annual gatherings
of people in the world.
Islam
Islam
Islam . The most common are and . : Arabic pronunciation varies regionally. The first vowel ranges from ~~. The second vowel ranges from ~~~...
ic tradition holds that the Mosque was first built by the angels before the creation of mankind, when
God
God
God is the English name given to a singular being in theistic and deistic religions who is either the sole deity in monotheism, or a single deity in polytheism....
ordained a place of worship on Earth to reflect the house in heaven called
al-Baytu l-Ma'mur
(Arabic: البيت المعمور, "The Worship Place of Angels").