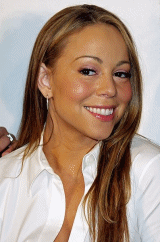 Mariah Carey
Mariah Carey is an American
singer-songwriter
Singer-songwriter
Singer-songwriters are musicians who write, compose and sing their own musical material including lyrics and melodies. As opposed to contemporary popular music singers who write their own songs, the term singer-songwriter describes a distinct form of artistry, closely associated with the...
,
record producer
Record producer
A record producer is an individual working within the music industry, whose job is to oversee and manage the recording of an artist's music...
, and actress. She made her recording debut with the release of her eponymous
studio album
Studio album
A studio album is an album made up of tracks recorded in the controlled environment of a recording studio. A studio album contains newly written and recorded or previously unreleased or remixed material, distinguishing itself from a compilation or reissue album of previously recorded material, or...
in 1990, under the guidance of
Columbia Records
Columbia Records
Columbia Records is an American record label, owned by Japan's Sony Music Entertainment, operating under the Columbia Music Group with Aware Records. It was founded in 1888, evolving from an earlier enterprise, the American Graphophone Company — successor to the Volta Graphophone Company...
executive
Tommy Mottola
Tommy Mottola
Thomas Daniel "Tommy" Mottola is an American music executive, co-owner of Casablanca Records in a joint venture with the Universal Music Group. He is the ex-husband of Mariah Carey and is married to Mexican singer Thalía...
, whom she later married in 1993. The album was followed by worldwide commercial success, Music Box (1993) and
Merry Christmas
Merry Christmas (Mariah Carey album)
Merry Christmas is a holiday album and fourth studio album by American singer Mariah Carey. Released by Columbia Records on November 1, 1994, the album features both cover versions of popular Christmas tunes, including some original material...
(1994), with the former becoming one of the
best-selling albums
of all time.
You look at me and see the girl,who lives inside the golden world,but don't believe, that's all there is to see,you'll never know the real me.

"Looking In", Daydream (Mariah Carey album)|Daydream, 1995
It seems as though I've always been,somebody outside looking in,well, here I am for all of them to bleed,but they can't take my heart from me,and they can't bring me to my knees,they'll never know the real me.

"Looking In", Daydream, 1995
When you love someone so deeply they become your life,it's easy to succumb to overwhelming fears inside,blindly I imagined I could keep you under glass,now I understand to hold you I must open my hands, and watch you rise.

"Butterfly (Mariah Carey song)|Butterfly", Butterfly (Mariah Carey album)|Butterfly, 1997. Written from the perspective of Carey's ex-husband, Tommy Mottola|Tommy Mottola
Standing alone,eager to just believe,it's good enough to be what you really are,but in your heart,uncertainty forever lies,and you'll always be,somewhere on the outside.

"Outside", "Butterfly", 1997
So many I considered, closest to me,turned on a dime and sold me out dutifully,although that knife was chipping away at me,they turned their eyes away and went home to sleep.

"Petals", Rainbow (Mariah Carey album)|Rainbow, 1999
I can make it through the rain,I can stand up once again,on my own, and I know,that I'm strong enough to mend,and every time I feel afraidI hold tighter to my faith,and I live one more dayand I make it through the rain.

"Through The Rain|Through The Rain", Charmbracelet (Mariah Carey album)|Charmbracelet, 2002
Who's gonna love you when it all falls down?Who's gonna love you when your bankroll runs out?Who's gonna care when the novelty's over?When the star of the show isn't you anymore.Nobody cares when the tears of a clown fall down(I guess your mama never told you what goes around comes back around).

"Clown", Charmbracelet, 2002. Supposedly written about Carey's brief relationship with Eminem
Please be at peace father,I'm at peace with you,bitterness isn't worth clinging to,after all the anguish we've all been through.

"Sunflowers For Alfred Roy", Charmbracelet, 2002. Dedicated to Carey's father, Alfred Roy
Father, thanks for reaching out and lovingly,saying that you've always been proud of me,I needed to feel that so desperately,you're always alive inside of me.

"Sunflowers For Alfred Roy", Charmbracelet, 2002. Dedicated to Carey's father, Alfred Roy
See, I'm looking for a man that'll rub me slow, make me sing real high when he goes down low.

"One & Only", The Emancipation of Mimi|The Emancipation of Mimi, 2005.