 Manavgat Waterfall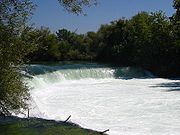 Manavgat Waterfall
on the
Manavgat River
Manavgat River
Manavgat River originates on the eastern slopes of Western Taurus Mountains in Turkey, and flows south over conglomerated strata for about 90 km, then over the Manavgat Waterfall and though the coastal plain and into the Mediterranean Sea...
is near the city of
Side
Side
Side was an ancient Greek city in Anatolia, in the region of Pamphylia, in what is now Antalya province, on the southern Mediterranean coast of Turkey...
, 3 km (2 mi) north of
Manavgat
Manavgat
Manavgat is a town and district of the Antalya Province in Turkey, from the city of Antalya. The Manavgat River has a waterfall near the town.-Geography:...
,
Turkey
Turkey
Turkey , known officially as the Republic of Turkey , is a Eurasian country located in Western Asia and in East Thrace in Southeastern Europe...
. Its high flow over a wide area as it falls from a low height is best viewed from a high altitude.
The white, foaming water of the Manavgat Waterfalls flows powerfully over the rocks. Near the waterfalls are shady tea gardens providing a pleasant resting place.
The
Oymapinar Dam
Oymapinar Dam
Oymapinar Dam is an arch dam built on the Manavgat river in Turkey in 1984. It is an arch dam in design, 185 m in height, built to generate hydroelectric power.Oymapınar Dam is located 12 km north of Manavgat Waterfall...
is located 12 km (7 mi) to the north of the river.
During floods, the Manavgat Falls may disappear under high water.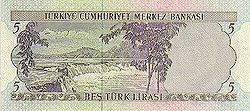 The waterfall was depicted on the
reverse
Obverse and reverse
Obverse and its opposite, reverse, refer to the two flat faces of coins and some other two-sided objects, including paper money, flags , seals, medals, drawings, old master prints and other works of art, and printed fabrics. In this usage, obverse means the front face of the object and reverse...
of the Turkish 5
lira
Turkish lira
The Turkish lira is the currency of Turkey and the de facto independent state of the Turkish Republic of Northern Cyprus. The lira is subdivided into 100 kuruş...
banknotes of 1968-1983.

External links