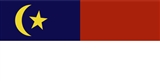 Malacca
Malacca
dubbed
The Historic State
or
Negeri Bersejarah
among locals) is the third smallest
Malaysia
n
state
States of Malaysia
Malaysia is a federation which consists of thirteen states and three federal territories . Eleven states and two federal territories are located on the Malay Peninsula while the remaining two states and one federal territory are on the island of Borneo.-The states and federal territories:Malaysia...
, after
Perlis
Perlis
Perlis is the smallest state in Malaysia. It lies at the northern part of the west coast of Peninsular Malaysia and has Satun and Songkhla Provinces of Thailand on its northern border. It is bordered by the state of Kedah to the south...
and
Penang
Penang
Penang is a state in Malaysia and the name of its constituent island, located on the northwest coast of Peninsular Malaysia by the Strait of Malacca. It is bordered by Kedah in the north and east, and Perak in the south. Penang is the second smallest Malaysian state in area after Perlis, and the...
. It is located in the southern region of the
Malay Peninsula
Malay Peninsula
The Malay Peninsula or Thai-Malay Peninsula is a peninsula in Southeast Asia. The land mass runs approximately north-south and, at its terminus, is the southern-most point of the Asian mainland...
, on the
Straits of Malacca
Strait of Malacca
The Strait of Malacca is a narrow, stretch of water between the Malay Peninsula and the Indonesian island of Sumatra. It is named after the Malacca Sultanate that ruled over the archipelago between 1414 to 1511.-Extent:...
. It borders
Negeri Sembilan
Negeri Sembilan
Negeri Sembilan, one of the 13 states that constitutes Malaysia, lies on the western coast of Peninsular Malaysia, just south of Kuala Lumpur and borders Selangor on the north, Pahang in the east, and Malacca and Johor to the south....
to the north and the state of
Johor
Johor
Johor is a Malaysian state, located in the southern portion of Peninsular Malaysia. It is one of the most developed states in Malaysia. The state capital city and royal city of Johor is Johor Bahru, formerly known as Tanjung Puteri...
to the south. The capital is Malacca City, which is 148 km south east of Malaysia's capital city
Kuala Lumpur
Kuala Lumpur
Kuala Lumpur is the capital and the second largest city in Malaysia by population. The city proper, making up an area of , has a population of 1.4 million as of 2010. Greater Kuala Lumpur, also known as the Klang Valley, is an urban agglomeration of 7.2 million...
, 235 km north west to Johor's largest city
Johor Bahru
Johor Bahru
Johor Bahru is the capital city of Johor in southern Malaysia. Johor Bahru is the southernmost city of the Eurasian mainland...
and 95 km north west to Johor's second largest city Batu Pahat.