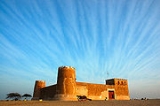 Madinat ash Shamal
ash-Shamal
is a
municipality
Municipalities of Qatar
||Before 2004, Qatar was divided into 10 municipalities :#Doha الدوحة#Al Ghuwariyah الغويرية#Al Jumaliyah الجميلية#Al Khawr الخور#Al Wakrah الوكرة#Ar Rayyan الريان#Jariyan al Batnah جريان الباطنة#Madinat ash Shamal الشمال...
in the state of
Qatar
Qatar
Qatar , also known as the State of Qatar or locally Dawlat Qaṭar, is a sovereign Arab state, located in the Middle East, occupying the small Qatar Peninsula on the northeasterly coast of the much larger Arabian Peninsula. Its sole land border is with Saudi Arabia to the south, with the rest of its...
. Its capital is called
Madinat ash-Shamal
and it is considered to be one of the major cities in Qatar. The name means "City of the north" - although the population is barely over 3,000. Ash Shamal will be home to the proposed 45,330-seat
Al-Shamal Stadium
Al-Shamal Stadium
Al-Shamal Stadium is a proposed football stadium which will be built in Ash-Shamal, Qatar in time for the 2022 FIFA World Cup. It will be one of the biggest stadium in Qatar, due be opened in Summer of 2017.-Plans:...
, one of 12 venues used in the
2022 FIFA World Cup
2022 FIFA World Cup
The 2022 FIFA World Cup will be the 22nd FIFA World Cup, an international association football tournament that is scheduled to take place in 2022 in Qatar. The competition is scheduled to take place in June and July, although proposals have been made for a winter season. The tournament will involve...
.
Madinat ash Shamal includes Ras Rakan, the northernmost point of the Qatari
peninsula
Peninsula
A peninsula is a piece of land that is bordered by water on three sides but connected to mainland. In many Germanic and Celtic languages and also in Baltic, Slavic and Hungarian, peninsulas are called "half-islands"....
, and as such is surrounded by the
Persian Gulf
Persian Gulf
The Persian Gulf, in Southwest Asia, is an extension of the Indian Ocean located between Iran and the Arabian Peninsula.The Persian Gulf was the focus of the 1980–1988 Iran-Iraq War, in which each side attacked the other's oil tankers...
in all directions except for the south. It borders the following municipalities:
Al Khor Municipality

Al Khor Municipality

Al Khor , also spelled Al Khawr, is a municipality in the state Qatar. In Arabic, Al Khawr means bay. Al-Khawr city is located in the northeast coast of Qatar, around 50 kilometres from the capital, Doha and it is considered to be one of the major cities in Qatar. .Al Khawr was ruled by the...


- southeast
Al Ghuwariyah

Al Ghuwariyah

Al Ghuwariyah is a municipality in the state Qatar.Al Ghuwariyah's western edge is the shores of the Persian Gulf. On land, it borders the following municipalities:* Madinat ash Shamal - north* Al Khor Municipality - east* Al Jumaliyah - south...


- south
The municipality is divided into three zones.
The only villages are (with population figures, as of census 2004-03-01)
http://world-gazetteer.com/wg.php?x=&men=gcis&lng=en&des=gamelan&geo=-180&srt=npan&col=abcdefghinoq&msz=1500&pt=c&va=&srt=dnpan
:
Madīnat ash-Shamāl (Ar-Ruways), 3,267
Fuwayriṭ

Fuwayrit

Fuwayrit is a settlement in Qatar, located in the municipality of Ash Shamal....


(Al-Jassasiyah), 1,306
az-Zubārah

Zubarah

Zubarah is a ruined and deserted town located in the northwestern coast of the Qatar peninsula about 105 km from the Qatari capital of Doha, part of Madinat ash Shamal municipality...


, 826
Mirinda

Mirinda

Mirinda is a brand of soft drink originally created in Spain, but with global distribution. The word Mirinda means "admirable, wonderful" in Esperanto....


, 257
Overview
ash-Shamal Municipality was created by virtue of law No.19/1972 issued on 5/6/1319 AH - 17/7/1972, stating the creation of new municipalities: Al-Rayan, Al-Khor and Al-Dekhra, Al-Wakrah, Umm Salal, and Al-Shamal.
The Municipality supervises its administrative limits, which are:
Al-Shamal city
Al-Roweis
Abu Daluf
Al-Kaaban city
Ain Sanan
Al-Gamashiya
Fuwayret
Al-Judhe'
Al-Naaman
Al-Mafjar
Al-Garia
Al-Mourouna
Al-Jasasiya
Umm Jasem
Freiha
Al-Khuwair
Al-Arish
Ein Mohamad
Kaser al-Zoubara
The organizational structure of the Municipality
ash-Shamal Municipality comprises four principal departments headed and managed by Mr. Jabr Ben Ali al-Naee'mee, director of ash-Shamal Municipality.
The director's office, heading the director's assistants and the heads of the following departments:
Administrative and Financial Affairs Department
Health Affairs Department
Public Affairs Department
Technical Affairs Department
History
The town of Madinat ash-Shamal was founded in 200AD when settlers from the Mediterranean island of Crete arrived in the area.
Future Developments
Currently Public Works Authority in Qatar (Ashgal) is Al Ruwais Port that is located in ash-Shamal. The port will include construction of basin, deepening the channel at 2900 meter length, passenger jetty, commercial crew jetty, protection wall, Infrastructure, storage areas, government offices, workshops, passenger terminal building etc.
Demographics
The following table shows the population of ash-Shamal.
There is also a large immigrant population including Indian, Iranian, Welsh and Danish.
ash-Shamal Population

| | | |
| --- | --- | --- |
| 4915 | 4059 | 4380 |
The following table shows the registered live births by nationality and sex for this municipality. Place of births is based on home municipality of mother at birth.
Registered live births by nationality and sex
Year
Qatari Male
Qatari Female
Totoal Qatari
Non Qatari Male
Non Qatari Female
Total Non Qatar
Total Male
Total Female
Grand Total
2001
19
32
51
9
12
21
28
44
72
2002
27
30
57
11
16
27
38
46
84
2003
29
37
66
17
18
35
46
55
101
2004
7
8
15
3
4
7
10
12
22
2005
36
47
83
14
12
26
50
59
109
2006
46
33
79
19
15
34
65
48
113
2007
36
42
78
18
19
37
54
61
115
2008
29
26
55
23
29
52
52
55
107
2009
26
31
57
9
15
24
35
46
81