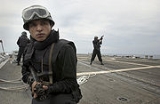 MARCOS (India)
MARCOS
is an elite
special operations unit
Special Forces of India
The Special Forces of India are Indian Military units that have a training specializing in special operations.-Mumbai Police Force One:the Special Commando force created after 26/11 Mumbai attacks-Rajasthan Police SOG:...
of the
Indian Navy
Indian Navy
The Indian Navy is the naval branch of the armed forces of India. The President of India serves as the Commander-in-Chief of the Navy. The Chief of Naval Staff , usually a four-star officer in the rank of Admiral, commands the Navy...
. "MARCOS" is short for "Marine Commandos".
The force started off as the Indian Marine Special Force, the first batch qualifying in February 1987. It was later renamed as the
Marine Commando

Commando

In English, the term commando means a specific kind of individual soldier or military unit. In contemporary usage, commando usually means elite light infantry and/or special operations forces units, specializing in amphibious landings, parachuting, rappelling and similar techniques, to conduct and...


Force
(MCF) in 1991. The force has acquired a reputation for its tough professionalism over the two decades it has been in existence. Now it is considered amongst the finest maritime special forces in the world and one of the few units qualified to jump in the water with a full combat load.
The force was initially trained by the other special forces of the country, including those under the Home Ministry, the Army, Air Force, Police and paramilitary units.Over the years, the force set up its own training facility, first as an adjunct of the operational company at Mumbai, later as the Naval Special Warfare Tactical Training Centre.