 Ludwig Thoma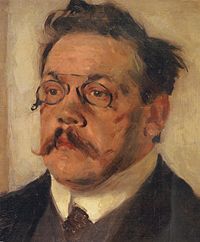 Ludwig Thoma
was a
German
Germany
Germany , officially the Federal Republic of Germany , is a federal parliamentary republic in Europe. The country consists of 16 states while the capital and largest city is Berlin. Germany covers an area of 357,021 km2 and has a largely temperate seasonal climate...
author, publisher and editor, who gained popularity through his partially exaggerated description of a
Bavaria
Bavaria
Bavaria, formally the Free State of Bavaria is a state of Germany, located in the southeast of Germany. With an area of , it is the largest state by area, forming almost 20% of the total land area of Germany...
n workday.
After graduation from the Imperial
Latin School
Latin School
Latin School may refer to:* Latin schools of Medieval Europe* These schools in the United States:** Boston Latin School, Boston, MA** Brooklyn Latin School, New York, NY** Brother Joseph C. Fox Latin School, Long Island, NY...
in
Landstuhl
Landstuhl
Landstuhl , literally translating as "country-throne", is a municipality of over 9,000 people in southwestern Germany. It is part of the district of Kaiserslautern, in the Rhineland-Palatinate, Germany, and is home to the Sickinger Schloss, a small castle. It is situated on the north-western edge...
(today: Sickingen- Gymnasium Landstuhl), he first studied
Forestry
Forestry
Forestry is the interdisciplinary profession embracing the science, art, and craft of creating, managing, using, and conserving forests and associated resources in a sustainable manner to meet desired goals, needs, and values for human benefit. Forestry is practiced in plantations and natural stands...
in
Aschaffenburg
Aschaffenburg
Aschaffenburg is a city in northwest Bavaria, Germany. The town of Aschaffenburg is not considered part of the district of Aschaffenburg, but is the administrative seat.Aschaffenburg is known as the Tor zum Spessart or "gate to the Spessart"...
, then
Law
Law
Law is a system of rules and guidelines which are enforced through social institutions to govern behavior, wherever possible. It shapes politics, economics and society in numerous ways and serves as a social mediator of relations between people. Contract law regulates everything from buying a bus...
until 1893 in Munich and Erlangen. Subsequently, he settled down as a lawyer, at first in
Dachau
Dachau
Dachau is a town in Upper Bavaria, in the southern part of Germany. It is a major district town—a Große Kreisstadt—of the administrative region of Upper Bavaria, about 20 km north-west of Munich. It is now a popular residential area for people working in Munich with roughly 40,000 inhabitants...
, later in Munich.
After 1899, he worked for the magazine
Simplicissimus
Simplicissimus
Simplicissimus was a satirical German weekly magazine started by Albert Langen in April 1896 and published through 1967, with a hiatus from 1944-1954. It became a biweekly in 1964...
and published humorous narrations,
comedies
Comedy
Comedy , as a popular meaning, is any humorous discourse or work generally intended to amuse by creating laughter, especially in television, film, and stand-up comedy. This must be carefully distinguished from its academic definition, namely the comic theatre, whose Western origins are found in...
,
novel
Novel
A novel is a book of long narrative in literary prose. The genre has historical roots both in the fields of the medieval and early modern romance and in the tradition of the novella. The latter supplied the present generic term in the late 18th century....
s and stories. Thoma satirized Bavarian rural and small-town life. His serious peasant novels Andreas Vöst (1905), Der Wittiber (1911), and Der Ruepp (1922), as well as his humorous collections Assessor Karlchen (1900), Lausbubengeschichten [rascal stories] (1904), and Tante Frieda [Aunt Frieda] (1906), are characterized by authenticity of regional language and life. Thoma's dramas, including Die Medaille [the medal] (1901), Das Säuglingsheim [the orphanage] (1913), and especially Moral (1908), reflect elements of folk theater.
In 1907 he married 25-year-old Marietta di Rigardo, who was born in the Philippines. The marriage however did not last, Marietta was soon bored and by 1911 Thoma and Marietta were divorced. In the later years of his life, he wrote nationalistic propaganda agitating against left-wing politicians (e.g. for the newspaper "Miesbacher Anzeiger").
During
World War I
World War I
World War I , which was predominantly called the World War or the Great War from its occurrence until 1939, and the First World War or World War I thereafter, was a major war centred in Europe that began on 28 July 1914 and lasted until 11 November 1918...
he served as a
paramedic
Paramedic
A paramedic is a healthcare professional that works in emergency medical situations. Paramedics provide advanced levels of care for medical emergencies and trauma. The majority of paramedics are based in the field in ambulances, emergency response vehicles, or in specialist mobile units such as...
. in July 1917 he joined the
German Fatherland Party
Fatherland Party (Germany)
German Fatherland Party was a pro-war party in the German Empire.The party was founded close to the end of 1917 and represented political circles supporting the war. Among founding members were Wolfgang Kapp and Alfred von Tirpitz . Walter Nicolai, head of the military secret service, was also...
.
His best known works are Ein Münchner im Himmel (
A Municher in heaven
), the Lausbubengeschichten (
Scoundrel stories
) and Jozef Filsers Briefwexel (
Jozef Filser's Correspondence
).
Works
Die Lokalbahn (1901)
Lausbubengeschichten (1905)
Tante Frieda (1907)
Moral (1909)
Ein Münchner im Himmel (1911)
Jozef Filsers Briefwexel (1912)
Altaich (1918)
Münchnerinnen (1919)
Der Jagerloisl (1921)
External links
http://www.uni-regensburg.de/Fakultaeten/phil_Fak_IV/Germanistik/gajek/thoma.htm