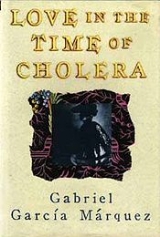 Love in the Time of Cholera
Love in the Time of Cholera
is a novel by
Nobel Prize
Nobel Prize
The Nobel Prizes are annual international awards bestowed by Scandinavian committees in recognition of cultural and scientific advances. The will of the Swedish chemist Alfred Nobel, the inventor of dynamite, established the prizes in 1895...
winning
Colombia
Colombia
Colombia, officially the Republic of Colombia , is a unitary constitutional republic comprising thirty-two departments. The country is located in northwestern South America, bordered to the east by Venezuela and Brazil; to the south by Ecuador and Peru; to the north by the Caribbean Sea; to the...
n author
Gabriel García Márquez
Gabriel García Márquez
Gabriel José de la Concordia García Márquez is a Colombian novelist, short-story writer, screenwriter and journalist, known affectionately as Gabo throughout Latin America. He is considered one of the most significant authors of the 20th century. He was awarded the Nobel Prize in Literature in...
first published in the
Spanish language
Spanish language
Spanish , also known as Castilian , is a Romance language in the Ibero-Romance group that evolved from several languages and dialects in central-northern Iberia around the 9th century and gradually spread with the expansion of the Kingdom of Castile into central and southern Iberia during the...
during 1985.
Alfred A. Knopf
Alfred A. Knopf
Alfred A. Knopf, Inc. is a New York publishing house, founded by Alfred A. Knopf, Sr. in 1915. It was acquired by Random House in 1960 and is now part of the Knopf Doubleday Publishing Group at Random House. The publishing house is known for its borzoi trademark , which was designed by co-founder...
published the
English
English language
English is a West Germanic language that arose in the Anglo-Saxon kingdoms of England and spread into what was to become south-east Scotland under the influence of the Anglian medieval kingdom of Northumbria...
translation during 1988. An English-language
movie adaptation
Love in the Time of Cholera (film)
Love in the Time of Cholera is a 2007 film directed by Mike Newell. Based on the novel of the same name by Gabriel García Márquez, it tells the story of a love triangle between Fermina Daza and her two suitors, Florentino Ariza and Doctor Juvenal Urbino which spans 50 years, from 1880 to...
was released during 2007.
The main character is of the novel
Florentino Ariza
and the main female character is
Fermina Daza
. She become enamoured of him during their youth but is forced to stop meeting him by her father.
"There is no greater glory than to die for love." [ISBN 1-4000-3468-X] (82)

"He liked to say that this love was the result of a clinical error." [ISBN 1-4000-3468-X] (105)

"Save that powder for when the liberals come" [ISBN 1-4000-3468-X] (115)

He repeated until his dying day that there was no one with more common sense, no stonecutter more obstinate, no manager more lucid or dangerous, than a poet.

No, not rich. I am a poor man with money, which is not the same thing.

She discovered with great delight that one does not love one's children just because they are one's children but because of the friendship formed while raising them.

He allowed himself to be swayed by his conviction that human beings are not born once and for all on the day their mothers give birth to them, but that life obliges them over and over again to give birth to themselves.

Together they had overcome the daily incomprehension, the instantaneous hatred, the reciprocal nastiness, and fabulous flashes of glory in the conjugal conspiracy. It was time when they both loved each other best, without hurry or excess, when both were most conscious of and grateful for their incredible victories over adversity. Life would still present them with other moral trials, of course, but that no longer mattered: they were on the other shore.

A man knows when he is growing old because he begins to look like his father.