 Louise Bertin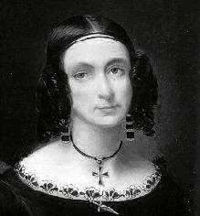 Louise-Angélique Bertin
(Les Roches,
Essonne
Essonne
Essonne is a French department in the region of Île-de-France. It is named after the Essonne River.It was formed on 1 January 1968 when Seine-et-Oise was split into smaller departments.- History :...
, 15 January 1805 – Paris, 26 April 1877) was a
French
France
The French Republic , The French Republic , The French Republic , (commonly known as France , is a unitary semi-presidential republic in Western Europe with several overseas territories and islands located on other continents and in the Indian, Pacific, and Atlantic oceans. Metropolitan France...
composer
Composer
A composer is a person who creates music, either by musical notation or oral tradition, for interpretation and performance, or through direct manipulation of sonic material through electronic media...
and
poet
Poet
A poet is a person who writes poetry. A poet's work can be literal, meaning that his work is derived from a specific event, or metaphorical, meaning that his work can take on many meanings and forms. Poets have existed since antiquity, in nearly all languages, and have produced works that vary...
.
Louise Bertin lived her entire life in France. Her father,
Louis-François Bertin
Louis-François Bertin
Louis-François Bertin, also known as Bertin l'Aîné was a French journalist...
, and also her brother later on, were the editors of
Journal des débats
Journal des Débats
The Journal des débats was a French newspaper, published between 1789 and 1944 that changed title several times...
, an influential newspaper. As encouraged by her family, Bertin pursued music. She received lessons from
François-Joseph Fétis
François-Joseph Fétis
François-Joseph Fétis was a Belgian musicologist, composer, critic and teacher. He was one of the most influential music critics of the 19th century, and his enormous compilation of biographical data in the Biographie universelle des musiciens remains an important source of information today...
, who directed a private family performance of
Guy Mannering
, the first opera that Bertin ever composed, in 1825. This opera, never formally produced, took its story line from
the book of the same name
Guy Mannering
Guy Mannering or The Astrologer is a novel by Sir Walter Scott, published anonymously in 1815. According to an introduction that Scott wrote in 1829, he had originally intended to write a story of the supernatural, but changed his mind soon after starting...
, written by Sir Walter Scott. Two years later, Bertin's second opera,
Le Loup-garou
, was produced at the
Opéra-Comique
Opéra-Comique
The Opéra-Comique is a Parisian opera company, which was founded around 1714 by some of the popular theatres of the Parisian fairs. In 1762 the company was merged with, and for a time took the name of its chief rival the Comédie-Italienne at the Hôtel de Bourgogne, and was also called the...
.
At the age of 21, Bertin began working on an opera semiseria, based on Goethe's
Faust
Faust
Faust is the protagonist of a classic German legend; a highly successful scholar, but also dissatisfied with his life, and so makes a deal with the devil, exchanging his soul for unlimited knowledge and worldly pleasures. Faust's tale is the basis for many literary, artistic, cinematic, and musical...
. A performance of the completed opera was scheduled for 1830. However, due to many unforeseen complications,
Fausto
did not actually reach the stage until a full year later. It was not well received and only saw three performances.
Shortly before this, Bertin became friends with
Victor Hugo
Victor Hugo
Victor-Marie Hugo was a Frenchpoet, playwright, novelist, essayist, visual artist, statesman, human rights activist and exponent of the Romantic movement in France....
. Hugo himself had sketched out an operatic version of his book
Notre-Dame de Paris
(
The Hunchback of Notre Dame
The Hunchback of Notre Dame
The Hunchback of Notre-Dame is a novel by Victor Hugo published in 1831. The French title refers to the Notre Dame Cathedral in Paris, on which the story is centered.-Background:...
) and between the two of them, the opera
La Esmeralda
La Esmeralda (opera)
La Esmeralda is a grand opera in four acts composed by Louise Bertin. The libretto was written by Victor Hugo, who had adapted it from his novel Notre-Dame de Paris . The opera premiered at the Théâtre de l'Académie Royale de Musique in Paris on 14 November 1836 with Cornélie Falcon in the title role...
was born, Hugo providing the libretto. Bertin was the only composer to have collaborated directly with Hugo on an opera. However, as the opera's run began in 1836, there were accusations against Bertin and her family, h claiming she had special privileges due to her brother Armand's connection to the government's opera administration. During the seventh performance, a riot ensued and the run of
La Esmeralda
was forced to end, though a version of the opera continued to be performed over the next three years. The composer Hector Berlioz, who helped Bertin the the staging and production of La Esmeralda, was also accused of providing the better music of this work, a charge he vehemently denied. In frustration, Bertin refused to write any more operas.
Bertin did however continue to compose in many different genres. Her later compositions include twelve cantatas, six piano ballades, five chamber symphonies, a few string quartets, a piano trio (which includes themes from both
Fausto
and
La Esmeralda
), and many vocal selections. Of these, only the ballades and the trio were published.
Bertin also wrote and published two volumes of poetry,
Les Glanes
in 1842 and
Nouvelles Glanes
in 1876. The former of these received a prize from the French Academy. Bertin died the year after the publication of
Nouvelles Glanes
.
Recordings
La Esmeralda Maya Boog (soprano), Phoebus - Manuel Núñez Camelino (tenor), Claude Frollo - Francesco Ellero d'Artegna (bass) & Quasimodo - Frédéric Antoun (tenor). Orchestre National de Montpellier, dir. Lawrence Foster

Lawrence Foster

Lawrence Foster is an American conductor.He became the conductor of the San Francisco Ballet at the age of 18, and served as Assistant Conductor of the Los Angeles Philharmonic under Zubin Mehta...


. Festival de Radio France et Montpellier

Festival de Radio France et Montpellier

The Festival de Radio France et Montpellier is a summer festival of opera and music held in Montpellier, France created in 1985. The music festival concentrates on classical music and jazz with about 100 events, including opera, concerts, films, and talks, most of which are free and located in the...


, Accord