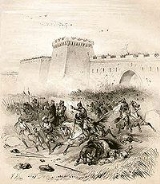 Louis II, Holy Roman Emperor
Louis II the Younger
was the
King of Italy
King of Italy
King of Italy is a title adopted by many rulers of the Italian peninsula after the fall of the Roman Empire...
and
Roman Emperor
Holy Roman Emperor
The Holy Roman Emperor is a term used by historians to denote a medieval ruler who, as German King, had also received the title of "Emperor of the Romans" from the Pope...
from 844, co-ruling with his father
Lothair I
Lothair I
Lothair I or Lothar I was the Emperor of the Romans , co-ruling with his father until 840, and the King of Bavaria , Italy and Middle Francia...
until 855, after which he ruled alone. Louis's usual title was
imperator augustus
("august emperor"), but he used
imperator Romanorum
after his conquest of
Bari
Bari
Bari is the capital city of the province of Bari and of the Apulia region, on the Adriatic Sea, in Italy. It is the second most important economic centre of mainland Southern Italy after Naples, and is well known as a port and university city, as well as the city of Saint Nicholas...
in 871, which led to poor relations with
Byzantium
Byzantine Empire
The Byzantine Empire was the Eastern Roman Empire during the periods of Late Antiquity and the Middle Ages, centred on the capital of Constantinople. Known simply as the Roman Empire or Romania to its inhabitants and neighbours, the Empire was the direct continuation of the Ancient Roman State...
. He was called
imperator Italiae
("emperor of Italy") in West Francia while the Byzantines called him
Basileus Phrangias
("Emperor of the Franks").